COMMENT: Mayor's race a gong show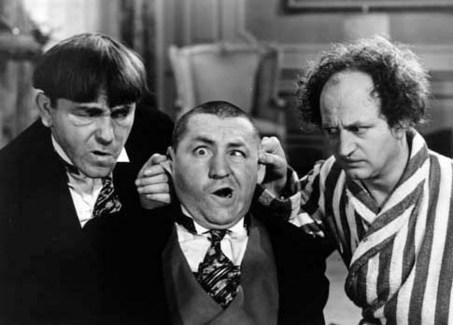 Edmonton has become embroiled in cheap mayoral politics – which is ironic as hell. The idea that three incumbents from this council could do anything cheaply must've been a shock to all of us.
The latest is a shot at Don Iveson for having written a joking "Workers of the World Unite"-style satire piece in the Gateway when he was a U of A student. The only person taking the old article seriously is former Edmonton Sun writer Kerry Diotte, who should know better than to make cheap shots about dumb newspaper columns. The only real offense with respect to Iveson's piece (which Peter Sellers did better) is that it wasn't very funny.
A few weeks ago, Diotte was the target of cheap shots – as he often is, usually by people who've never talked to him – when the Blue Plate Diner allowed him to film a video and then publicly bashed it as extremist compared to the owners' own views. Given that's Diotte's stated extremism so far extends to thinking the arena is a crappy deal (it is) and that Edmonton council and bureaucrats waste exorbitant sums of tax dollars (they do), it's hard to see the reversal as anything other than a way to force him to "do the decent thing" and withdraw the video. If you're dumb enough to let someone use your business as a backdrop without pre-screening what they say, at least have the testicles to suck it up and shut up until after the election. He's a municipal council candidate, not the founding director of the Western Canadian Nazi Party.
Karen Leibovici, who has fired off a few cheap shots of her own, will get hers in due course. Given that she's a former Liberal MLA, expect something about her being a career politician and then some association that reminds us that career politicians, by definition, roast babies at Labour Day barbecues and sell public land to rich executives who wish to hunt their least productive staff members like wild boars in the forest. The only knock against Leibovici is that she seems incredibly cautious and middle of the road, a consensus builder to be sure, but not always one inclined to back the right pony. She's loved the new arena from early on, for instance, and voted consistently for goofy projects like the singing recycling bins and the failed multi-million dollar World Expo bid. She also backed smart development like the LRT expansion and has a certain practiced diplomatic air that might keep heads cool while Don and Kerry are waxing passionate.
And yet, in the last 20 odd years, she's never had a job other than "politician." So maybe those shots, while cheap, will be somewhat grounded in a reality we all share, which is that we think most politicians are pretty bloody useless.
And so it goes with most candidates these days. Brilliance is busy elsewhere, trying to avoid dealing with bureaucracy, politics, big business and labour so that it can actually create or get something done. Brilliance doesn't have the dim-eyed patience to sit through six-hour council meetings and convince oneself that the process really connects the voter to how his or her money is being spent for civic betterment.
We'll never get perfect candidates. Instead, we get upsides and downsides. Not one of these three has been spotlessly careful in their approach to spending public money, and neither can any one of them be fairly dismissed with stereotypes about their college Commie days (Comrade Iveson, former provincial Liberal Pinko Liebovici) or their Ayn Rand-like nefarious right wing affiliations (Junior Partner Diotte). That crap is just insulting to everyone.
When elections are a three-way tossup, what we usually get isn't rational debate, but dirt tossed from obtuse angles, usually initially condemned by each candidate and then inevitably turned into a sound bite for their own purposes, a convenient smudge here and there.
These days, winning elections is all about the turnout. Real electoral strategists care more about getting supporters out to the polls than they do about changing minds, because instant communication, comparison and rationalization make political debates much harder to win. The easiest way to take the vote, then, is to get more people out, to feed that base by tossing it some ideological demagoguery and then watch it, in the words of Bill Maher, "hit the lever like a hamster being rewarded with a pellet of food." The clever political operatives do it by subtly mentioning the nefarious issue over and over again to influential reporters and editors too lazy to come up with their own story ideas. The less clever ones let their candidate treat a 14-year-old piece of college newspaper flotsam like it might cause free market capitalists to explode like so many Spinal Tap drummers.
And people wonder why the public is turned off by civic politics.