MUSIC PREVIEW: Austra extraordinary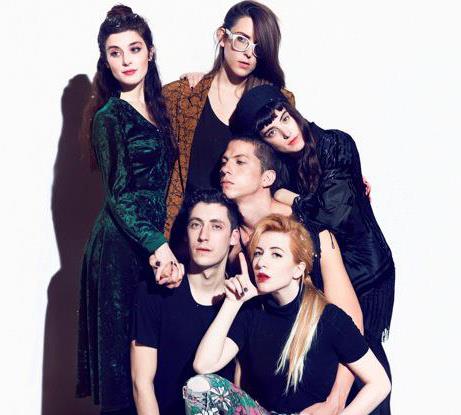 Perhaps most interesting of an eclectic batch of artists coming through town over the next few days is Austra – the middle name of its extraordinary singer Katie Stelmanis, whose classical training shows through at each step and turn.
Playing Tuesday, Oct. 8 at the Avenue Theatre, the Toronto synthpop act hit a chord with both the public and music media with its 2011 full-length debut "Feel It Break", which made the Polaris Prize shortlist (Arcade Fire won that year). It was also named to several year-end best-of lists, including top honors by the Toronto Star and New York magazine. Since then they've gone on to tour with such esteemed acts as XX, Grimes, and The Gossip, and their new album "Olympia" (released in June) reflects a more collaborative, complex and refined sound, with significant musical maturity, as well as being more explosive in timbre.
With the two exceptional singles released so far, "Home" and "Painful Like," it should be a great show. Toronto noise-pop duo Moon King will also perform, doors at 8 pm, $18 advance, $22 at the door.
Friday
Ron Sexsmith – This widely-revered singer-songwriter from St. Catharines is a relentless tourer, so you may have seen him before. But honestly, could you ever be disappointed with seeing him again? It's doubtful. Pair that with the incredibly talented Jenn Grant, who will also be performing, and you've got a pretty solid night of great Canadian roots music. St. Basil's Cultural Centre, 7 pm, SOLD OUT
Current Swell – This Victoria quartet has released four albums to date with a signature folk-roots sound infused with reggae influences. The strength of the loyal following can be seen at not one, but two shows at the Arden Theatre in St. Albert with Jon & Roy in support – Friday and Saturday 7:30 pm, tickets $28.
Jason Aldean – This Nashville country star has won a bevy of awards at all the big country ceremonies, and with five albums to date, including eight No. 1 singles on the US Country charts, from "Why" in 2005 to 2012's "Take A Little Ride", it's no wonder that there's extremely few seats left at Rexall Place on this night. Jake Owen and Thomas Rhett are also on the bill. 7:30 pm, $40.25 and up.
Cancer Bats – Toronto's renowned hardcore punk act that also includes elements of sludge metal and Southern rock is on tour supporting its 2012 release "Dead Set On Living." Bat Sabbath and Dusty Tucker are also on the bill. Pawn Shop, 8 pm, $20.
Boxcar Gloryholes – This intriguingly-named country-punk foursome doesn't even use their real names (their frontperson is "Drewe P. Balls"). They're releasing their debut four-track EP, "Viewer Discretion Advised," at the Artery. Songs include "Why Do You Have To Be Such a Bitch?" and "In the West, No Means Yes." Misery Mountain Boys and Tubsteppers open. 8 pm, $10 advance, $15 at the door.
Monday
Woodpigeon – This Calgary act is on the road once again, supporting its most recent album "Thumbtacks And Glue", released earlier this year, with at the Avenue Theatre. The indie-pop band's haunting but hopeful melodies lead to surprising twists and turns. Always a great show. Jake Ian and the Haymakers and Diamond Mind, open. 7 pm, $10 advance, $12 at the door.
Hanson – This band shot to incredible fame in 1997 on the heels of the single "Mmmbop", which hit No. 1 in, well, pretty much everywhere. Perhaps even Mars. The band's continued on from there, with the same brother team – Isaac, Taylor and Zac Hanson – and while they never managed to reacquire the "magic in the bottle" as their initial album did, this year's release "Anthem" did manage to chart in the U.S. Guessing that their big hit will be saved until near the end of their main set, or even the encore, is a pretty safe bet. Festival Place at Sherwood Park, 7:30, SOLD OUT
Tuesday
Papa Roach – This California band has changed its sound a few times in its 20 year tenure, starting as a rap-metal act before morphing to more of a heavy alt-rock sound. It was their earlier sound which caught the attention of the public in the very early part of this millenium, however, as their sophomore album reached double platinum in Canada (triple in the U.S.), and spawned three major hits – "Last Resort", "Broken Home", and "Between Angels and Insects". Union Hall, 7 pm, from $41 plus service charges
Between the Buried and Me – This North Carolina band merges progressive metal and death metal into what's become a very successful genre of their own – progressive death metal, we suppose – with six full-length albums to their credit. While the band's name is actually derived from Counting Crows lyrics, their albums have become more conceptual over time, and also more successful. The Faceless and The Contortionist also perform. Starlite Room, 8 pm, advance $25.