DANCE: From Metallica to Brian Webb and Beethoven
Posted on October 7, 2013 By Mike Ross Entertainment, entertainment, Front Slider, Music, Theatre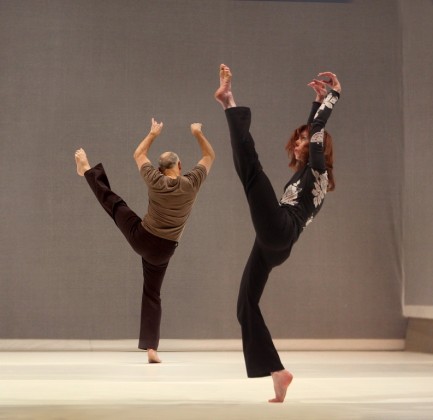 You don't often see "metal chicks" in the world of contemporary dance – or vice versa – at least not until the very real possibility that bands like Metallica will get a house gig in Las Vegas. Oh, it's going to happen, you wait. And they need dancers for these things. Nancy Sandercock, who appears in Metallica's 1996 music video for Until It Sleeps – first as a snake-harbouring tree creature and later as a demon woman – jokes, "By the time Metallica and I are in Vegas, maybe we'll collaborate."
Until then, she's busy.
The Edmonton dancer stars with Brian Webb in his double header season opener: What Awaits Me, which along with dancer Nicole Mion's Quiver, plays Oct. 11-12 at the Timms Centre for the Arts. What Waits Me is a modern "spiritual piece" set to the music of Beethoven's C Sharp Minor String Quartet Opus 131. Hand gestures from 16th Century Christian lore will be incorporated. It is a far cry from Until It Sleeps.
While Sandercock doesn't hide the fact she's into speed metal – particularly Carcass; "I bow down before them," she says – she doesn't advertise that she was in a popular Metallica video. You can see it on YouTube (below), "Unfortunately, you can," she says with a laugh.
She has associations within the L.A. music scene. After taking dance at Grant MacEwan and continuing her studies at the California Institute of the Arts, Sandercock started to hang out with like-minded artists to form a "instrumental art" band in the vein of Thurston Moore. The dancer played drums and approached them "like choreography." Her only previous musical experience was in Jr. High School in Edmonton, where she first replaced a drummer who was kicked out for being "hot-headed, as tends to happen," before being kicked out for the same reason herself, and that apparently was that. It took a trip to L.A. to rekindle her interest in drums. Her band, "Polar Goldie Cats" (below) never played in Edmonton.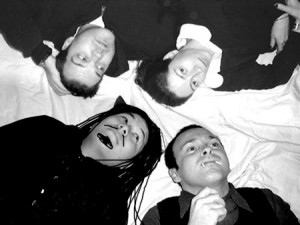 Sandercock is back in her hometown to go for her Master's degree at the U of A in "Theatre Practice," which is, she says, "This wonderful umbrella that, I think, will incorporate all my backgrounds: Dance, visual arts and music."  On the typical perception of serious dance artists being, well, serious, she adds, "I'm a little bit of a black sheep."
There are a number of artists in Sandercock's position, those with several disparate interests it's hard to imagine coming together for a single project. The time you spend on one thing takes away from the other, and progress can be frustrating. She says, "I've really had to keep my pursuits separate, but I start to feel like it's time to be a whole person and bring this all together. It's a challenge so far, but I'm really looking forward to working on this."
Meanwhile, Metallica is getting more "conceptual" than ever. It's only a matter of time until Cirque du Sandman plays the Bellagio.