MUSIC PREVIEW: Up to Downtown in fab new fest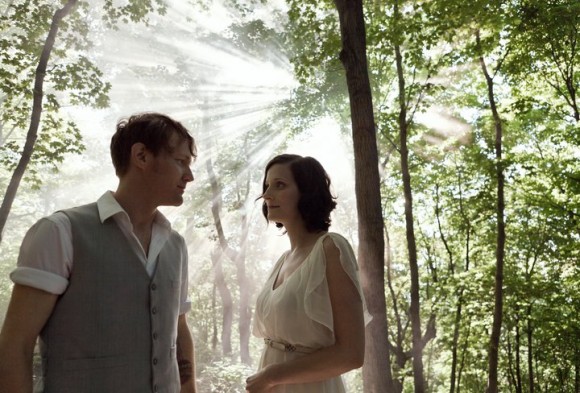 While Edmonton doesn't usually host festivals this late into the fall, the inaugural Up + Downtown Music and Arts Festival is about to give it a whirl. Organizers might have positioned themselves well to ensure success during an otherwise festival-free time of year, as they've attracted an intriguing cadre of talent-laden regional and touring acts to perform at a variety of venues in downtown Edmonton Saturday and Sunday.
Some of the highlights are likely to include Whitehorse (above, Sunday, McDougall Church, 8:15 pm), the noise-folk Polaris Prize short-listers whose incredible records are surpassed only by their live show. The Matinee (Sunday, Mercer Tavern, 6 pm), a buzz band out of Vancouver that's getting a lot of attention this year for their alt-folk-rock sound, is another must see.
Transgender musician Rae Spoon will perform at the Stanley Milner Library Theatre on Saturday at 5 pm, while a documentary on "their" life – Spoon is a proponent of using the gender neutral plural as a singular pronoun – will screen at the Metro Cinema at 3:15 pm Sunday. Wildlife, meanwhile, is expected to live up to its name with a Saturday midnight show at the Mercer Tavern, supporting the catharsis of an album called "… On the Heart", released in February of this year. Expect to hear their single "Lightning Tent" on the radio very soon, if you haven't already heard it in a Corona beer commercial.
Some of Edmonton's best and brightest stars are also performing in amongst the festival, including lo-fi aficionados Field + Stream (Saturday, Stanley Milner, 3 pm), country-rockers the AwesomeHots (Saturday, CKUA Stage, 8 pm), indie-post-rock act Book Of Caverns (Sunday, Brixx, 6 pm), and of course the renowned and revered Colleen Brown, Sunday night at 7:15 pm at the McDougall United Church.
Weekend passes are $80, on sale now at YEG Live.
Friday 11
Canyon Rose Outfit – This local alt-pop outfit is releasing their newest CD "Wilted Rose" over at the Starlite Room. They're so excited to do it they're performing two sets! Their good friends Boogie Patrol and Gibson Block will also be performing. 9 pm, $9 advance.
Kriticos /Exit Strategy – What's better than a release party? A double-release party! These two local metal acts both have new releases to celebrate. The Order Of Chaos and Immunize also perform. Pawn Shop, 8 pm, $10.
Dryland Band – This Edmonton acoustic rock act headlines a lengthy lineup over at the Wunderbar in support of breast cancer awareness. Other performers include prog-soul band Revenge Of the Trees, eclectic duo Two Bears North (whose debut full-length drops in mid-December), Alright Gents, Joey D., Tory and B-Don. 9 pm.
Saturday 12
Harlequin – No weekend is complete without a 1970's rock band making their way through the city. This act's original run lasted from 1975 through the mid-1980's, and included the hit singles "I Did It For Love", "Superstitious Feeling", and of course, "Innocence". Century Casino, 8 pm, $37 advance.
And So I Watch You From Afar – This Belfast post-rock quartet was founded in 2005 by Rory Friers and Johnny Adger, whose eponymous debut full-length received great acclaim from music critics and fans alike around the UK and beyond. They're currently touring to support their 2013 release "All Hail Bright Futures". TTNG, Mylets, and Desiderata also perform. Pawn Shop, 8 pm, $15 advance
Crash Karma – This Toronto act features former members of I Mother Earth (Edwin), Our Lady Peace (Mike Turner), and Tea Party (Jeff Burrows). Quite the pedigree, and as a result the band had three charting songs at the end of the last decade – "Awake", "Fight", and "On My Own". One Bad Son and Alterra also perform. Starlite Room, 9 pm, $21 advance
The Lion The Bear The Fox – With a name like this you're probably not surprised the country-folk act from Vancouver is a trio – or that it's a country folk act from Vancouver. The more these once-separate solo acts toured across western Canada together, the more they realized they were kindred souls that should form a group. And so they did. Which one is which remains to be seen. With Sean Burns and Lindsey Walker. The Artery, 8 pm, $10 advance, $12 at the door.