MUSIC PREVIEW: Women of rock, pop rule the stage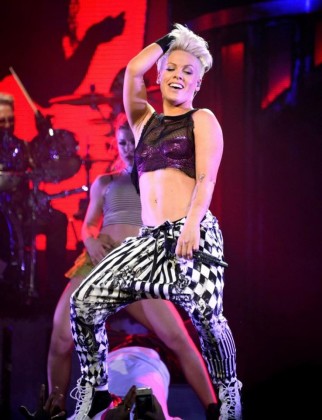 As we look forward to the back-to-back pop spectacular with Sarah Brightman and Pink at Rexall Place next week, there are definitely some worthwhile gigs happening this weekend, including an early show by New York's The Pretty Reckless over at the Starlite Room on Friday night – featuring Taylor Momsen, one of the most colourful hard rock frontwomen around. She sure can wail.
You may remember Momsen from the CW television series "Gossip Girl." She was introduced to musical partner and guitarist Ben Phillips by the show's producer, and while the rest of The Pretty Reckless's lineup has changed a few times over the band's short history, the 21-year-old Momsen, on lead vocals and rhythm guitar, and Phillips remain. The band continues to tour hard and heavy, including world tours supporting acts like Marilyn Manson, Evanescence and Guns N' Roses, and has surprisingly had the greatest success in the UK, where The Pretty Reckless's first single "Make Me Wanna Die" hit No. 1 in 2010. Expect new material from the band's new album "Going To Hell," which has been confirmed for release in 2014.
This show was originally part of a two-bill night that included a late show from Deer Tick (which has had to cancel due to a family emergency). Doors open at 5 pm, all-ages, $19 plus service charges.
Friday 18
Wil – This phenomenal Calgary folk singer-songwriter is a regular to the city, and always puts on a great show. You'll recognize his song "Roam" from that breathtaking Travel Alberta ad on television. Royal Alberta Museum Theatre, 7 pm, $20 in advance.
Saturday 19
The Sadies – A staple of the Canadian music scene since the mid-1990's, these talented brothers Dallas and Travis Good have done innumerable collaborations with some of Canada's top artists, including Blue Rodeo, Gord Downie from the Tragically Hip and Neko Case. The Sadies are currently touring to support their September release "Internal Sounds," which features the single "The First Five Minutes", a grooving-guitar romp with one of the catchier choruses you'll hear this year. Arden Theatre, St. Albert, 7:30 pm, $35 plus service charges.
Jim Messina – This American legend has a musical history longer than most of us have been alive, starting with a stint as bass player with the folk-rock icons Buffalo Springfield (he also produced and engineered their last album). After the band's demise he joined with fellow member Richie Furay to form Poco, where Messina played lead guitar, and then was part of the renowned Loggins and Messina duo for many years with, of course, Kenny Loggins. The duo released nine albums during its time together, with such historic hits as "Travelin' Blues" and "Your Mama Don't Dance". Since then, Messina has released a number of solo albums, the latest being "Under a Mojito Moon Part 1" in 2009. Part 2 may be coming soon. Festival Place (Sherwood Park), 7:30 pm, $50 and up.
Smokekiller – Saskatoon's John Antoniuk, who goes by this stage name, is in the midst of a cross-Canada tour supporting his 2012 full-length "Always With You." The singer-songwriter worked with the legendary Leeroy Stagger and his band on the album, which was dedicated to Antoniuk's mother, and is full of somber, heart-pulling songs.  Anchors North also performs. The Artery, 8 pm, $8 advance.
Tuesday 22
Sarah Brightman –  Born in Berkhamsted, an outlying suburb of London, England, this multi-talented singer-actress-songwriter-dancer and ex-wife of Andrew Lloyd Webber can pretty much do anything she puts her mind to. She's sung in over eight languages, she's performed various recordings in genres ranging from operatic pop to world music to techno and trance, and was the first artist to be invited to perform at two separate Olympic Games. She has a total of eleven solo albums, including this year's "Dreamchaser", tabbed as "classical crossover". Rexall Place, 7:30pm, $34.50 plus service charges and up.
Wednesday 23
P!nk – This Pennsylvania-born artist has become one of the best-known singers in North America, with her sophomore 2001 album "Missundaztood" spawning three bonafide hits – ""Get the Party Started", "Don't Let Me Get Me" and "Just Like a Pill". Her success has just continued from there, with three top ten hits in Canada off her most recent album (2012's "The Truth About Love"), including "Blow Me (One Last Kiss)", "Try", and "Just Give Me a Reason." Her show at Rexall Place is one of the most anticipated concerts of the year. Unsurprisingly, it's SOLD OUT. If you don't have tickets, you can always enjoy this full-length concert video: