MUSIC PREVIEW: Country giants among us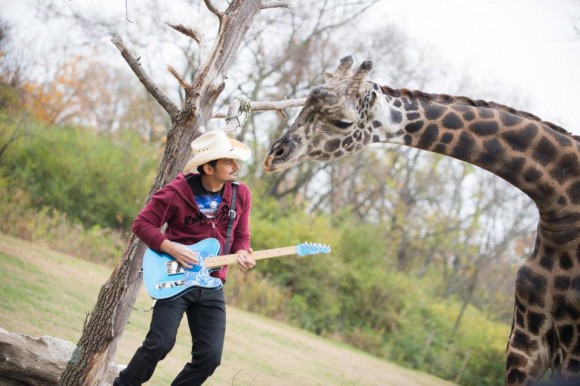 It's been a bit of a disappointing week here in the city, what with two major shows being cancelled in the last six days – first Deer Tick (family emergency), and then Pink (laryngitis and inflamed vocal cords). It's getting so that you need an injury roster to track your favourite bands, much like hockey teams. And hey, let's hope these things don't happen in threes.
At any rate, this weekend's big performer is country star Brad Paisley, who's performing at Rexall Place Saturday night at 7:30 pm ($30.50 and up, single seats only except in the 300 level).
This is a true Cinderella story. Raised in West Virginia, Paisley was a regional star by the time he was in junior high, then proceeded to get a degree in music business from Belmont University in Nashville, thanks to a full scholarship from the American Society of Composers Authors And Publishers (better known as ASCAP). He made his first appearance on the Grand Ole Opry in 1999 at the age of 27, recording his debut album "Who Needs Pictures" in the same year. Its title track was his first single to chart on the American and Canadian country charts, and he's had a single in the US top 10 country charts every single year since, most recently "Southern Comfort Zone" and "Beat This Summer", both from the singer's ninth full-length album "Wheelhouse" released earlier this year.
Epitomizing the concept of new country, he's also done a myriad of intriguing collaborations that crosses into other genres, including "Accidental Racist" off the same album, mixing country and rap and featuring a guest appearance by none other than LL Cool J. Read more about that song HERE.
Paisley is an incredibly funny musician, known for his witty banter and obviously silly songs, along with party-country tracks that come off exceptionally well in live performances. Many actually consider him one of the best live acts in country music at the current moment. Then, you know, there's the fact that he was also named Male Vocalist of the Year in every year from 2007 to 2011 by the Academy Of Country Music; and likewise the similar award from the Country Music Association 2007 to 2009. And oh yeah, he's also the Executive Producer for the smash television hit "Nashville", which is also known for zigging and zagging with their musical choices.
Need we go on?
Just in case you want to entertain your friends with little known factoids, Paisley's wife Kimberly Williams-Paisley starred as Dana for 165 episodes of television's "According To Jim" – a show which ages quite well, by the way, if you're ever bored on a Saturday afternoon and it shows up on your guide.
Friday 25
Red Cannons – Sonic 102.9's Band of the Month gig features this Stony Plain/Spruce Grove quartet founded by three brothers (Evan, Braden, and Landon Boechler) and long-time friend Jen Perry, who have ended up crafting folk, blues, and modern rock into their sound. No Witness and Electric Religious also perform. Starlite Room, 9 pm, $9.
The Harpoonist and the Axe Murderer – This Vancouver duo records music that can only be described as "upbeat" blues. Contradictory? Perhaps, but the pair wear the label quite well, and the live show comes highly recommended by many in the local music scene. With local piano-soul-popster Jenie Thai and The Nulls. The Artery, 8 pm, $13.
Saturday 26
Loretta Lynn – The same night as the Paisley show, this other country legend performs at the River Cree Casino & Resort. You'd need two sides of a sheet of paper to list all the albums she's recorded herself, never mind all the other projects she's participated in, including with Jack White of the White Stripes. And she's won the Female Vocalist Of the Year award more times than you can count, inducted into the Country Music Hall Of Fame back in 1988. As a matter of fact, when you look up the word legend in the dictionary, don't be surprised to see a picture of Loretta Lynn. No surprise, this one is SOLD OUT.
Sunday 27
Elwins – This Newmarket, Ontario act started as a duo, recording their first EP back in 2008, but their first full-length only came out about 18 months ago. The soulful indie-pop sensations quickly caught the bus to buzztown, and quickly amassed a loyal following throughout Canada. With local standout folk-rockers Scenic Route To Alaska. Avenue Theatre, 8 pm, $10.
Jung People – This Calgary post-rock act is hosting a CD release show for its new album "Gold Bristle!" The ambient pace-changers recorded the album at Montreal's famed hotel2tango recording studios with a stellar cast of studio musicians, including Jessica Moss of Silver Mt Zion on violin, and Pietro Amato of Arcade Fire, The Luyas and Bell Orchestre on the French horn. Pigeon Breeders and Will Scott also perform. Wunderbar, 9 pm.