WHO NAMED THE BAND: Slayer slays the course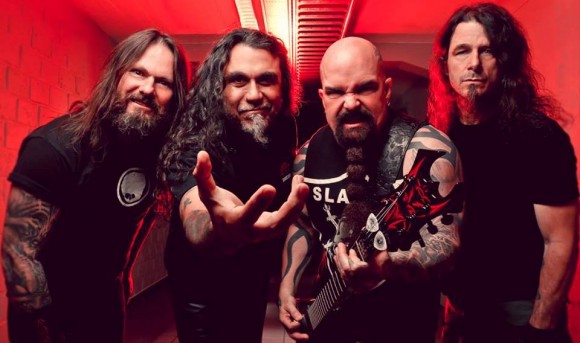 Slayer is such an awesome band name for a group of guys who loved nothing better than to frighten as many people as possible.
"We knew that kind of stuff pissed people off," says singer and bassist Tom Araya, referring to the devilish songs and imagery the California thrash metal band came to be known for – ranging from such albums as "Reign In Blood" in 1986 to "God Hates Us All," released by spooky coincidence on Sept. 11, 2001. "We were into that stuff. We were fascinated. It made for easy writing, devils and demons and ooh, my, my!" the 52-year-old singer says with a laugh. "I guess when we started as a band that was part of why we did it: Shock value. It was a way of scaring people without really trying."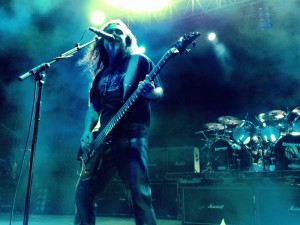 The name helped. Back in the day, that day being sometime in 1981 when guitarist Kerry King assembled the band with Araya, drummer Dave Lombardo and guitarist Jeff Hanneman, they were going to go with "Dragon Slayer," Araya recalls, befitting the true metalhead's love for horror and fantasy, "But we thought that was gay. So how about we take Dragon out and just leave Slayer – and we're like OK, cool, that's great!"
Shortly thereafter they came up with the meaning behind the name: "Satan Laughs As You Eternally Rot" – and a particularly sinister chapter in rock history was born. Slayer went onto be blamed and banned and feared and of course loved around the world. Through 11 albums and countless tours, the band members of course quickly matured beyond doing things merely for shock value and have since conducted their career on the basis of what they personally thought was "cool," Ayara says. It served them well. You rarely see fans more loyal. Some of the most loyal are fellow metal musicians.
Of course, more than 30 years later Slayer is not so shocking anymore. The only thing to fear is fear itself as the band returns to Edmonton for a
show at the Shaw Conference Centre on Monday, Nov. 4, and even then you're going to see a lot of smiling faces.
They're been touring a lot in the five months since the death of Hanneman, and while Araya says there have been recent moments on stage where it was hard for him to keep it together, the band's live shows – with a new drummer – "have been going great." He agrees that it would challenge for a young band today to be as shocking as Slayer was back in the day.
"The world has changed," Araya says. "Something happened along the way. The world changed and it's more accepting, so that's made the band more accessible. I guess that was a good thing for Slayer. Now we're at a point where a lot of people know about the band and no one really seems to have fear of the band's music or what we do. The only fear is to go to a show! That's still there!"
He laughs again, not maniacally, maybe, but close enough for rock 'n' roll.