MUSIC PREVIEW: The show must go on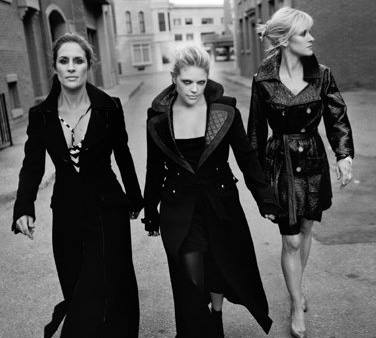 There's a trio of rock bands performing in Edmonton in short order that are on the very cusp of making it very big – Strumbellas, Boreal Sons, and Belle Game. Until then, here's one that's already huge: the one and only Slayer, which performs Monday night at the Shaw Conference Centre (6:30 pm, $49.50 plus service charges).
This thrash metal band from Huntington Park, California, was founded back in 1981 by a pair of guitarists, Kerry King and Jeff Hanneman. Their 1986 "Reign In Blood" album was the first to put them on the road to metal greatness, and they are now often cited as one of the "big four" thrash metal acts that made the genre, alongside the heavyweight household name of Metallica, and to a lesser degree, Megadeth and Anthrax. Sadly, Hanneman died of alcohol-related liver failure in May of this year; the band has vowed to continue on. Exodus' Gary Holt, who has been filling in for Hanneman the last couple of years, will continue in that role. Drumming will be Paul Bostaph, who replaced Dave Lombardo for the second time earlier this year, apparently due to the original drummer crying foul about tour money.
Slayer also has a raft of new material, some 14 songs, including seven with lyrics for a new album, but don't expect to hear them at the show. No, Slayer has decided to honor Hanneman's memory by performing a exclusive "old school" tribute of tracks from early albums during this tour, with such angry metal classics as as "Show No Mercy", "Hell Awaits", "Reign In Blood", "South Of Heaven", and "Seasons In the Abyss."
Gojira and 4ARM open the night.
Friday 1
Dixie Chicks (top photo) – Famous for telling a crowd in London, England that "We're ashamed that the President of the United States is from Texas" right before the invasion of Iraq, sisters Emily Robison and Martie Maguire, along with singer Natalie Maines, bring their fresh brand of downhome country-bluegrass to the almost sold-out Rexall Place. 8 pm, $29.50 and up.
Billy Talent – The Halloween Creep will extend beyond Halloween proper this year as the Bear radio station presents its annual Halloween Howler at the Shaw Conference Centre on this night – the boxing day of Halloween. Billy Talent, always a local favourite, will headline, touring behind its most recent album, Dead Silence. How appropriate. SOLD OUT
Deep Dark Woods – This Southern rock act from Saskatoon is touring in support of its sophomore full-length album "Jubilee" just released, with a sound that maintains the band's distinctive deep drawl that combines rock with a unique form of alt-country. With the Sumner Brothers. Avenue Theatre, 8 pm, $20.
Saturday 2
Delhi 2 Dublin – A huge hit at this summer's folk fest, this eclectic world band from Vancouver combines rock and electronic music with Celtic and Punjabi influences. This is clearly your best bet this weekend for a crazy, high-energy live show. With Kush Arora. Starlite Room, 9 pm, $20.
Sunday 3
Strumbellas – This Ontario alt-country-rock band is also a huge hit with local music fans. Their live show like a frenetic excitement of atoms in a freak-science-show, their music a toe-tapping, dance-your-pants-off kind of affair. This time they're coming through town supporting a brand new album, "May We Still Move On Dance Floors", which was released just one week ago. With The Living Daylights. The Artery, 6:30 pm, $10.
Monday 4
Boreal Sons – Hot on the heels of an intriguing concept EP from earlier this year, this Calgary art-rock quartet is now touring to support its debut full-length "Threadbare". Definitely a band poised on the precipice of greatness, with rollicking piano-rock songs like "Quietly Awake". With local favourites Ghost Cousin. The Artery, 7:30 pm, $8.
Tuesday 5
Belle Game – This Vancouver dark-pop act was in town in the spring supporting the band Half Moon Run at the Starlite Room. Now they're back as a co-headliner at the Pawn Shop to support their 2013 album "Ritual Tradition Habit", a glorious, grooving journey. Another one of the many acts coming through town poised to become the next big Canadian band. The other co-headliners are Bear Mountain, a brash, electro-dance act also from the West coast. The Darcys will also perform. 8 pm, Pawn Shop, $12.
Wednesday 6
Matt Mays – This could be a difficult return to Edmonton for this beloved Canadian rocker. In March when Mayes was last in town, the band's guitarist Jay Smith tragically died mere hours after the show. For a solo acoustic tour that finds Mayes headlining the Royal Alberta Museum on this night, fellow band member Adam Baldwin will sit in on some tracks, and also serve as the opening act. According to Mays, we should expect a lot of songs he rarely if ever perform during regular tours. 7 pm, $20.
– With files from Mike Ross