Trusting the School Trustee: A chat with Orville Chubb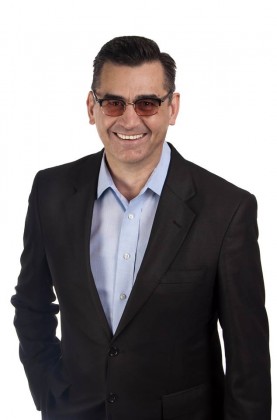 It is neither the most glamorous civic office nor the highest paid – just over 30 grand a year – but Edmonton School Trustee may be a more important job than ever at a time when the public is crying bloody murder over education cutbacks and school closures.
Now there's fresh board of scapegoats. Who are these people?
One of them is a big wheel: Avenue magazine publisher Orville Chubb – whose election as Ward C School Trustee was one of the most contentious results in the recent election.
The reason that hits the most hot buttons is because of his alleged stand on homosexuality.
In 2011, while he was executive director of the Meadowlark Christian School Foundation, Chubb was a "citizen member" of the committee that wrote Edmonton Public School Board's new policy on Sexual Orientation and Gender Identity (SOGI), meant to support the LGBTQ community (lesbian, gay, bisexual, transgender, questioning). Chubb initially argued against a draft of the policy because, as he says, in a discussion of human rights, it failed to address the rights of parents who may find homosexuality morally wrong.
"The policy did not address guidelines for the respecting of their human rights of the freedom of belief," Chubb says in post election phone interview. "If we're talking about human rights, you have to respect all human rights."
In any case, the committee worked it out and SOGI was written and passed, ending with the words: "The Board expects all members of this diverse community to be welcomed, respected, accepted, and supported in every school."
Chubb actually agrees with this, and says that the prevention of bullying should be the true focus of the policy. Some people might've taken his objections the wrong way, he says.
"The people who don't know me and criticize my fictitious stand on gay issues, or gay lesbian transgender whatever issues, they don't know me," says the 53-year-old publisher. "And the people who do know me, including the people from those communities, would be surprised to hear those perceptions …
"The magazine is probably the most accurate reflection of what I think and who I am," he goes on, citing articles about Dr. Kristopher Wells, co-founder of Camp fYrefly for LBGTQ youth, and a feature on power couples that included noted local transvestite Darrin Hagen and his partner Kevin Hendricks.
As for tolerance in our schools, Chubb is clear, "From an educational perspective, I would not support an educator in the classroom saying that homosexuality is immoral, regardless of the program."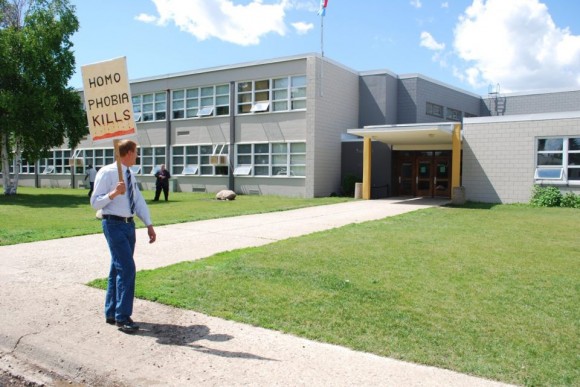 So what was the problem? It seems like this issue is a no-brainer. Gay rights have come such a long way, as American writer and pundit Dan Savage said before he was in town recently, that even a whiff of homophobia from politicians, churches, celebrities or corporations hurts them much more than the targets of said prejudice. Case in point: The Edmonton Logos Society – representing the publically funded Christian alternative programs that in some schools runs side by side with secular classes – published a strongly-worded objection on moral grounds to the SOGI policy in its newsletter, the Logos Lantern. The EPSB blocked distribution of the newsletter and the organization was thoroughly condemned by just about everyone. A lone protester even showed up at Hardisty School, which hosts a large Logos program, and whose principal was forced to say that the "alert to parents" in the Logos Lantern did not speak for all Logos programs.
Despite the carefully worded yet somewhat toothless SOGI policy that emerged from all this heated talk, the message is clear enough even to people who object to it: Keep your moral opinions to yourself. Work it out with your family.
The Mysterious Mandelian Effect
Concerns about Orville Chubb don't end here. Before the election, he went on record saying that he wouldn't rule out more school closures, citing "infrastructure surplus." (Then again, not one of the mayoral candidates ever actually uttered the words, "Read my lips: No new taxes!")
There had also been grumbling that Chubb was talked into running by people on the same administration a school trustee is supposed to represent the public's interests in. With a long history of public service, especially in the field of education, he's a businessman, not a teacher. He says he ran because he thought someone with a business background on the board would be helpful. He may be right. Any parent who's ever tried to get anywhere in the sham public forums that always precede school closures that seem to happen no matter what anybody says knows that education issues are far more complicated than they seem. Officials – Chubb included – make convincing arguments that unpleasant changes are sometimes necessary to ensure equal and quality education for every student, but who knows? That's why we elect trustees in the first place: To look into it, do the research and make the best decisions, so we don't have to.
Of course, there's always private school.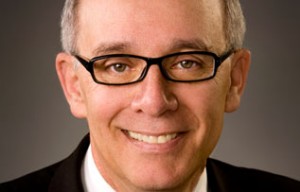 The Ward C race was very close. Chubb won by 162 votes. He denies that he was put over the top by the endorsement he got from Mayor Stephen Mandel himself. He volunteered for Mandel's first mayoral campaign back in the day, so there is that. In this election, Mandel also endorsed Michael Oshrey (Ward 5), Scott McKeen (Ward 6) and Michael Walters (Ward 10) – and they all won, too. Coincidence? Maybe the former Mayor just knows winners when he sees them.
"I'm not sure of the effect it had," Chubb says. "It's like that famous quote, 'I waste half my money on advertising, I just don't know which half.' One never knows which effort was what put one over the top."
Besides, at the level of School Trustee, he adds, the public sometimes doesn't even follow who's running at all, or care. People will sometimes just vote for whatever person they might know or have even heard of, whatever name was on the last sign they saw on the way to the voting booth or – as happened on thousands of ballots in this election – just leave the space blank.
Sad but true. These part time public servants deserve to be as closely watched as any politician. We ignore them at our peril.