Hollerado: When pop punk gets smart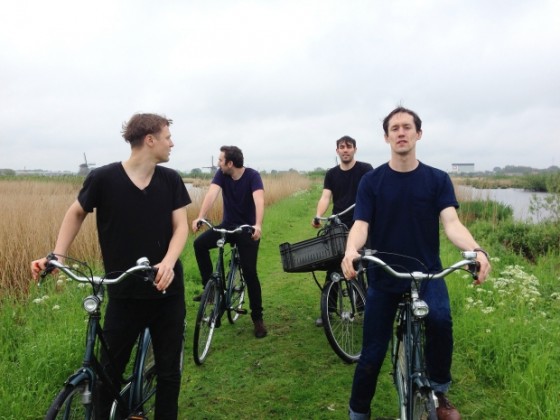 Next to American country music stars, there is no one in show business that gets accused of rampant stupidity more than "pop punk" musicians. These thinly disguised boy bands play songs just as fast and loud as punk, but with candy coated hooks and lovey dovey lyrics in place of snarling political satire. You can even hear it on pop radio nestled betwixt Katy Perry and Justin Bieber. Real punk, meanwhile, is relegated to college radio, at best.
No wonder the real punks remain angry.
But it's always fun until a stereotype gets exploded. Playing Friday, Nov. 8 at the Starlite Room, Hollerado is the latest such band appearing to "get smart" – with the release of a song called So It Goes. The music video is more of a mini-documentary. It's about lead singer Menno Versteeg's journey to find out more about his grandfather, a member of the Dutch Resistance in World War 2. He was captured and about to be executed before being saved by a sympathetic German officer. After the war, Versteeg's grandfather returned the favour by testifying on the German officer's behalf at a war crimes trial, saving his life.
The members of Hollerado and a film crew flew to Holland Germany this year where Versteeg visited the tiny prison cell where his grandfather was kept, and actually met with the German officer's grandson. They had some beer.
"Although he's a person I would totally consider a random person on the other side of the world who I would normally never meet, our lives are intertwined in such an interesting way," the singer says in the video. "If our grandparents hadn't met each other at this awful time and had the opportunity to speak to each other and develop a mutual respect for each other, then neither I nor the grandson of the German officer would even be alive today."
Versteeg says he wrote the song in one sitting following the recent death of his grandfather in 2012; "The song poured right out of me. It came even before any tears," he says.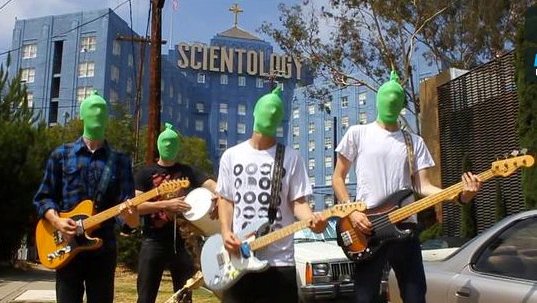 Heavy stuff from a band whose first claim to fame was … and at this point we're supposed to dig up a particularly stupid song from Hollerado's past. Only thing is, there don't seem to be any. Americanarama, the Ottawa band's first single in 2010, is a gleeful ditty that begins with the words, "Hey, Philadelphia, you used to exist" before laying waste to all of America's great cities in an unspecified apocalypse. Death metal is rarely scarier.
In a recent phone interview, Versteeg says he's well aware of the prejudice against his chosen genre, and hopes people can keep an open mind that artists should be expected to do more than just one thing.
"We get written off a lot because like to write catchy songs," he says. "Some of them are pretty straightforward. It's just fun music to play, and often a lot of people stop there … People who don't know us very well say, 'your music is so happy, do you guys just love to party?' Well, if you actually hear the lyrics, the songs are about existentialism, about death and dying."
Versteeg says he doesn't see why you can't have both the fun songs and deep subject matter. He's a big fan of Blink-182, a band that has been known to dabble in stupidity, and which many have blamed for the popularization of fluffy faux punk.
"Some of our love songs are totally influenced by that kind of writing," Versteeg says. "Their album, Dude Ranch, there's great teenage love songs on there. I'm putting them up there with Buddy holly and the Beatles, classics. Yes, it's from a different generation, and from the suburbs of California, but a generation of young people identify with those songs, and they still hold up. It is what is and doesn't try to be anything else."
Blink-182 gets existential from time to time, too, it should be noted. There's another similar band with discussing: Sum 41, whose experience being caught in the middle of a skirmish in the Congo while on a humanitarian mission there in 2004 led directly to the band's famous antiwar song, We're All To Blame. Green Day, though they started in suburban California and initially toyed with the dumb side of the new punk, has long since abandoned the stereotype and become an influential rock band with substance. There is hope beyond the pop punk label.
Hollerado, which got a grant to produce the So It Goes video, is also the recipient of what has to be the largest Battle of the Bands prize in Canadian history: $250,000 cash from Big Money Shot, a contest held by Ottawa's Live 88.5 FM in 2009. Among other things, it allowed the band to start its own record label, from which comes Friday's opening band, Pup.
Only question is now: What are you going to do that you've raised the bar so high?
"I'd like the throw the bar out the window," Versteeg replies. "Sometimes we like write songs that are ridiculous and lowbrow, but we do intend to do some other stuff that has a little more substance to it for sure."