WIN: Tickets to the Wet Secrets at Barber Ha!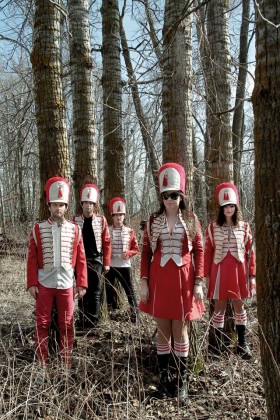 There's more going on down at Barber Ha than the trimming of hipster Mo-staches for Movember – it has become a funky little live music venue on the side.
This Sunday night, Nov. 10, the men's hair salon hosts local supergroup the Wet Secrets, a band that combines rock, electronic music and a horn section that includes a tuba. We call this a supergroup because it features singer Lyle Bell (aka Whitey Houston) from Shout Out Out Out, filmmaker Trevor Anderson on drums, Paul Arnusch from the Whitsundays on keys and percussion, along with Kim Rackel and Emma Frazier on vocals and various horns. They describe themselves as a cross between the Stranglers and Herb Alpert and the Tijuana Brass.
Although the band is said to be playing all new material from an album due in February, one can't help but think of an older song fitting for both the venue and the occasion of Movember. It's called "Grow Your Own Fucking Moustache, Asshole."
Intrigued? We have a pair of tickets to give away to the show. Simply click HERE and email your name and phone number; the winner will be selected randomly from all entries received by Saturday, Nov. 9 at noon.
Also performing on this night is the Switches – celebrating the release of its new EP – along with Physical Copies, a two piece split-off group from Shout Out Out Out.
Tickets are $10 at the door. Space, understandably, is limited. It's a barber shop.
(Photos and video by Fish Griwkowsky)