MUSIC PREVIEW: Paper Lions bring East Coast to town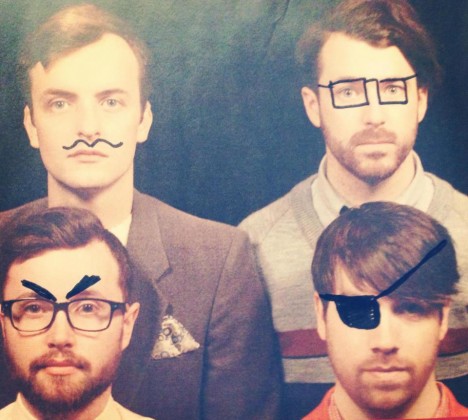 Darlings of the East Coast music scene, PEI's Paper Lions headline a show on Friday at The Artery that's sure to be the center of this weekend's gigs.
Actually from the small village of Belfast on the island's South shores – where Lord Selkirk first landed in 1803 – the plucky band of castaways typifies the indie-rock scene of the East Coast, with grooving guitars, catchy melodies and a hint of Maritime grime. Brothers John and Rob MacPhee, and neighbor Colin Buchanan have been playing together since an extremely young age, and since meeting drummer David MacDonald in high school their lineup has been set.
The band won pop recording of the year at the 2007 East Coast Music Awards, a significant indicator of things to come. The band has since recorded five full-lengths, including this year's "My Friends"; their track "Lost the War" has been featured in a number of episodes of the ABC show "Greek."
Also playing on this night is Vancouver's Jordan Klassen, a chamber folk-pop artist who's no stranger to these parts and touring to support his newest full-length "Repentance." It's getting a lot of positive buzz since its release – don't be surprised to see the album in next year's Polaris list. The show also includes local band White Lightning. Artery, 8 pm, $13.
Friday 15
Platinum Blonde – Though best remembered from the 1980's for their pop hits "Crying Over You" and "Situation Critical", the band's three founding members announced plans to reunite in 2012. Unfortunately, drummer Chris Steffler's tinnitus prevented him from successfully doing so, leaving Mark Holmes and Sergio Galli to carry the torch, releasing the album "Now & Never" in mid-2012, and now touring to support same. Century Casino, 7 pm, $62.95.
Protest the Hero – Like Paper Lions, members of this Ontario metal quintet have known each other since elementary school, and are currently touring to support their newest album "Scurrilous." Fun fact: the new album features artwork from the grandfather of lyricst Arif Mirabdolbaghi. With Architects, Kindred, Affiance, Skyline. Studio Music Foundation, 8 pm, SOLD OUT.
Saturday 16
The Devil Wears Prada – This Christian metalcore act – yes, this genre exists – from Ohio is touring to support their September release "8:18", which has received almost unanimous praise from music critics. The thirteen track effort is the first for the band since saying farewell for the first time to a founding band member, keyboardist James Barney. The Ghost Inside, Volumes and Texas In July open this early all-ages show. Starlite Room, 5 pm, $28.
John Wort Hannam – This former school teacher, now well-recognized folk artist, was born on one of the islands that dot the English Channel between Britain and France, and has five full-length albums, including 2012's "Brambles And Thorns", to his credit. He last performed in Edmonton during the 2013 Folk Music Festival. With Leeroy Stagger and Dave McCann. Queen Alexandra Hall, 7 pm, $20. Northern Lights Folk Club.
Greg MacPherson – This Winnipeg indie-rocker stomps on both the grit pedal and the emotive treadle, driving home an intense set of heart-wrenching East Coast rock. Old World Record, Revenge of the Trees and Sam the Living open. Artery, 8 pm, $14.
Sunday 17
Fugitives /White Ash Falls – The former is a Vancouver indie folk collective that lives on the road more than at home, touring again with their newest full-length "Everything Will Happen", which is receiving some good buzz out on the West Coast. The latter is a new project from Andy Bishop, better known as the former member of Yukon Blonde and Red Cedar, never mind his role in Twin River. Also calling Vancouver home, the accomplished musician has moved from indie rock to a more folk-country feel that should fit in very well with The Fugitives. Artery, 7 pm, $10.
Tuesday 19
Picture the Ocean – This Alberta alt-pop trio performs at the Wunderbar on Tuesday night, and is at once wondrous, simple, and complex, much like their very name suggests. With Passburg. 8 pm, $10.