THEATRE: Director takes risks in Northern Light opener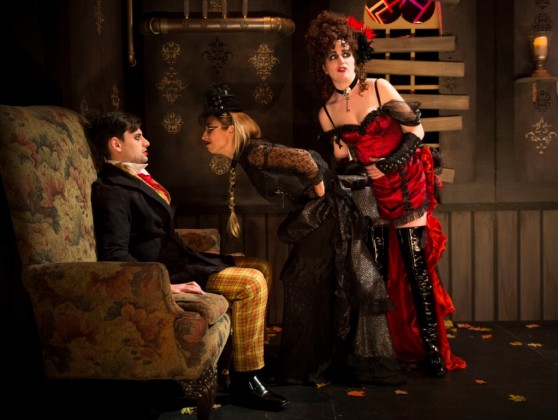 "Steampunk" is a forbidden word in the presence of local theatre director Trevor Schmidt – he calls it the "S-word" – but when you're presenting a play set in the late 1800s that may involve a time machine, even a dedicated contrarian can't avoid it.
Bitches & Money 1878, a tale dealing with Victorian criminals that opens Northern Light theatre's new season on Friday, Nov. 22 at the PCL Theatre, is set "in that time period where people were becoming obsessed with the future, gadgetry, the industrial revolution and all that kind of stuff," says Schmidt. "And it's very funny to me to hear what people in that era thought the future would be like."
One day, he adds, "I want to write or find a show about people from the '50s talking about the future: The year is two thousand and two! And we're flying in cars!"
Until then, steampunk – and you can be sure there's nothing quite like this Martin Henshell play anywhere else in this or any other theatre season in Edmonton.
"Bitches & Money 1878" is so off the radar that Schmidt even had trouble tracking down the playwright, he says; Henshell is a Liverpudlian actor who appears to have written just this one play so far. This may in fact be its North American premiere. Schmidt says he often searches for material by subject matter, or the time period he's interested in, or the number and gender of the actors he wants to work with – and lets the research take him where it will. One can put as much creativity in selecting scripts as writing them. This story revolves around three crooks, Black Jack, Cora and Patience, hiding out from the coppers after a caper goes awry. It's described as "Reservoir Dogs with corsets," and only one walks out alive, Schmidt reveals. More cannot be said. There may be a steam powered time machine.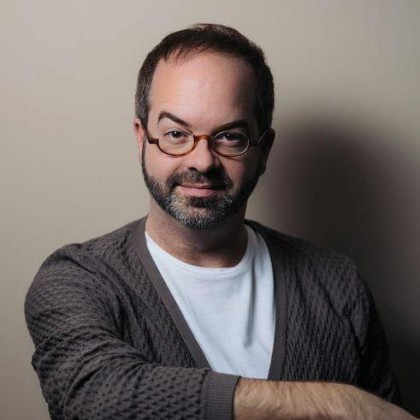 Just as much as Stewart Lemoine's plays have shaped Teatro La Quindicina, Schmidt has put his stamp on Northern Light Theatre, as much with his esoteric selections as original work. There are other small Edmonton companies offering unique alternatives to the mainstream. They're not out to compete with the Citadel or the Mayfield; they're not even out to compete with each other.
"We're serving a specific niche market in our community," Schmidt says. "Our company presents works that are different than any other theatre in town – and that's enough."
Northern Light is kept small and experimental on purpose, he says. In this production, being staged until Nov. 30 at the intimate 65-seat PCL Theatre, the director is taking a further risk in that his three actors have never been on a professional stage before (top picture, from left: Benjamin Gorodetsky, Andréa Jorawsky and Laura Gillespie). Nobody's even heard of the play, for that matter. The director recalls the raves of subscribers who remain loyal because they never know what to expect – or what to think.
"I don't have strong political beliefs, I'm not that knowledgeable about politics, so I'm always drawn to the emotional side of stories," Schmidt says. "I don't want to pick a play that tells you what to feel."
Longtime subscribers may notice another hallmark of Northern Light under Schmidt's direction: the preponderance of strong female characters.
He explains with a laugh, "I like chicks! I think a big part of it is that there's such a dearth of good female roles. I feel like it's an opportunity to tip that balance a little bit. There are so many talented women in our community that aren't getting the opportunity to work, especially in classic plays or older plays. I just feel it's my duty as an employer to create work for those women."
There's more to it than that.
"I think I think more like a woman," the director says. "I think I'm more sensitive to my emotions and other people's emotions, and I think that I analyze relationships a lot, and I think I'm more aware at how I affect other people and how they affect me. Like the old stereotype: Women feel, men go through their lives without inspection … Men are discouraged from that. Boys don't cry and all that. So I think there's that kind of empathy of my part towards those stories. I'm much more interested in stories about emotional content."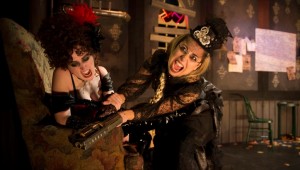 Schmidt seems have been going against the grain since he got to town. From education at the U of C and then the Banff Centre, he worked as an actor in Toronto before being lured to Edmonton by Marilyn Ryan of the theatrical Ryan family; she cast Schmidt and Darrin Hagen in a show called Times Square Angel in 1994. They've worked with each other often since, including in the successful cross-dressing romp Bitch Slap, about the famous rivalry between Bette Davis and Joan Crawford. They're working on a new one now about lesbians in the gold rush. It's called – you guessed it – Klondyke.
Given all he's said about thinking more like a woman and not particularly wanting to explore "guy culture" in theatre, one might think Edmonton is not be the perfect place for a thespian like Schmidt. But it was, and it is.
He says, "When I first moved here, Edmonton was the theatre city to be in this country. It was the hotbed for theatre. And I was very invigorated and excited by the theatre community here, which was very welcoming, I thought."
And now? "I feel now we're going through a really difficult time for the arts in Canada in general and Alberta and Edmonton specifically, and it's an uncertain era. We don't know what's going to happen next."
And not in a good way.