MORE ART, LESS POP: Art Bergmann returns to Edmonton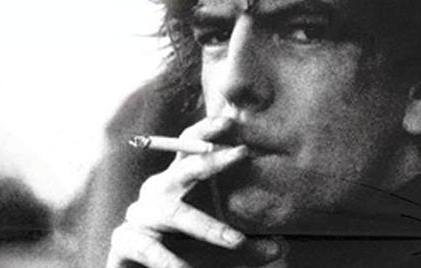 Art Bergmann and William Burroughs have a lot in common – they both suffered the plight of heroin addiction, and they both had the tendency to make people uneasy. They showed you sights you'd rather not see, tried to expose the unpleasant underbelly of society. And both of them did their very best to fling you into those disturbing places most of us dare not go – which cannot be forgotten no matter what you tell yourself afterwards.
A rare Edmonton show happening at the Pawn Shop on Friday, Nov. 29 is causing quite a stir in certain quarters of the Edmonton music scene, including with Jr. Gone Wild's Mike McDonald, who will be playing in the opening act, A Bunch of Marys.
"Every time one of these old school punk guys comes to town," says Mike, "we get the call."
It's these old school punk guys who have kept the Bergmann legend alive all these years after his heyday. Among his fans are folks who grew up with bands like the Golden Calgarians, Office or SNFU. Around a pitcher of beer in some Canadian pub, they repeat tales of Bergmann's early band, the K-Tels, who for obvious legal reasons changed their name to The Young Canadians. They regale each other with anecdotes of when they first heard Bergmann's song "Hawaii" or any of his other classic punk rock anthems. Lines like, "Worked all summer, saved my money so I can be warm, let's go to fuckin' Hawaii," should go over well with the Winter City crowd.
The legend wasn't so legendary to Bergmann himself. Growing up in Surrey, BC close to the US border, the singer started off working in bands that dressed in satin bell bottoms and shirts with wide lapels, while covering songs by Journey and the Eagles. Not that Bergmann has anything against cover songs. He says in a recent interview, "I don't mind cover tunes. As e.e. cummings said, just make it new, Monsieur" – but then Bergmann didn't just make it new, he wrote a brand new playlist that would inspire a generation of alternative music fans. Over another pitcher, they talk of Art Bergmann's memorable solo shows in the '90s. They argue the merits of his best known record – among more than 20 different recordings stretching back to 1977 – "What Fresh Hell is This?" Bergmann's 1995 album won the Juno for Best Alternative Rock Album. He does not consider it his highest achievement.
"Yeah, I won the Juno and got dumped by my record company the next day," he says. "It's probably sitting in some drug dealer's place in Vancouver. Probably makes a good toilet paper holder. I have no intention of getting it back, I'm done with it."
Bergmann and the late Stompin' Tom Connors shared that disdain for Canada's official music awards.
Of course the award really did nothing for his career, Bergmann says, but then neither did his agent and manager at the time Sam Feldman, who founded Canada's largest booking agency and now handles people like Leonard Cohen.
"He bought a lot of his street cred through me," Bergmann complains of Feldman. "In return he did next to nothing."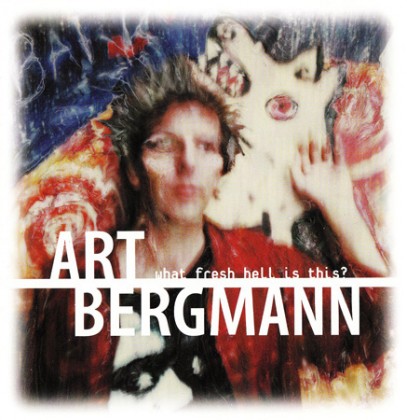 The argument can be made that Bergmann's own drug addiction helped spur on this lack of managerial motivation, but then again no one ever stopped working for Keith Richards because he wasn't completely clean and sober. Bergmann's music was, however, considered by many – including Feldman – to be "too risqué" for the radio, at least for the time. Consider tracks like "Guns and Heroin" from What Fresh Hell is This? Or Sexual Roulette, from the 1990 album of the same name, which deals with AIDS and ends with the line, "Will God's hate rain from above?"
Such material is commonplace these days.
Bergmann blames the fact he didn't get much radio airplay on "the Canadian Blockade of Politeness." He says, "No one wants to hear songs about some addict fighting for survival in an alleyway. No one wants to think about political and corporate corruption and its effect on how they live."
Even before Fresh Hell came out, Bergmann moved to Toronto and began in earnest his own reformation with life. The same city that appears to be the downfall of Canada's most recent scandalous politician was also host to events that turned a new page in his life. When asked who he thinks did more drugs in Toronto, him or Rob Ford, Bergmann replies with a laugh, "Well, I was trying to get clean when I was in Toronto, so I would say Rob Ford, hands down… Yes, you can quote me on that."
These days, Bergmann lives outside of Calgary on rural piece of land, enjoying the peace and quiet of country life, trading in the life of Punk Hell Raiser to become the Punk Gentleman Farmer, occasionally disturbed by his wife's menagerie of uninvited beasts, the latest being a flock of pigeons.
The nearly 60-year-old rocker still tours very occasionally, health permitting. Rock 'n' roll has taken its toll on a number of punk legends; in Bergmann's case, it's near crippling arthritis. All the more reason there's such interest in Friday's gig. Some say there might not be another one. You have to wonder if the new generation of punks will ever have the chance to have one of Canada's most honest musicians school them in what it really meant to be "punk."
Mike McDonald says, "This might be the last time anyone who wants to will get to see him… He made great contributions to the alternative music scene. It would be almost a sin to miss this show."
Bergmann himself is much more upbeat about the prospect of his future. He's interested in playing live again.
"For this show, I did a lot of taking stock of my time in the K-Tels, The Young Canadians and my early stuff," he says. "I plan to play a large cross section of my entire career from the '70s till now. People are going to hear a lot of songs they haven't heard me perform in awhile."
William Burroughs once said he had a knack in putting himself into other people's songs. He would certainly have found a home in Art Bergmann's music.