No bad jazz allowed on P.J. Perry Night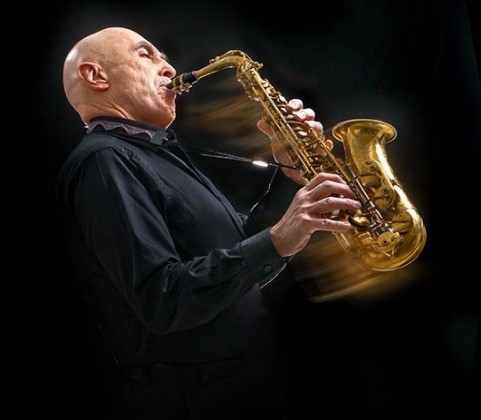 It's not often you see a Juno-winning jazz musician playing a regular lounge gig in this town.
P.J. Perry says he's seen both interest and audience growing for his new weekly swingin' soiree at Brittany's Lounge, a funky little downtown joint that runs occasional burlesque and music shows and has art on the walls. The saxman stumbled upon it during a summer stroll after a gig at the Winspear Centre.
"I saw these seedy looking bars along 97th Street, and I popped my head in the door and lo and behold, here's this gem of a music room," he says. He fell in love and the deal was struck that night: the P.J. Perry Trio will play every Wednesday night from 8-11 until further notice.
Recently off the road from Japan and the U.S. after a year on Broadway playing the big band show Come Fly With Me, the 71-year-old musician has been looking for a place in Edmonton to play beyond the Yardbird Suite. He says he found Brittany's so similar to many New York jazz clubs that he had to jump at the chance to make it happen.
"You pay a lot of money to go into one of those places," Perry says. "In Edmonton, you pay $10."
Such a deal. You will get neither schlock nor top-40 cover tunes, which were his and Tommy Banks's various breads and butters for many years before they both effectively retired to focus on their first love. Jazz all the way. From so many cautionary tales of failed attempts to expand Edmonton's live jazz scene, this gig will be different, Perry says. He doesn't hesitate to mention that he's bringing at least 60 years of love and dedication to the art form. No two nights will be the same, he says. There may be the odd distinguished guest, friends from New York who happen to be coming through town to play the Yardbird, say, or some of Edmonton's top jazz players. Perry still practices several hours every day to "stay on top of my game." He expects the same high standards from his fellow players. This is NOT another one of these "jams" that have been such a blight on the local music scene.
In short, no "bad jazz" allowed.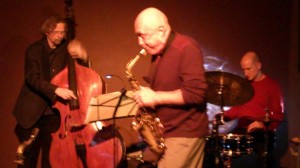 Obviously entitled to blow his own horn here (as he has played with people like Dizzy Gillespie and Henry Mancini), Perry suggests that bad jazz is the "kiss of death" for any nightclub. The reason is simple: despite popular belief that jazz is an elitist art form, even a layman will know.
"For someone who has never heard jazz music, you will never get them to say they like jazz music unless they happen upon someone who knows what they're doing," Perry says. "If they hear mediocre or poorly played jazz music, they'll say, what the fuck is all that about?! Furthermore, I don't like it, either."
And then they don't come back.
Good jazz, like good blues, is hard to come by. Along with the lifelong dedication and love, it takes actual talent. It takes a huge amount of work for little to no money, especially in Canada, Perry says, where "there is no way anyone could make a living playing jazz music."
It kind of takes the stress off knowing that.
PJ and his pals are getting paid for this. They're union men, after all, but the veteran musician seems to be going the extra mile in trying to create a little permanent slice of New York in downtown Edmonton.
"I intend to keep the standard as high as I possibly can," Perry says. "I want this to be the real thing. It's my baby."