TV PERSONALITY: Gord Steinke, REAL Anchorman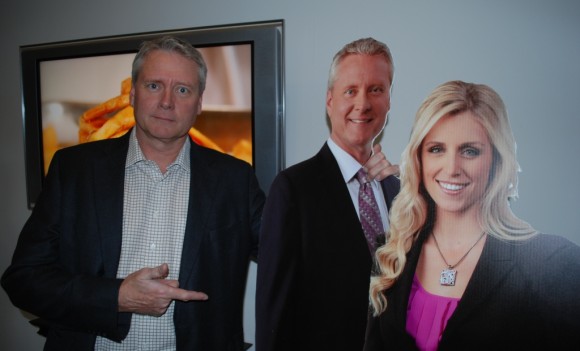 Gord Steinke is a huge fan of Ron Burgundy, Anchorman – the moronic empty ego with perfect hair and teeth played by the hilarious Will Ferrell, starring with much advance hype in The Anchorman 2: The Legend Continues, opening Dec. 20 in theatres everywhere.
Ron Burgundy is not an accurate depiction of a real anchorman.
"I love it, but it's not even close," says Steinke with a laugh. He's been the evening news anchor on Global TV (formerly ITV) since 1992. It has to be the longest continuous television anchoring run in town. It helps to have perfect hair and teeth, and also a mellifluous voice, but a real anchorman is a real journalist at heart.
"We've all been in the trenches, whether you were covering murders or unions or school board meetings or bank robberies," Steinke says. "That's where we all come from."
A passion for finding good stories has kept him going all this time, he says. While some newsmen of this vintage go into punditry, on CHED, say, offering seasoned analysis and opinion to fight the incredible tide of bullshit pouring into the public conversation, it is not the path for this particular anchor.
"I always looked at myself as more of an observer than a participant," he says. "Even as a kid I was always more interested in what other people were doing. And I don't think people give a rat's ass what I think anyway." Besides, he adds, you can shape any story by choosing your interview subjects carefully, and then they can say what you're thinking so you don't have to. The real journalist has to remain objective.
Steinke wasn't always so anchor-like. His rock 'n' roll, motorcycle-riding roots are well known in this town, but still sometime surprises people. He still plays from time to time, had some bands on the side in Edmonton, with media-like names This Just In and Hidden Agenda. He was also personally invited by Gene Simmons to go on the road with KISS for a week. A lot of media people around here have secret rock 'n' roll cred.
Steinke still rides hog, too. He helps with the annual Parade of Heroes, where motorcycle riders who don't generally look like anchormen take kids with cancer for rides around Hawrelak Park.
It used to be a lifestyle. A grandfather at the age of 54, Steinke has been through hard times since childhood, details he'd rather keep private aside from the tragic death of his sister in 1996 at the hands of a drunk driver. He's been a dedicated supporter of Mothers Against Drunk Driving (MADD) ever since.
Back in the day, that day being sometime in the mid-'70s, Steinke left his broken home and went straight from high school to play bass on the road in various hard rock bands of the sort that seem to be favoured by bikers. First came Slyder – "with a Y and a green snake on the poster" – and the later more successful hard rock trio Inner City Band out of Toronto, more successful in that they occasionally got to open for bands like Black Sabbath. Also they had a record out, though sadly by the time they made it to Winnipeg to support the thing, "it was over," Steinke says. The band was finished as recording artists, the hard-rockin' trio idea not being in vogue with the burgeoning new wave movement of the early '80s. It did come back about 10 years later, of course.
"Maybe we were ahead of our time," Steinke says.
And so, after about seven years playing the same dozen or so tanktowns on the Ontario "A" circuit, Steinke gave up being a rock musician to pursue his writerly ambitions in journalism college.
Steinke caught all the right breaks. He said no to almost every offer that came his way, which is not usually the way it works. He declined to join a Doors clone band that probably would've been very successful. While working as a researcher at CBC Radio in Regina, he turned down an offer to go on the air – until he was told that the researcher job would soon be ending. He said "hell, no!" to cutting his luxuriant rock star hair to go on television – until he was told that his radio job would be ending. No joke. The CBC works in mysterious ways.
"In radio and print, we always looked at television people as geeks," Steinke says. "We could always tell when the television people walked into the room, at the pub where all the journalists hung out. Us print and radio guys, we'd all go, 'ffk, there they are.' They'd all sit over there at their own little table. Expensive suits, their shoes are all polished."
You can see this anti-anchorman stigma has deep roots. Steinke would soon become part of the cool TV crowd. He tried to fit in. Doing live hits for CBC-TV Regina, Steinke recalls he didn't even know how to tie a tie. He had to get a friend with an office job help him out.
"I had three ties, and for the longest time I just kept them tied on hangars in my closet," he says.
Somehow an ABC News affiliate in Minneapolis caught one of Steinke's broadcasts. Loving his "clipped British accent," they wanted him to do live news segments for a world TV news service that would be competing with CNN. He quit CBC immediately and four days later was in Florida reporting on the 1989 Panama invasion and the capture of Manuel Noriega. Steinke was also doing live hits from New York and Chicago – "and two months before that I was interviewing Pemmican Pete at Buffalo Days in Regina," he says.
A conspiracy of free trade regulations, visa complications, low pay and grueling hours made it easy for Steinke to apply for a new job in Edmonton, as the evening news anchor at ITV – and here we are.
Telling the big story
Lifelong journalists sometimes complain of only being able to immerse themselves in an interesting story and its subjects for short periods of time, and then it's onto the next one, the old news forgotten. You don't actually get to build anything real. Steinke admits to having been bored in his nearly 22-year anchoring stint, but he found a creative outlet from writing a book that turned out to be a best-seller, Mobsters and Rumrunners of Canada.
The journalist went much deeper into this story than the usual daily journalism allows – and here his rock 'n' roll street cred served him well. Almost any rock musician who was on the road in Western Canada back in the day played in Moose Jaw, Saskatchewan, and therefore knows well the legend of the Royal Hotel, the basement of which was an underground headquarters of mobster Al Capone during Prohibition. It apparently wasn't common knowledge. Just rock musician knowledge. At the behest of Edmonton's Lone Pine Publishing, Steinke dug up details, interviewed the doctor who took out Capone's tonsils – with no anesthetic at Capone's request – and some kid, now an old man, who used to deliver newspapers to the bootlegger and his henchmen, including the flambouyant Diamond Jim Grady, who apparently made quite a spectacle of himself strolling around Moose Jaw, Saskatchewan during the 1930s. Other provinces seemed to have similar stories, and the book was born.
"It got sold in my favourite store, Canadian Tire," Steinke says, "so I knew I had made it."
He's got another book about Canadian history in the works. No details yet, but it involves riding his motorcycle to the Arctic Circle and back.
"I love riding motorcycles," he says. "It was just an excuse to go ride a motorcycle, really."
This story could've turned out so differently if Steinke had said no at the wrong time or yes at the right time, whatever the case may be. He remembers exactly where he was when he decided that rock 'n' roll as a career was a dead end street. It was in a hotel room in Port McNicoll, Ontario, same horrible room he had so many times before, same bed, same stain on the bed, and he's rundown and he's sick. He says, "It dawned on me: I'm going to be doing this same thing five years from now! Some sort of light went off right there: If there is a God, get me out of here. And He Did."
Now does that sound like something Ron Burgundy would say?