Wat's up! Friendship bonds through food at Abyssinia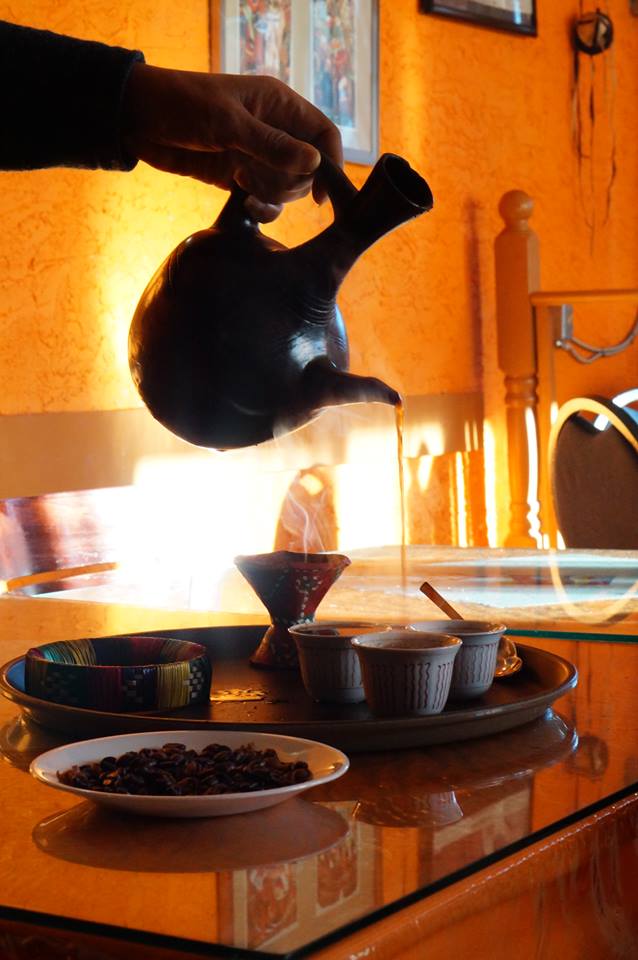 From the outside, Abyssinia looks like a charming family home. Of course, it is a family restaurant. Owners Zafu Gessessew and Wond Assefa came from Ethiopia to Canada separately 22 years ago, married in Edmonton and eventually decided to take the risk to start their own place, with their families in mind.
The couple offers friendly greetings on a recent visit. Although the dining area felt like it had been cheaply renovated with a heat lamp that stretched out along the ceiling, the interior's warm orange walls are decorated with masks and pictures that create an African milieu. This, alongside metal and fabric chairs and glass tables, gives the impression of a Canadian diner infused with Ethiopian culture.
The menu is characteristic of traditional Ethiopian eateries. Vegan choices, beef, lamb and poultry (sorry, no pork) are cooked in rich sauces creating a kind of stew called wat, and served on top of a sheet of injera bread. If you have never eaten at a traditional Ethiopian restaurant (or Somali or Eritrean), their eating rituals may surprise you. Traditionally, one tray, a "mosseb," is served to the whole table. Everyone shares the same sponge-like flatbread (which is baked in house) tearing off pieces to eat by hand, with no utensils, mixing meat entrées with side dishes, salad, cheese, and vegetable stews as desired.
A plethora of grains, herbs, and spices not native to North America fills the menu with curry-like dishes that can be mixed together creating numerous flavourful combinations. Teff is a wild highland grass in Ethiopia used in baking injera bread, while a mixture of chili peppers and native spices create rich sauces such as berbere sauce I enjoyed with my yebeg wat (lamb stew). There are other choices such as tibs (sautéed meat and vegetables), or kitfo (marinated raw beef), just to name a few.
And then there's the coffee. The coffee bean plant is native to Ethiopia so it's no wonder they have their own ceremonial way to serve it. The coffee ritual at Abyssinia involves a plate of fresh roasted coffee beans brought to your table to smell; then incense is burned to give an extra aroma. The fresh brewed coffee is served with honey.
Being raised in a culture with different culinary traditions was something Gessessew and Assefa wanted to share with Edmontonians.
"Back in Ethiopia you began as neighbours, but we would become a kind of family – the connection made through eating becomes so big," Gessessew says. "Unless you have a problem coping with other people eating from the same tray of food, then we serve everyone from the same tray and they share. They eat together."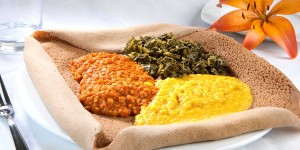 The two were quite open about their similar choices to leave Ethiopia for Canada: civil war, no work, and little hope for their young children. Assefa had started his own janitorial business in Edmonton, while Gessessew ran her own company selling injera bread when she first moved here, but it ultimately failed when the competition caught on to her success. She still wanted to realize her dream and start her own restaurant once her children grew older. As chance would have it, three years ago a former colleague and restaurant owner made her a surprise offer that she and her husband couldn't refuse.
"I came to the restaurant for lunch with my daughter; the owner saw me and suddenly told me I should buy the restaurant from him. Buying a restaurant was in my mind, and so he gave me a tour and we decided in the end to buy it," Gessessew says, knowing her cooking ability was sought after.
There's a charm about Abyssinia – a place for the owners to share their culinary traditions in Canada, while also offering a friendly, truly communal dining experience. As the restaurant's website reads, "Sharing the same bread is socially significant in the Ethiopian culture and also creates a bond of friendship and personal loyalty between the diners. It is said that people who eat from the same plate will never betray one another."