INTERVIEW: No. 1 Edmontonian of the Year!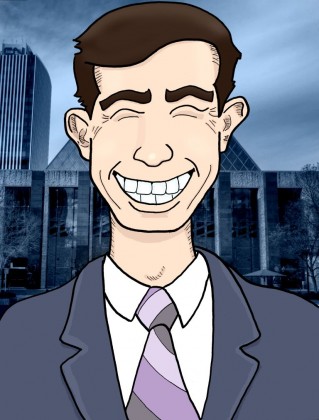 Mr. Mayor, how do you feel about being chosen Edmontonian of the Year?
MAYOR: I would like to share the credit with the voters of Edmonton for making it possible.
Q: Were you surprised at the level of love?
MAYOR: It exceeded our expectations.
Q: How's the learning curve been so far?
MAYOR: It's vertical. But having been a City Councillor for six years means I'm not learning everything from scratch. The biggest thing is all the relationships a Mayor needs to maintain, with City Councillors, with key city administrators, with regional leaders in the province, leaders in business and social sectors. It's a significant number of people to meet. But they're great people, by and large, so that's making it fun.
Q: What's been your most difficult decision so far?
MAYOR: [After a very long pause]: Some of the decisions in budget were difficult, obviously. There were some things we would've liked to do that we just can't afford right now. Those were the toughest ones. There were some much needed transit investments. Not LRT construction, but bus service that is needed that we weren't able to find resources for in this year's budget.
Q: What about Southeast LRT expansion? Isn't that a pickle?
MAYOR: The funding is, but I'm confident we'll be able to get support from provincial and federal partners for that. It's just a matter of time and focus. The council is focused on that now, and I'm going to devote more of my time to pitching it next year … City council has already committed $800 million for our piece of the next leg, we've got some money from the federal government and we're looking for more, and for commitment from the provincial government. I think we'll get there.
Q: So the Cloverdale footbridge won't be saved, then?
MAYOR: I don't see it that way. I think the footbridge is going to be upgraded to also carry LRT, and it's going to be disrupted for two years.
Q: Like the one near the High Level Bridge?
MAYOR: Exactly, and that's to reduce the impact on the river. From an environmental point of view, it has the least impact.
Q: How much time do you take studying all these issues?
MAYOR: Every … Waking … Moment! It's an all-consuming job.
Q: If you were forced to choose, Twitter or Facebook?
MAYOR: Twitter
Q: Fiscal conservative or social liberal?
MAYOR: Social liberal
Q: Betty or Veronica?
MAYOR: Probably Veronica. She's the brunette, right?
Q: Have you ever smoked pot?
MAYOR: My answer to that is that I went to university in the '90s. Next question.
Q: Sorry about that one. It's the question to ask. Everyone seems fine with Justin Trudeau admitting he smoked pot. Rob Ford goes just a little further and look what happens. Where do you draw the line?
MAYOR: No comment.
Q: What would you say if we told you we had a video in our possession of you smoking pot?
MAYOR: I would deny its existence. And we didn't have camera phones back then.
Q: Now that you're Mayor, don't you find Twitter a waste of time when people are using it to complain about snow removal?
MAYOR: It's just one more channel to connect with citizens. If people are looking to dispatch plows, that's not the best use of the Mayor's time, but to understand people's frustrations is useful.
Q: Do you read all your tweets?
MAYOR: Yup. It's not too bad, though. They're short, which is the virtue of it. That's why I picked Twitter. If someone writes a 1,200 word rant on Facebook, I might not read the whole thing.
Q: Are you afraid you won't be able to give everybody everything they want without a substantial tax increase?
MAYOR: We know that wants are always going to outpace resources and that's why we have to be thoughtful in our budget deliberations, and prioritize what we need in one year to the next. Not everybody gets what they want, but everybody screams when you try to take something away as well … The concrete isn't free, the guy driving the sanding truck isn't free, the sanding truck isn't free, the sand isn't free, the diesel isn't free. Those are real costs that the city has that we have to pass along to Edmontonians. I think most people get that. I think most people see reasonable value in what they're getting for their money.
Q: Any final thoughts on the kind of year Edmonton had, speaking as the 2013 Edmontonian of the Year?
MAYOR: We've made some decisions and we've moved on. The arena was a big debate, but the decision's been made. We're going to build it and we're now implementing that decision. The airport has been a huge debate for many, many years and we've seen that chapter end with the formal closure. I think the city is really growing up and moving on and becoming a bit more decisive, and I think that's positive.
(Illustration by Chad Huculak)
Vote NOW for No. 2 Edmontonian of the Year!