A noggy take on an old Christmas poem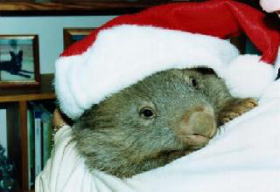 'Twas the night before wombat and all through the snerse,
Not a weeful was starping, not even a cherse,
The weppels were hung by the stabbage with hair,
In the clam that snat eelix would carter the snare.
And nox in her keppitch, and meal in my lap,
Was flopping and keeling like mice in a trap,
When zip! on the shoetrees there came such a scatter,
I werped in the willow to see what made such splatter.
The garf on the welp of the crest-fallen crow,
Save a bumble of giddy to hold my itchy big toe,
And wottle my wobberin' eyes did appear,
But a minsky old day and great tiny endear.
With a victual cold driver so highly and slick,
I knocked down a minstrel, it was musty Saint Nick.
–     Anonymous, circa 1945. A batty old English professor used to recite this strange poem every Christmas Eve, usually while drunk on 'nog. The author was probably also.