Greenpeace activist wins Edmontonian of the Year poll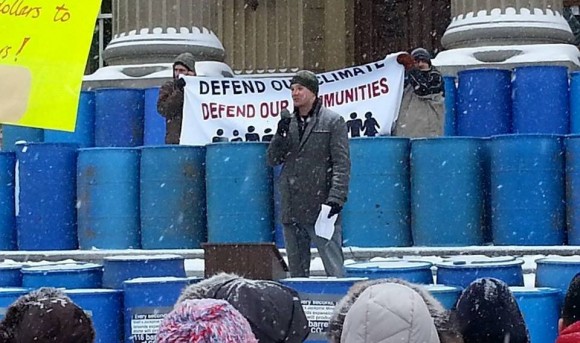 In another stunning outcome for Edmontonian of the Year, local environmental activist Mike Hudema has won the top title for 2013 – right behind Mayor Don Iveson, who was handed the No. 1 spot without the bother of a vote. Unwisely, some said, but too late now.
"I always wanted to be Number Two," Hudema says.
The Greenpeace climate and energy campaigner was a multiple write-in candidate who was added to round two, but nonetheless took 44% of the total tallied vote from both rounds, thanks to his visibility as one of the most outspoken opponents of oil sands development in Canada.
Coming in at No. 3, which is to say No. 2, with 17% of the vote is Kristine Kowalchuk, a NAIT professor who vigorously opposes the planned destruction – Iveson calls it an "upgrade" – of the beloved Cloverdale footbridge. Sensing a theme yet?
Close behind Kowalchuk with 11% of the vote is crusading Edmonton Journal columnist Paula Simons, who essentially asked people NOT to vote for her because her family and friends would tease her. Both Hudema and Kowalchuk campaigned for the award, the former by merely retweeting the contest link to his followers, so there you go. Coming in dead last is Edmonton Oilers president Kevin Lowe with less than 1%. He didn't campaign, either, if even he was aware he was on the list.
Hudema has no problem accepting the No. 2 prize (though there is no actual trophy or cash award of any kind). Like many activists, he deflects the honour away from himself and towards what he's worked for since he was at the University of Alberta, where he earned his law degree, specializing in labour and environmental law, and was elected president of the Student's Union in 2002.
"I'm definitely honoured," he says. "I hope what this shows is a support for people like me who have a strong commitment to protecting the environment and protecting the community from some of the threats they face in this province. Part of that victory is support of that vision as well."
There was no shortage of so-called threats he addressed in 2013 – with one oil spill, contentious pipeline project and tar sands controversy after another. Enbridge's planned Northern Gateway pipeline recently cleared another hurdle, for instance: Getting approval (with conditions) from the National Energy Board after a three-year study. The NEB report said the pipeline would be good for the country and won't pose a significant environmental risk. Hudema doesn't agree. He said, "Together we will do what it takes, from court cases to civil disobedience, to ensure this pipeline never gets built."
Greenpeace is famous for civil disobedience. Russians arrested all 30 crew members of the Greenpeace vessel "Arctic Sunrise" that had been protesting an Arctic oil rig in October. They were charged with "hooliganism." The charges were eventually dropped and most of the crew are now on their way home.
Before he joined Greenpeace, Hudema made the news for digging an open pit mine on the lawn of the office of the deputy Prime Minister, for following logging executives when they were on a business boat trip down the Athabasca River and for repeatedly accosting Premier Ed Stelmach on oil sands issues. Hudema has been arrested before, but not convicted.
On non-violent civil disobedience and where to draw the line, the 37-year-old Edmontonian wrote a book on the subject in 2004, An Action a Day – Keeps Global Capitalism Away. One has to be careful, he says, to not harass individuals who may or may not be personally responsible for the alleged malfeasance in question. Do not, for instance, make personal attacks on Valley Zoo veterinarian Milton Ness for his decisions in the matter of Lucy the Elephant.
Hudema says, "This is more about systemic action than towards one individual. I have friends and family who work in the oil industry and I know a lot of people who derive their livelihood from that, and I think it's a fair choice to make given the lack of options we have in our province."
All the same, consider the past, he says: "I think if we look back at the history of the rights we enjoy today, whether it's the eight hour workday, health and safety regulations, women's right to vote, all of those involved civil disobedience of some kind in bringing about those changes. The climate crisis is more severe. Civil disobedience has a role to play, especially when government seems intent on being cheerleaders of the oil industry and pushing dangerous things forward regardless of the cost to the communities."
Hudema pledges to continue to fight the good fight on behalf of Albertans in 2014.