REVIEW: Timberlake goes for soul overkill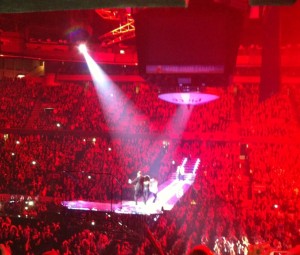 Justin Timberlake's The 20/20 Experience was more than just a pop concert. It was soul overkill.
Any possibility of subtlety or spontaneity was mercilessly crushed under a relentless barrage of pure bombast, over-arranged, over-played, overwrought. Timberlake may want to be like Prince, but he is the Meat Loaf of R&B.
You can't blame the guy. He's just following the status quo. Like marketers and the media have to shock citizens to get their attention, sensational overkill is expected when you're a big star who gets to play hockey arenas. It's prevailing practice in the concert industry these days. The biggest performers of the day try to outdo one another for sheer aural and visual spectacle that often obliterates most of their essential musicality that made them such a big deal to begin with. There are exceptions. But it's not enough anymore to just get up there and "play" your "songs." How quaint. Let the hipster bands do that for their hipster friends.
Modern concert fans demand huge shows. The numbers speak for themselves. Timberlake sold out Rexall Place Monday night, and plays again Tuesday. He knows that in addition to perfect performances that bring the recordings to vivid, lurid life, his fans expect a dance show. He has boy band roots to live up to, after all. Justin's choreography was top notch – with six dancers and lots of Fred Astaire-ian moves. He also had the biggest, most elaborate video screen system seen in Rexall Place, at least until the next star comes along to top it, a vast honeycomb of HD displays that showed a mind-blowing array of images. Hidden inside the honeycombs were lots and lots of lights and even frickin' laser beams.
Justin, dapper in his retro suit, crooned and wailed through his catalogue, heavy on his new album, in a pop concert rendered as Broadway theatre. Obviously a house gig in Vegas is the next step in the evolution of the JT Experience. Maybe he could team up with Britney!
The funny thing about the whole thing is that he had this band of 16 crack musicians, the Tennessee Kids, who blew their brains out the whole night, over two sets separated by a 10 minute break – and they still added pre-recorded backing tracks to fill out the sound already stuffed to bursting. There's no doubt they were really playing. At least the band was. Justin has been smart enough all these years to have surrounded himself with great musicians; they make him look great. And he played some instruments, too. They made a point of hovering a camera above his hands while he played grand piano in "My Love," so, yes, he really seemed to be playing the thing, but there was no way he was playing that guitar in that Latin rave-up later on. No camera that time.
There wasn't a mistake in the entire show. Too bad; it might've become more human. Sometimes the vocals sounded too perfect, the horns too huge, especially with the pair of trumpet players getting involved with the dance routines on the enormous catwalk that spanned the entire width of the stage before the whole thing rose up and trundled over the heads of the cheering fans all the way to the back of the auditorium, where Justin and selected band members mingled with the lucky VIP ticket-holders, shit, that was pretty cool … and what were we talking about?
Oh, right, the music. There was music at the Justin Timberlake concert. It was as slick as it was programmed, right down to the patter, the (insert name of city here) references throughout and the frequent urging to "get this party started" even though we were clearly already in the middle of said party.
Aside from his radioactive charisma, Justin's secret weapon was his falsetto, whose very sound makes women melt on the spot. And they did. Or at least they sounded like it. At times, coupled with some jazzy chords thrown over funky bits, he comes off exactly like Prince minus the great songs. Also, Michael Jackson – helped by the fact he did a Michael Jackson song later on. Elvis, too, and Bell Biv Devoe, Jay-Z and Kool and the Gang.
In short, some of the most memorable moments of the show were covers, and the most memorable thing about Justin Timberlake were all the roles his main character played: Mr. Cool Lovesexy, always funky, always suave, always hitting his mark. He is obviously an actor at heart – and the perfect guy to lead the way in the modern concert industry where "more is more."