The Book of Mormon comes to Edmonton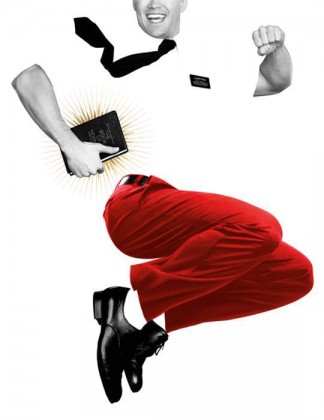 The Book of Mormon – the musical  – is coming to Edmonton, but fans of the popular Broadway show written and produced by the creators of South Park will have to wait more than year to see it.
Part of Broadway Across Canada's next touring season announced this week, the Book of Mormon will play at the Jubilee Auditorium March 24-29, 2015.
Franchising this work is just the latest triumph in such an unlikely Broadway success story. It had been well-known for a long time that South Park creators Trey Parker and Matt Stone are fans of both The Church of Jesus Christ of Latter-day Saints – the Mormons – and also musicals. Remember that South Park episode where everyone winds up in hell – the Pope, Mother Teresa, almost every allegedly good person on Earth – wondering what happened?
"So if we're all in hell, who's in heaven?" The answer comes: The Mormons. The answer was … the Mormons.
So this was a natural.
This lively tale of a pair of Mormon missionaries sent to Uganda to spread the gospel won nine Tony awards after it opened in New York in 2011, including Best Musical, and has been one of the hot shows on the Great White Way ever since. Along with Green Day's American Idiot, the show has helped revitalize musical theatre around the world.
Talk about a long lead time: also announced this week were Flashdance, the Musical, playing Nov. 25-30; and the first show of the Broadway Across Canada season, the return of Wicked, the imagined "prequel" of The Wizard of Oz, running July 2-20. Both are at the Jube.
Season tickets for all three productions go on sale March 10 at Ticketmaster. Check the Broadway Across Canada website for details.