MUSIC PREVIEW: Folk the weekend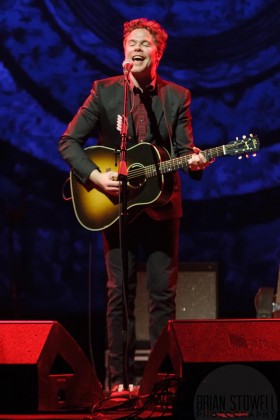 This weekend's gig schedule is filled with a whole lot of folk musicians and singer-songwriters – appropriate to the city's music scene and also the time of year. Come to think of it, we get great folk all year long. Josh Ritter and Geoff Berner headline shows on both Friday and Saturday night, and then hot new local act Anchors North finish the second night of the weekend off with a flourish, celebrating the release of their very first EP with a release party at The Artery.
Friday 31
Down With Webster – This poppy rap-rock band from Toronto was originally formed for a middle school talent show, and then took off from there, and now have a total of four studio albums, one of which was certified gold in Canada. Their newest album, "Party For Your Life", was released earlier this week. With SonReal and D Pride. Winspear Center, 7:30, $27 and up.
Josh Ritter – This critically acclaimed folk-rockster (right) is in the area for two shows this weekend, a sold out show on Friday, and another on Saturday. Hailing from the other Moscow (in Idaho), Ritter initially attended college to study neuroscience, then changed his major to the self-declared "American History Through Narrative Folk Music". And the music world is all the better for it. Apparently the university was okay with it, too, as he did end up graduating. Ritter is touring to support his 2013 album "The Beast In Its Tracks", hailed by American Songwriter magazine as a "gracious, relentlessly honest, post-breakup record – the songs are straightforward and immediate". With Gregory Alan Isakov. Arden Theatre, 7:30 pm, $51.70.
Geoff Berner – Also in town to play back-to-back shows on Friday and Saturday, this Vancouver musician is perhaps best known for his accordion playing, but he's also promoting a new book, "Festival Man". Friday Night Doug Hoyer opens; Saturday it's Kris Demeanor. Wunderbar, 9 pm both nights. Berner will also be doing a reading Saturday at 4 pm at Permament Records, 8126 Gateway Blvd. Admission free.
Red Moon Road – This Winnipeg country-folk-pop act features two Daniels – Daniel Jordan and Daniel Peloquin-Hopfner – who play a bevy of stringed instruments: banjo, mandolin, guitar and fiddle and are fronted by the incredible voice of Sheena Rattai. With one EP and one full-length album out, they are becoming quickly renowned in the Western provinces. The Artery, 8 pm, $8.
Kickupafuss – Some bands disdain vowels in their name. This one likes vowels, but not so much spaces. They're the Sonic Band of the Month for January, and the hard-rockers' headline set will be loud, raucous and unforgiving as their space-free name suggests. Also performing are Mayday and the Beat Creeps, and Them Locals. Pawn Shop, 8 pm, $10.
Saturday Feb 1
Anchors North – This release show for the folk-country act features four multi-instrumentalists and a drummer, with the traditional guitars and bass mixing with a lap steel, banjo, and mandolin, among others. Their four-track EP was recorded and mixed right here in Edmonton, spilling over from an early recording session in one of the band members' basements. Think Wilco meets Blue Rodeo with a hint of punk angst. With the Give 'Em Hell Boys and Boxcar Brawlers. The Artery, 8 pm, $10.
Boxcar Gloryholes – This local county-punk "skronky tonk" act held a release party for their debut EP late last fall that sold out. So if you weren't able to get in then, or just completely missed out, well, you're in luck, because they're playing the Black Dog's traditional Hair Of the Dog Saturday afternoon session this weekend. No cover charge, sets at 4 and 5:15 pm.