RIP: David Finkelman pursued path less taken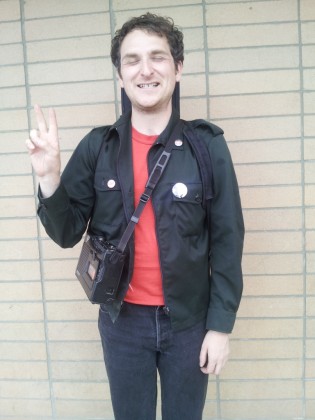 Dave Finkelman, an immensely popular musician, CJSR DJ, friend, brother and son, tragically passed away on Jan. 27 after being struck by a car while he was walking in a marked crosswalk on Whyte Avenue.
A short distance away from the Wunderbar – a venue the 27-year-old musician and his band Energetic Action performed at frequently – a wreath of flowers and photos now stands as remembrance.
Finkelman brought to Edmonton a true passion for sharing, discovering and performing music. For many fans of the punk, avant-garde and underground music scenes, listening to his long-running shows on CJSR, "Big A Little A" and "Resistance," was a Saturday afternoon routine. On stage as guitarist for the band Energetic Action, Finkelman and his bandmates pursued the path less taken, setting themselves apart from almost every other artist in the city.
"Energetic Action pretty much made every other band in the city look generic," said veteran alternative music promoter Cameron Noyes. "I was stoked for about three weeks after their album release in 2013. It was one of the most memorable local events of the year for me."
The shockwaves sent through Edmonton's tight-knit music community is evidence of just how respected and liked Dave was to many people. Owen Strasky, member of experimental group Zebra Pulse and heavy psych band Krang, says of Finkelman: "His radio show was a major factor in me falling in love with this city. I hadn't yet met him in person, but it felt like we were friends exploring and discovering music together. Dave helped to show me, and I'm sure many, many others, that music is much more than a certain look and sound. It is about attitude and actions which can be a powerful force of expression and change. Once we started chatting I quickly realized that he was sincere and kind with a great wit and sense of humour. I feel very fortunate to have called him a friend. He will be missed and celebrated for years to come."
Personally, I had the fortune of getting to know Dave better and better over the last couple years, sitting down for interviews, playing shows together and watching other bands on stage. With Dave, I always laughed, I always learned something and when he spoke, I always listened to everything he had to say. My heart goes out to his parents, younger sister, close friends and the countless people who experienced Dave's passion for music, creativity.
A memorial service will be held on Sunday, Feb. 2 at 2 pm at the Connelly-McKinley Funeral Home (10011 – 114 Street).
MORE: Sept. 2013 interview with Energetic Action
Photo by Jared Majeski