Young Frankenstein the Musical a no brainer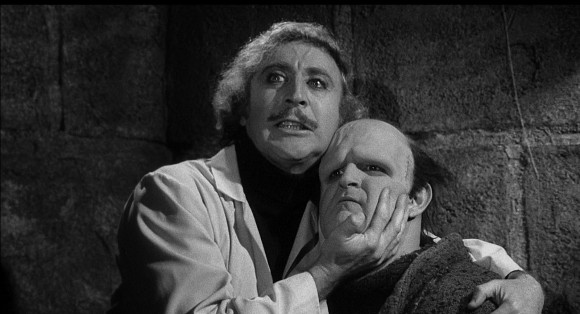 Can anything be made into a musical?
The short answer is yes. The more difficult question is why.
You don't have to dig far to see that musical theatre has wormed its way into all orifices of popular culture. When rock stars and the guys from South Park and Family Guy and Disney start getting into it, you know it's a thing.
The old showbiz mensch Mel Brooks got right in on that action. Following up his Broadway treatment of The Producers, which swept the Tony Awards in 2001, he produced a second successful musical in 2007 based on his own classic comedy from 33 years before, Young Frankenstein. Talk about a no-brainer.
Young Frankenstein the Musical will make its first appearance in Edmonton, Feb. 5-15 at the John L. Haar Theatre, a production of MacEwan University's Theatre Arts program.
"We're training our students for the current job market," says director Jim Guedo, a veteran Edmonton theatre guy and for the last three years a theatre instructor at MacEwan. He says there's lots of demand for people who can act, sing and dance. They need to be trained not only in the latest and hippest shows making the rounds – American Idiot, The Book of Mormon, and so on – but in what Guedo calls "big, bold, brash, broad old school musical theatre." Young Frankenstein the Musical isn't particularly old, but Mel Brooks himself fits all of the above words, and those are just the B's.
A couple of challenges here, Guedo says, one being that the movie was dark, shot in black and white. Musical theatre is by nature not dark. It is loud and colourful (two more words that fit the musical's creator). Another challenge is how to deal with jokes so well-milked that their very obviousness becomes part of their impact.
"I probably saw that movie 13 times before these students were even glints in their parents' eyes," Guedo says. "What they need to realize is that, say, we're setting up four bad jokes in this scene, but they're so bad they're funny. Mel Brooks started in stand-up. He worked with Sid Caesar. We're talking Jewish Borsch Belt humour, vaudeville, old style. They are corny jokes, but part of the fun is that they're so obvious we have to embrace them. They can surprise you, too."
Like Spamalot – the musical based on Monty Python and the Holy Grail, itself a take on the King Arthur tale – the musical version of Mel's movie monster spoof zeroes in on musical theatre itself as one of the targets, Guedo says. Instead of "Good luck," Igor might say, "Break a leg," which is what theatre people say to wish each other a good show. Theatre people are weird.
As for the differences between the screen and stage version of Young Frankenstein, anyone who's seen the 1974 movie will get most of the jokes in the musical. In fact, the more familiar, the better. It's that obviousness thing again. Most of the characters get at least one chance to sing their hearts out as well.
"What Mel Brooks has done is take moments from the movie and converted them into songs," Guedo says. "A lot of the dialogue is verbatim, but when Frau Blucher screams out, 'He vas my boyfriend!' she gets to do a song on it."
Other numbers include "Please Don't Touch Me," "Transylvania Mania" and "Puttin' On the Ritz" – the latter the only musical number that was in the original film. That, plus "Ah, Sweet Mystery of Life" in the scene where the monster and his bride consummate their love. Mel Brooks at his finest.
Says Guedo, "Musical theatre was in his bones even then."
(Inset photo above by Josh Rapanos)