Happy Valentine's Day! Yanni's coming, hint, hint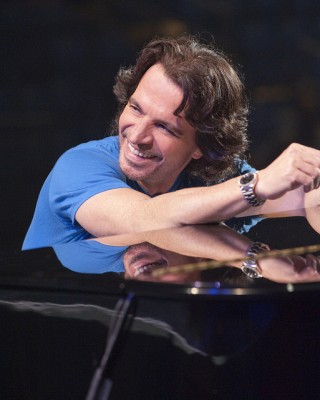 Hey Ladies! Who loves you? That's right, Yanni loves you. Do you know who loves you even more? The man who buys you tickets to Yanni, who returns to the Jubilee Auditorium on Tuesday, Sept. 9.
Tickets go on sale Friday – Valentine's Day. Hint, hint. And this should really be directed at the men who love the women who love Yanni, so it will be a surprise. Tickets are $90 or $113, plus service charges, not including flowers and candy.
A sculpted Greek God of an entertainer, with sculpted genre-smooshing world music to match, Yanni promises an all new show on this tour, which comes (well) behind his most recent studio album, Truth of Touch, released in 2011. He has since been busy since touring the world – including a massive televised gig in China – and devoting time to his various philanthropic causes. One of the most surprising things about Yanni's last concert in Edmonton in 2012 was the absence of his famous moustache. Not since Billy Ray Cyrus removed his mullet has the world be subjected to such tonsorial dissonance, and we all know how that turned out.
But seriously, critics may complain that Yanni sounds like the sort of music that gets played on TV before major Olympic events, that it's basically background music brought to the forefront, but his fans are among the most loyal you'll find, moustache or no moustache. His albums have sold more than 25 million copies around the world. That's a lot of women who love Yanni.