MUSIC PREVIEW: Wake Owl a hoot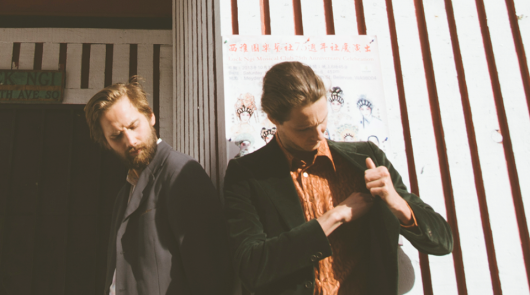 To have Vancouver claim the great band Wake Owl as its own may be a little misleading – because its singer-songwriter Colyn Cameron seems to be from a lot of different places.
Raised in Southern California, he went off to study organic agriculture in England, then worked on various farms in the UK, Germany, Chile, and Canada, before going into music. The folk-rock style he's chosen to work in is quite voluminous, full of an entire planet's worth of influences, really. In fact, when Cameron first began making music, it was rap.
With his equally uber-talented partner multi-instrumentalist Aiden Briscall, the duo has toured a number of times already, including playing the main stage during Sled Island in 2012, so it might come as a bit of a surprise that their debut full-length, "The Private World Of Paradise", came out just this week. Recorded at the "National Freedom" studio in Oregon with producer Richard Swift (The Shins, Foxygen), the album is full of compelling, soul-searching songs, fleshed out in full band format. The band shines during its live show as well, clearly having a great time performing for fans – as they surely will for at the Starlite Room on Friday night. Buzzworthy indie-pop songstress Lyon opens. Tickets are $15.
Thursday 6
Royal Canoe – The other noteworthy gig over at the Starlite Room is this folk-pop sextet out of Winnipeg. The band is touring to support their stellar 2013 album "Today We're Believers", that made best-of-lists from music media across the nation. The flirty and fun "Bathtubs" in particular was heard over many indie radio stations from coast to coast. Starlite Room, 8 pm, $15.
Friday 7
Del Barber – This folk-country artist has a loyal following throughout Canada, and Edmonton is no different. Barber's released four albums to date, including last month's "Prairieography", which is receiving rave reviews. Also on the bill are Karen Savoca and Pete Heitzman. St. Basil's Cultural Centre, 7 pm, $18.
Lady Antebellum – This Nashville trio has won a long list of awards, including a whole host of trophies from the Academy Of Country Music and Country Music Association, and continues to tour to support their 2013 album, "Golden". Two of the band's singles in 2013 off the album soared to the top of the charts on country radio and will be more than familiar to any fan of the genre, "Downtown" and "Compass". Rexall Place, 7 pm, $29.50 and up.
Bryan Coffey – This local artist is hosting a release party for his eponymous full-length, a peppy, upbeat take on folk-country music. The first track on the album, "Shipwrecked", is particularly completely infectious. With Catgut and Push and Pull. The Artery, 8 pm, $10.
Saturday 8
April Verch – This Ontario native, a world-class fiddle player, has released nine albums over the last 22 years and has – as you might expect – been at the Edmonton Folk Music Festival at least a couple of times. While usually performing solo or as part of a trio, this gig will be one of just a few select dates that features what is being termed as the "April Verch Bigger Band", adding a dobro/banjo player and mandolinist. Festival Place, 7:30 pm, $20.
Cro-Mags – This New York punk-to-thrash act has released five albums, though the first two, dating all the way back to 1986, are really considered their seminal works. Their list of former members is almost longer than the Eskimos' roster. With No Problem, Fuquored, and Secret Rivals. Pawn Shop, 8 pm, $20