MUSIC PREVIEW: Siiines of Spriiing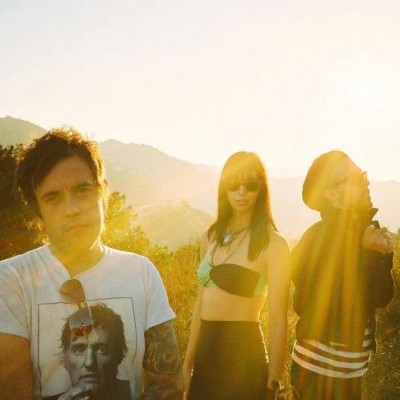 This weekend features a whole host of can't-miss gigs – but once again, you won't be able to see them all. A couple of local bands host always-exciting release parties; one of the city's most exciting electro acts is performing; the Black Dog continues its legendary Saturday afternoon bill; and a pair of well-known American bands are joining the party as well, now that we're no longer in the depths of winter.
Friday 14
Noisy Colours – This local band is hosting a release party for their newest five-track EP, "Gin Soaked Monster". The funk-rockers have a brand new lead vocalist, and it just happens to be her birthday on Friday. Maybe they'll be serving gin. One of Edmonton's biggest buzzbands, Death By Robot, also performs, as does I Am Machi and Jordan Billie Zizi. Wunderbar, 8 pm, $10.
Siiines – This electro-dance band (above) is one of the most scintillating acts in Edmonton right now, featuring Travis Triip, Morgan Morgan, and the lush grooves of DJ Gene. Tanner Gordon and the Unfortunates, and Hearsay also perform. Studio Music Foundation, 8:30, $20.
)
Saturday 15
Bombproof the Horses – The Black Dog continues to crush it with their no-cover Saturday afternoon entertainment, which this weekend features this local alt-rock act, which sound like what you'd get if you mixed Wilco and Sloan together in a juicer and then poured the contents through a guitar amp. They're just waiting on their new CDs to arrive, and then they'll be ready for a release party as well – so expect tons of new material. The band is full of multi-talented members, and just to prove it, the lead singer's solo project All Kinds Of Trouble is going to open the afternoon. 4 pm.
The Real McKenzies – One of the stalwarts of the Celtic-punk scene, this Vancouver act was founded back in 1992, and has continued strong ever since. They're currently touring to promote their 2012 album, "Westwinds". Pawn Shop, 8 pm, $15 advance.
You Are An Explorer – Another release party, as these instrumental folk-rockers celebrate a new EP as well. Magic In the Kill and Calgary's Domestic Bear also perform. Wunderbar, 8:30, $8 (or $15 if you want a copy of the EP).
The Electric Six – This Detroit sextet is known for mixing elements of garage, disco, punk rock, new wave, and metal, into a seamless, hard-driving rock attitude. Like many outside-the-box bands, some of their members have taken on new names and personas, including Tait Nucleus on synthesizers, Percussion World on drums, and Smorgasbord on bass. Also on the bill are The Mohrs, and alt-rockers Rend. Starlite Room, 9 pm, $18.
)
Sunday 16
Sleepy Sun – This psychedelic alt-blues band out of San Francisco have a brand new album, "Maui Tears", and of course a brand new tour to support said album. Their 2012 "Spine Hits" won them rave reviews across the continent, and appeared in a significant number of best-of lists for that year – expect the same for this release. Daniel and the Impending Doom and The Nulls open. Wunderbar, 8 pm, $15.
)