Hip hop knowledge is power
Hamilton, born in Toronto, raised in Edmonton, has explored all the artistic avenues of hip hop. His father – who left his three sons to be raised by their French-Canadian mother – is a Jamaican reggae musician named Ras Binghi-I, who in his band the Rastafarians opened for stars like Peter Tosh, and often took his kids on the road with him. His mom's record collection included Bob Marley, naturally, but also Supertramp, Pink Floyd and the Alan Parsons project.
Conditions in Edmonton in the '80s were obviously a little different than in the South Bronx in the '70s, but the future Point Blank and the future A-Okay were pioneers all the same. They listened to rap on CJSR's pioneering radio show hosted by the late Teddy Pemberton (father of the Rollie Pemberton, aka Cadence Weapon), and recorded rap songs at Studio 82 in West Edmonton Mall – a coin-operated recording studio that produced surprisingly good demos. Now you can do the same thing on your iPhone. The guys entered a national rap battle put on by MuchMusic – and won. Hamilton had already become hooked on break dancing after seeing Michael Jackson do the moonwalk. Later on, he studied art and embraced the visual aspect of hip hop: Graffiti. That's a hallmark of punk culture, too.
Now, at the ripe old age of 40, Hamilton is semi-retired from music to focus on what he calls the "non artistic" side of hip hop, the education side, teaming up with Michael MacDonald, an assistant professor of music at MacEwan University who's writing a book on hip hop in Edmonton.
Dr. MacDonald gives a guy an authentic hip hop fist bump at the meeting, also attended by DJ Dice of the aforementioned DOPE Mob. Dice agrees the meeting feels like a support group. No one's making a living being a rapper in Edmonton. They do it for love.
In an interview afterwards, Hamilton explains, "We realized that there was a need for a hip hop cultural practice that had to do with the knowledge aspect as an element. It's about the political and social aspects, sharing the knowledge and educating groups culturally on what it means, how we can use hip hop to heal, to educate, to create awareness, to sustain."
The goal was self-empowerment to the poor, black New Yorkers who invented rap as we know it today: "To give marginalized people a voice," Hamilton says, to give people a chance to express themselves through music that costs almost nothing to create beyond a turntable and a microphone and often not even that. Part of the reason hip hop spread so quickly around the world and beyond racial boundaries, he says, is because it's a great leveler: "Whether you're rich or poor, when you're at a hip hop show, your success in hip hop is determined by the strength of your character and not what class or race you are. Whether you are from China, the East Indies, Norway or Africa, the guy with the best rhymes wins."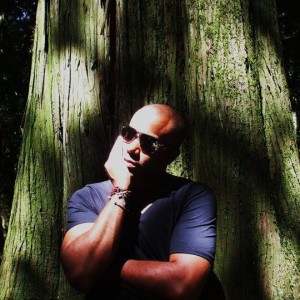 Hamilton, who says that hip hop (and his mom) kept him on the "straight and narrow" as a youth, has attracted apprentices since he was 16, starting in his basement in West Edmonton – curiously in the same community where many local rappers emerged. Westside! After Point Blank became well known, other local rappers came to him. "I always felt a responsibility to my generation, to my peers, to mentor them, and teach them to attain what I attained," he says, and that included everything from lyric writing to marketing to some of the hip hop knowledge he would explore in detail years later.
On the eclectic/divided nature of Edmonton's hip hop scene in the present day, Hamilton quotes an American producer who had been a guest speaker at a recent MacEwan University symposium on hip hop, "He said Edmonton might be one the last outposts of original hip hop that's left. It's been untainted by commercialism."
Isn't that just a nice way of saying that we suck? Edmonton has yet to produce a single rap star to put this city on the musical map. This in fact is one of the complaints heard during the knowledge cipher earlier: This city got behind SNFU, after all. Where's our great rap hope?
After early success, Hamilton himself got out of the music business and went to art college. He still does rap shows as Dre Pharoh from time to time, though he's focusing his available time on the weekly ciphers. Bill Connelly, aka A-Okay, meanwhile, is now a paranormal investigator on the APTN TV series "The Other Side."
People out East are sometimes surprised Edmonton has a hip hop scene at all. A lot of the best talent here often ends up moving there anyway. Members of The Maximum Definitive, a respected local collective, moved to Toronto in the '90s. Cadence Weapon, our most famous rapper of the 2000s, moved to Montreal two years ago.
Will Edmonton eventually lose one of its hip hop grandmasters? Not this time.
Hamilton, who has a one-year-old son, says that of all the places he's been, at least for him, Edmonton has "the most progressive social conditions anywhere in North America. It's one of the things I find charming about Edmonton," he says. "There's a social consciousness here that I can't just find anywhere else. I can't really explain it. But this is the right place. I want my son to grow up here."
1 2