MUSIC PREVIEW: There goes The Neighborhood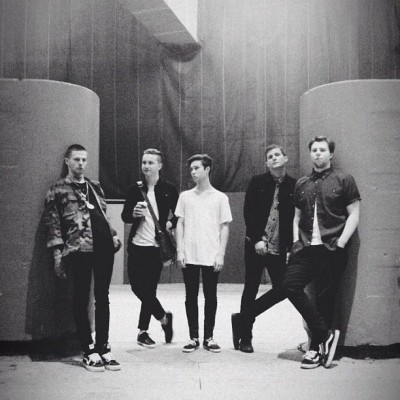 How fitting that we're still mired in "Sweater Weather" – since the authors of that hit song, The Neighborhood, play Edmonton's Union Hall on Saturday night.
Formed in 2011, the California band features the vocal talents of Jesse Rutherford, the bright guitar tones of guitarists Jeremy Freedman and Zach Abels, with drummer Brandon Fried. The quintet is rounded out by bassist Mikey Margott, who was said to be so impressed by early versions of "Sweater Weather", that he left college to join the band. While the band is obviously best known for that No. 1 alternative hit, other music from its 2013 debut "I Love You" is noisier and more experimental, including the first single "Female Robbery."
The band continues to tour exuberantly in support of that album, though it would be surprising if by now they didn't have some new material they're testing out live. The Kitten and Born Casual open the show. Tickets are $38.75.
Thursday 27
Mounties – While this "supertrio" scored big with their very first single, "Headphones" – as in "got my headphones on like a '70s hi-fi" – the follow-up single "Made Up My Mind" is equally catchy. So is the rest of the band's full-length debut "Thrash Rock Legacy", for that matter. This band was formed from a chance meeting at the 2009 Juno Awards – which features the revered singer-songwriter Hawksley Workman on drums and bass; Steve Bays, the frontman from Hot Hot Heat, plays the keyboards; and Ryan Dahle, of Limblifter and Age Of Electric, on both guitar and bass. Critically acclaimed indie rocker Rich Aucoin opens the show. Starlite Room, 8 pm, $17.50.
Friday 28
Empower App Fundraiser – Proceeds from this event will go towards the Empower App, which will provide unique tools and resources to victims of abuse. An incredible lineup of talent will be performing with Corbo and Kornel, Webster, Joanne Janzen, Drive the Day, Make Out City, Big City Supreme, and The Unfortunates. Avenue Theatre, 7 pm, $12.
Against Me! – These punk rockers from Florida are led by Laura Jane Grace, who publicly came out as transgender in 2012, dropping her original name Tom Gabel. It's made little difference in their music, which remains as powerful and poignant as ever. Their latest album, "Transgender Dysphoria Blues", was released in January of this year. Also on the bill are Laura Stevenson and Cheap Girls. Starlite Room, SOLD OUT.
Gibson Block – This month's Sonic 102.9's band of the month selection headlines a bill that also features Red Ram, Rend, and the crazily busy Revenge of the Trees. Pawn Shop, 8 pm, $10.
Saturday 29
Joe Nolan – This folk-blues artist is hosting a release party for his newest effort, "Tornado", his first for Toronto label Six Shooter Records (who are also the organizers of Interstellar Rodeo). Deftly moving between blues, folk, and Springsteen-like tracks, Nolan's music career continues on its well-deserved uphill climb. Roxy Theatre, 7:30 pm, $12.
Scythia – This Victoria metal act is touring to support its newest release "… Of Conquest". Ides Of Winter, Eyes Of Horus, and Ironstorm also perform. Pawn Shop, 8 pm, $10.
Push and Pull – Kyle Shabada's newest project, now that Feast Or Famine is defunct, is this pop-punk-rock act. He, along with bandmates Jeremy Taylor (bass) and Brenden Lyons (drums) are hosting a release party for their debut EP. Revenge Of the Trees (told you they're crazy busy), Bryan Coffey, and Noisy Colours also perform. Artery, 8 pm, $8.
Babysitter – A little bit of an underground band, but an incredible pop-punk act out of Victoria with additional garage and psych influences. Their most recent album was recorded at BC's Noise Floor studio, which recently moved to Gabriola Island after owners discovered they could buy a house and add a studio for the same price they were leasing their current digs. Some of Canada's most famous indie rockers have recorded in this studio. Also on the bill are Calgary's Hagface, Tee Tahs, and Power Buddies. Wunderbar, 9 pm.
Monday 31
New Country Rehab – This alt-country band, and really what other kind of band could it be with a name like that, continues to tour in support of last year's album "Ghost Of Your Charms". The quartet consists of former Toronto session musicians who've played with a royalty of Canadian roots stars, and are all exceptionally talented musicians. It's great to see them get a chance to do their own thing. Pawn Shop, 8 pm, $12.
Young the Giant – This California band, last in town for the 2012 rendition of Sonic Boom, has since released a new album called "Mind Over Matter" which includes a pair of singles that have made the rock charts South of the border, "It's About Time" and "Crystalliized". Neither has charted here in Canada, where they're still most famous for "My Body". Australian singer-songwriter Vance Joy, who's also been receiving considerable buzz over the last year, will also perform. Winspear Centre, 8 pm, $31.50.
Tuesday, April 1
Arts & Crafts Showcase – No foolin', one of Canada's coolest record labels (representing Feist and Moby, among others) has put together a tour of some of its best acts, which touches down next Tuesday (April 1) here in Edmonton. The headliner is Calgary folk-rock act Reuben and the Dark, whose live show is revered from coast to coast, and whose debut full-length should see the light of day sometime this spring. Also on the bill are Los Angeles six-piece NO, and Toronto art-rockers The Darcys, whose track "Close To Me" is a mainstay on many alt-rock stations. Artery, 8 pm, $16.