Local band raises money for Friedreich's Ataxia

Although Edmonton musician Joel Kleine has a disease that keeps him in wheelchair, he will keep performing and making music as long as he can.
"Music is my therapy," he says, adding that whether he's on stage, practicing with his band Bombproof the Horses, writing songs or making demos, music helps him forget his disability. "It's all gone," he says. "You're in that moment where you want this to be awesome. That's all you think about."
Bombproof the Horses – along with the local bands F&M, The Gibson Block, Two Bears North, and Jesse Northey – is part of a benefit concert for Friedreich's Ataxia (FA) taking place Saturday, April 5 at the Avenue Theatre. Advance tickets are $13. Kleine was diagnosed with the rare neuromuscular disorder seven years ago, and has raised almost $30,000 for the Friedreich's Ataxia Research Alliance up to now. The cause was helped in January when Justin Timberlake met with FA patient Amanda Renneberg when he was in town, turning the spotlight on a disease few people had ever heard of. Only about 10 people in Edmonton have it, Kleine says.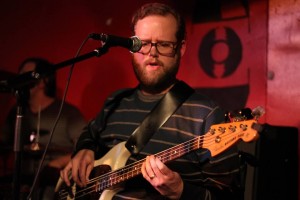 The symptoms of FA resemble Multiple Sclerosis, but instead of a roller coaster of relapses and improvements, it's a steady degeneration that particularly affects coordination and balance. There is no cure and limited symptomatic treatment. The 39-year-old musician, who once worked with a young Ann Vriend and in the local Celtic band the Splendourbog, used to be a drummer, switched to guitar and now plays bass. Kleine says, "My right hand, my picking hand, can't go as fast as other people's. There's no way I could play in a death metal band. I can't go that fast."
There's a lot he can do. He made a good record, for one thing. Saturday's show also serves as a release for Bombproof the Horses' new five-song EP, The Ground the Sky. The band's style of jangly, melodic pop is heard best in such tracks as Springtime in My Hometown – no doubting what this is about – whose key line is "Breathe while you still can."
There may be a dark undercurrent here; a song called Wide Angle deals specifically with Kleine's feelings about his condition.
"It's a song telling myself to smarten up," he says, "and don't let myself get pulled down."
His day job helps with that. He works half-time as a Grade 5 schoolteacher. "I have my low points, where it's best I not to talk to anybody for a couple of days," he says. "But at the same time the job I have requires I be a happy guy. I can't go in that classroom and be down in the dumps."
He and his wife also put together this show themselves. "Out of these five bands we are definitely the nobodies on the bill," Kleine says. "I have to totally admit I'm holding this concert for two reasons: One, to raise money for Friedreich's Ataxia, and the other is that I just want play with some really great bands."