MUSIC PREVIEW: Storm the Bastille!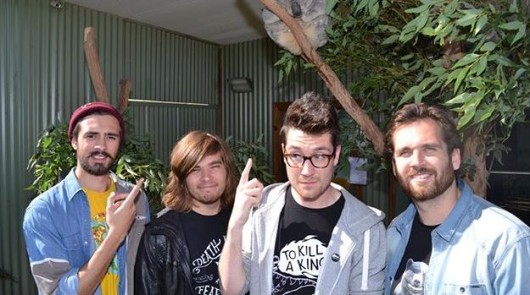 It's no surprise that Saturday's show with Bastille at the Union Hall sold out moments after its announcement. The band was named as the "British Breakthrough Act" at the 2014 Brit Awards and won't be playing nightclubs much longer.
Originally started as a solo project by London singer-songwriter Dan Smith, the band is best-known for their worldwide hit "Pompeii", off the band's one and only full-length to date, "Bad Blood". Its release in the spring of 2013 has propelled the band into the music stratosphere, and the deluxe version, assembled afterwards and titled "All This Bad Blood", only added to the furor. The latter brought along the band's most recent single, which also moved to the top of the charts, "Of the Night" – but both albums are replete with stunning harmonies and dazzlingly bright guitars.
Opening for Bastille is another British band, To Kill a King, which was formed in 2009 at the University Of Leeds by frontman Ralph Pelleymounter and bassist Josh Platman. Both remain with the band, though the remainder of the quintet has quietly changed over that time. The band culminated their chemistry in 2013 with the release of "Cannibals With Cutlery", one of the year's most underrated albums in the indie rock scene. Moving from piano ballads like "I Work Nights and You Work Days" to guitar-grooving tracks like "Funeral", their album is compelling, endearing, and tear-evoking, often all at the same time.
Friday 4
Hedley – Poor weather and road closures caused the band's Saskatoon and Winnipeg shows to be postponed, but with spring finally springing, more or less, Hedley's appearance at Rexall Place on this night should go off without a hitch. Best known for "On My Own" and "Kiss You Inside Out", the Abbotsford pop-rock act is touring to support their November 2013 album "Wild Life", and now consist of a lineup that's completely different than the original, save for original frontman Jacob Haggard, who came to fame as a contestant on Canadian Idol. Also performing are Nova Scotia rapper Classified, and a band who receives significant airplay on local radio station Sonic 102.9, USS. Plenty of seats left. Rexall Place, 7 pm, $34.50 and up.
READ CLASSIFIED INTERVIEW HERE
Boy & Bear – The headliner is an Australian folk-rock act that formed in 2009 initially as a solo project, featuring Dave Hosking. Now a quintet, including a pair of brothers on drums and banjo/mandolin/keyboards, the group has received all manner of awards in its home country, and are hoping to expand its fanbase here in North America. Opening is Toronto's Wildlife, whose 2013 album "On the Heart" is an underrated masterpiece of Canadian music, and includes the gem "Born To Ruin", a raucous tumult of indie rock. Note that the Jezabels were originally scheduled to headline this show but had to postpone. Tickets to the original show are still good, but if you do use it you'll have to buy a new ticket for the make-up show on May 31. You can also get a refund if you'd prefer. Starlite Room, 8 pm, $19.
Bend Sinister – Another West Coast band that's no stranger to the friendly confines of Alberta, these indie-rockers have all the grittiness of the Pretenders and all the lush harmonies of the Beatles. With Short Of Able and Unwed Mothers. Pawn Shop, 8 pm, $10.
Hunting – This Vancouver band's recent single "Patti" has been getting heavy airplay on alternative radio stations across the country. The rest of their indie-pop/folk-rock material is just as good, an intriguing outcome for frontman Bradley Ferguson, whose previous efforts were much more electronic in nature. With James Preistner. Avenue Theatre, 8 pm, $10.
Saturday 5
Cowpuncher – One of Calgary's most talented bands, these alt-country-rockers are no stranger to the city, either, and continue to tour supporting their most recent full-length "Ghost Notes". Brixx, 9 pm, $10.
Romi Mayes – Born in Winnipeg, this artist brilliantly combines country-blues and bluegrass, then adds a bit of an edge, akin to having had your head buried in a bottle of rum for three days straight. Actual results may vary. Her eighth album, "Lucky Tonight", was released in 2011. The Artery, 8 pm, $8.
Concert For Cure – With all ticket proceeds going to Friedreich's Ataxia Research Alliance, this gig features five of the most talented acts in Edmonton, with F&M, Two Bears North, Gibson Block, Bombproof the Horses, and Jesse Northey all scheduled to perform. Avenue Theatre, 8 pm, $13.
READ INTERVIEW WITH BOMBPROOF THE HORSES HERE
Tuesday 8
Stephen Malkmus and the Jicks – Best known as the frontman for legendary indie rock band Pavement, which has disbanded save for a recent one-off reunion tour, Malkmus has recorded six albums under the Jicks title, including this year's critically-acclaimed "Wig Out at Jagbags". Opening for Malkmus is Massachusetts buzz band Speedy Ortiz, a noise-pop outfit with a pair of full-lengths themselves, including last year's "Major Arcana". Starlite Room, 8 pm, $20