Madama Butterfly goes Back to the Future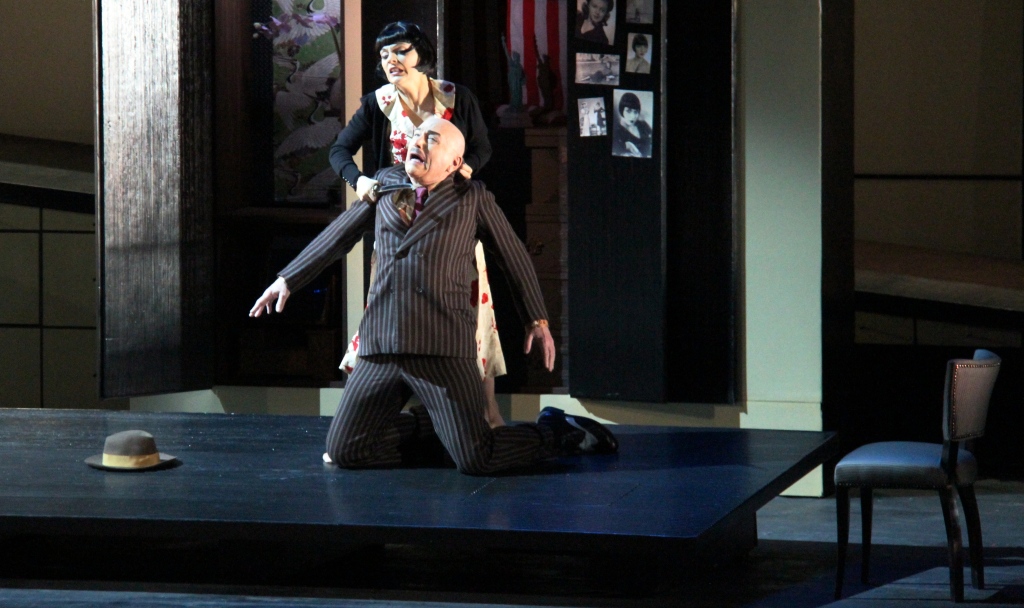 A team from Edmonton Opera saw a time-travelling version of Madama Butterfly in England and liked it so much they decided to stage it in Edmonton for the company's 50th anniversary.
It opens Saturday, April 5 at the Jubilee Auditorium (also running April 8 and 10).
That's right, there's a time machine. Time machines weren't really a thing when Giacommo Puccini got the idea to write the opera: from an 1887 French novel about romantic culture clash in Japan. It would be eight years before H.G. Wells would come up with his novel The Time Machine, 90 years until Back to the Future.
This version of Madama Butterfly opens in ultra-modern present day Nagasaki and then jumps to 1900 and then inexplicably to the 1950s. Purists needn't worry. If you close your eyes, you won't know the difference. The characters don't know the difference. They're not aware they're travelling through time at all. The story is the same. And the music of course is unaffected. The time machine is set dressing: serving to illustrate how timeless the story is, says tenor John Kriter, who plays Goro, an oily pimp who prefers the term "marriage broker."
He says, "One of the things I find interesting is that around the turn of the Century is when the Americans were coming into Japan, and the influence they brought. Then in the 50s, after the war, it comes again, a greater influence." The apparent Japanese obsession with American culture continues to this day.
"I have Japanese friends – I haven't been to Japan myself – and they tell me that when they go back and see the youth in Japan, they're just obsessed with anything North American," Kriter says. "Still. Maybe even more, to the point where they're almost subverting their own culture."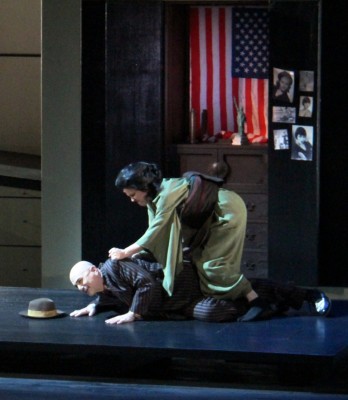 Which is exactly what drives the drama of Madama Butterfly. The beautiful Cio Cio San, nickname Butterfly, falls in love with an American soldier named Pinkerton, and all the exciting American culture he represents, but he spurns her for another woman, driving the young maiden into a downward spiral of desperate hope and heartbreak, along with both cultural and literal suicide. She rejects all things Japanese and converts to Christianity, which particularly irks her uncle, who happens to a Buddhist priest, and Butterfly is shunned by just about everyone she knew and loved. Pinkerton isn't coming back to sweep her off her feet and take her to beloved America. She is utterly alone. Spoiler alert: It does not end well.
"And you know it doesn't end well," says Kriter, who probably knows more about this opera than anyone in Canada, having performed the role of Goro a number of times, including with the Edmonton Opera in 2004. "When Butterfly sings at the beginning of Act II, the most famous aria from the opera called Un Bel Di, which means one beautiful day, she'll see smoke on the horizon from the ship and she'll be waiting for him and meeting him and she tells this romantic story and it just breaks everyone's heart because everybody knows it's not going to happen.
"It's not necessary for it to be a surprise. Most grand operas that people have seen over and over again, you know the ending, but you also forget because it's the music that really carries you."
It's part of why Madama Butterfly is on the top-10 list of the all-time popular operas.
"There's something about Puccini," Kriter goes on. "The music is almost manipulative. It carries you through every emotion, almost like going to a movie. With him there's no extra music, either. It's all for a purpose. The background music in the movie represents everything that's going on and nothing is superfluous."
Except maybe the time machine.