MUSIC PREVIEW: Collective Soul now classic rock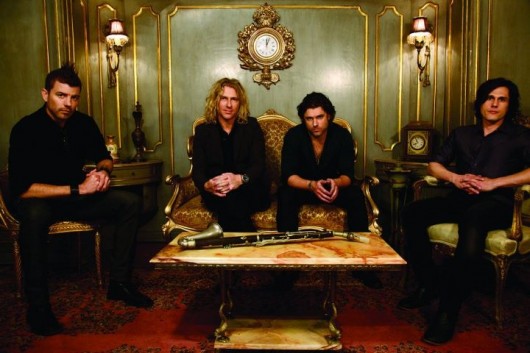 Has enough time passed that we can nostalgic for Collective Soul?
With four albums in the decade, each of them achieving platinum status both north and south of the border, and a consistent roster that lasted into the 2000's, this band was the ubiquitous infrastructure that the 1990's music scene was built around.
Led by singer-songwriter Ed Roland, Collective Soul's debut full-length "Hints Allegations And Things Left Unsaid" included their first ever hit, "Shine" and the famous "hey" crowd chant, but it was their eponymous sophomore effort that really catapulted them into stardom, with an incredible four tracks that all reached near the top of the charts. It started out with the guitar-grooving "Gel", then led into "December", and finally "The World I Know" and "Where The River Flows".
Aside from "Precious Declaration" (off the album "Disciplined Breakdown"), the band hasn't been able to capture that '90s magic since, not unlike most any other band of the era, but continues to put out solid albums time after time. "See What You Started By Continuing" will be released in June, from which they'll undoubtedly unleash a few tracks at their gig at The Ranch on Thursday night (7 pm, tickets are $49.95) – along with many of their hits from days gone by as well.
Thursday 10
The Head and the Heart – This Seattle act was last in town for the 2013 Edmonton Folk Festival, where they captivated the Friday night crowd with their winsome indie-folk stylings. They've released a new album in the meantime, last fall's "Let's Be Still", on the legendary Sub Pop label. Basia Bulat will also perform in the gig, originally scheduled for McDougall United Church – and now moved to the much larger Winspear Centre due to popular demand. 8 pm, $37.
Provincial Archive – This local folk-pop quartet is starting to gig a little more frequently once again in the region, for which we should all be eternally excited. This show serves as a warm-up for their departure on another European tour in May. We'll miss them, but a third album sometime in 2014 is probably a pretty safe bet. With Jesse and the Dandelions. Artery, 7:30 pm, $10.
Friday 11
Zolas – This Vancouver indie-rock act is no stranger to the local live venues either. Veterans of the Light Organ label out of the same city, they're currently touring back towards their home province after an excursion out East. Their live show is always a rollicking, raucous and rambunctious rendezvous with rock music that dekes and feints between gritty and jangly. With Zerbin and James Younger. Starlite Room, 8 pm, $15.
Old Towns – This is a release show for the folk/punk quartet's new EP "Leaving Songs", recorded at Edmonton's Sound Extractor. Half Dalmation and Worst Days Down open. Wunderbar, 8 pm, $10.
Kim Churchill – This Australian singer-songwriter has released four albums to date, including this year's "Silence/Win". Churchill got his first guitar back at the age of four as a reward for doing well in school, and our reward this weekend is his performance at one of the city's best acoustic venues. Royal Alberta Museum Theatre, 7 pm, $14.
Brandi Carlile with the Edmonton Symphony Orchestra – Carlile was already pretty well-known in the singer-songwriter scene beforehand, but what catapulted her popularity here in the city was a jaw-dropping set at the 2010 Edmonton Folk Music Festival. In fact, it was so incredible they really had no choice but to invite her back again in 2011 for a repeat performance. She was here in the fall for another breathtaking performance at the Winspear Centre, and now she's performing again at the same venue – but this time backed by the Edmonton Symphony Orchestra. With these type of events one's never really sure what will transpire – but you're always guaranteed a memorable show. Winspear Centre, 7:30, $39 and up. A handful of seats remain at the back of the upper balcony.
Saturday 12
Locomotive Ghost – This Calgary folk-rock group just completed their most recent project, a series of four season-related 7" vinyl records about life, science, and the passage of time. "Winter" ranges from the keyboard-led "February" to the forlorn hauntings and ukulele-led "Bye Bye Higgs Boson". A fun but thoughtful group of exceptionally talented multi-instrumentalists. The Artery, 8 pm, $8.
Tuesday 15
Florida Georgia Line – This award-winning country-pop duo takes centre stage at Rexall Place on this evening. Florida's Brian Kelley and Georgia's Tyler Hubbard started strong with their No. 1 debut album "Here's To the Good Times," which spawned five hit singles – "Cruise", "Get Your Shine On", "Round Here", "Stay", and "This Is How We Roll" (with Luke Bryan). They are at the forefront of a new sound that is quickly catching on throughout the continent and being emulated by other bands, including right here in Edmonton. Dallas Smith and Chris Lane open. 7:30 pm, $39 and up.