INTERVIEW: Il Divo no boy band!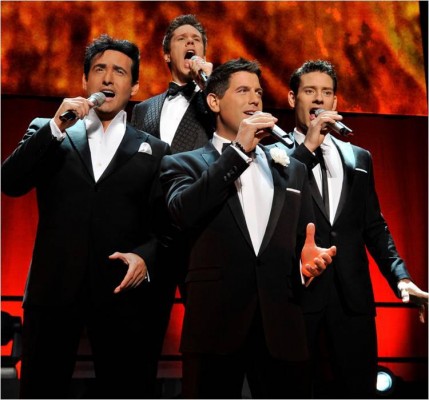 Il Divo does not know the meaning of the words "novelty act" – literally.
There seems to be no comparable idiom in Western European languages for the concept of entertainment whose style outshines its apparent substance and seems to survive on irony. A three-quarters European group of four guys in Armani suits crooning "Memory" or "Nessun Dorma" with equal elan – and was put together by Simon Cowell – might qualify as "novelty" for some people. Moms love Il Divo. The group knows its audience well.
"I think sometimes people have a tendency to like things that are more obvious," says Sebastien Izambard, the Frenchman among a Spaniard, an American and a Switzerlander. He does understand the idea of a novelty act even if there's no accurate French term for it beyond "nouveauté," which just means novelty. The singer goes on, "Every time we try to think out of the box, we reach only a small percentage of our fans. I also think when you try to be too clever you lose people as well. You know what they say, don't fix what isn't broken."
And so from poperacizing everything from ABBA to Nights in White Satin, it's Broadway's turn now. The dashing foursome is back in Edmonton this weekend: presenting at Il Divo – a Musical Affair – The Greatest Songs Of Broadway Live, Saturday, April 12 at the Jubilee Auditorium. They're touring behind the 2013 album of the same name, drawing much of its material from the Andrew Lloyd Webber songbook.
Not just any song is worthy of the Il Divo treatment.
"It's not so easy," Izambard says. "We tried Hurt from Christina Aguilera, and it was so wordy. We really liked it, but it was too poppy. It sounded like a barbershop quartet."
He laughs off the suggestion that Il Divo take a crack at Devo – "Well, we do like to think outside of the box" – because of course that would be pure novelty. Weird Al territory. It's hard not to think that way if you don't happen to be someone's mom and have Josh Groban and Andrea Bocelli records lurking on your shelf. There is a Manilowian scent of devotion around these suave and handsome men, each of whom is schooled in the art of both opera and pop music and take their singing very seriously. Izambard says they're not trying to come off like some pop-classical boy band.
"People don't come for our looks or the suits," he says. "They come for the music."
(Encore presentation: The original version of this article was published in July 2012)