REVIEW: Black Sabbath kicks ass in Edmonton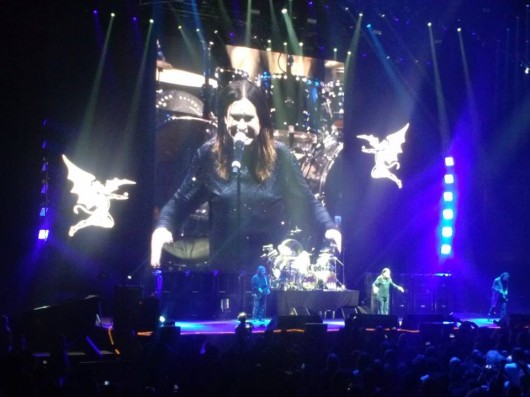 Whether lapsed Catholics or apostate Protestants, fans of all religious persuasions gave roaring approval to the solid, reliable shift that Black Sabbath put in at the doom metal factory on Tuesday night.
It wasn't hard to see why 18,000 Edmonton fans flocked to see these metal legends get their hands dirty at Rexall Place. When your music has an undeniably iconic cultural component to it like Sabbath's has – thanks to continual airplay on radio stations, turntables and MP3 players all over the world for the last 43 years – fans will gladly pay $150 a head to scream along.
Ozzy Osbourne, Tony Iommi, Geezer Butler and the ever rotating drum stool user (this tour's space taken by Tommy Clufetos) have to be the envy of pastors everywhere. Black Sabbath gets to sing about God, tell people to love one another, warn people against the perils of drug abuse, dirty women, and the destructiveness of impersonal bureaucratic systems that harm people, but don't need a closet full of suits or shelves of platitude-laden self-help books or phony smiles to make a living. What a relief it must be, to be free of all that stupidity. Instead, the lads are rewarded for being themselves, even if that involves singing about strippers named Jack and boot-wearing fairies.
As the years creep on, the more solidly these metal guys are morphing into doom metal-riffing goody-goodies. They don't drink, they don't smoke…anymore. So, what do they do? They collect old age security, chew bubble gum – and kick your ass.
"War Pigs" opened the set, and the only person not breaking a smile during that eight and a half minute musical icon was North Korean dictator Kim Jong-Un on the video screen behind the band. No surprise there. That guy doesn't seem to have any fun. Next up was "Into the Void", off the band's 1971 album "Master of Reality", another nearly eight-minute tome about – ready for it – environmental degradation and climate change. Who said metalheads were dummies?
"Pollution kills the air, the land and sea," Ozzy chirped. "Man prepares to meet his destiny". Has Al Gore heard this?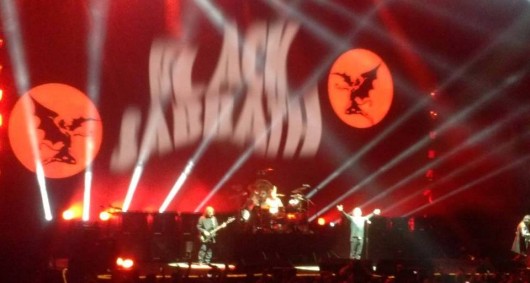 The pooches this evening were the material from the new reunion album "13," the nadir being God Is Dead? The band must have forgotten their Cialis when writing that one, as the main riffs were as limp as a linguine noodle – something highly unusual for the band. The relatively obscure rocker "Dirty Women" from 1976's "Technical Ecstacy" – which is considered by many fans to be one of Sabbath's worst albums – was also unmemorable, save the streaming images of a cavorting Bettie Page on the big screen. Every red-blooded male in the building will remember those images long after they've forgotten the song.
The video screen was too mesmerizing. It was so big and the images so crisp and rich in detail that it almost begged the question about the purpose of watching a live show. For "Fairies Wear Boots", the visuals complemented the psychedelic feel of the song quite effectively instead of barraging the viewer with rapidly shifting images. Probably the most effective use of the production was for the 10 minute droning classic "Black Sabbath", off their eponymous 1970 album, which showed the band logo slightly blurred in Masters of Reality-era typeface in between the Sabbath Bloody Sabbath-era winged demon logos in red. Surrounded by lots of black, of course. The effect was perfect.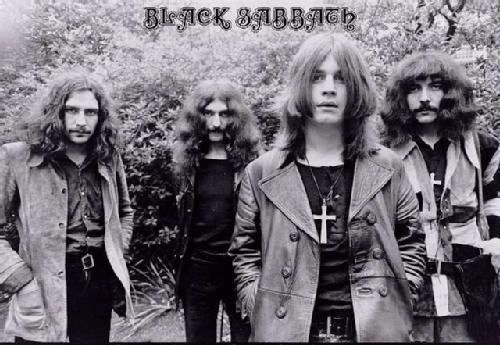 With such a rich back catalogue, Sabbath chose to dig a bit deeper into the vault for this show, and dusted off some forgotten classics like "Snowblind", a tri-tonal dirge coming as close to power ballad format as a classic heavy metal band would ever allow. The song caught the fan's attention in a good way – although not because women were telling their oilfield industry-working significant others to listen to Ozzy and stop using cocaine. Ozzy commanded the fans to raise their hands and wave them back in forth in unison, just like he would have had he been playing Mama, I'm Coming Home. It was a grand sight, if an unusual moment to elicit it.
Few bands have songs as great as "Paranoid," offered up as set closer. That song is probably as big as anything Elvis ever did. Sure, Elvis never wrote a song about dumping his girlfriend because he was suffering from depression, but as Beavis and Butthead would attest, the riff is cool, and that's all that matters.
Opener Reignwolf, the brainchild of up and coming Seattle-by-way-of-Saskatoon rocker Jordan Cook, was loud enough in its music and approach to garner more than a few turned heads. Cook is such a bright light that his presence poses the age old Edmonton rock conundrum: why the hell can't Edmonton produce someone this good? Many compare the act to the Black Keys. Given the whirling, feedback laden riffs in songs like "Electric Love" and "Are You Satisfied?" the band sounded so much like Blue Cheer that Cook may as well have been Dickie Peterson and Randy Holden rolled up into one. You may as well make him Paul Whaley too, as he found the time on a number of occasions to play the drums during one of his own lengthy guitar solos. At the same time. That went over pretty well.
But it was Sabbath the fans came to see. The enduring popularity of this band is evident in the material. It may not sound "nice", but it's real, no bullshit, and so laden with energetic head -banging riffs it should carry a warning label. For this reason, fans of the band have told the Hound Dog to go to hell; they will take their Sabbath black.