MUSIC PREVIEW: Destroyer will destroy ya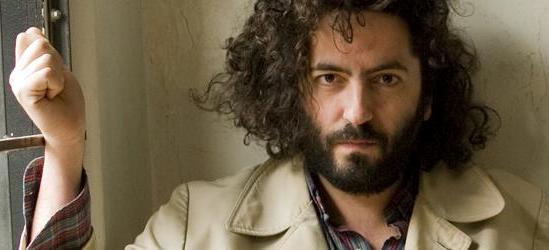 Sometimes the seemingly random nature of tour itineraries result in the statistical improbability of a one night having choices too numerous to fathom. Four, at least. Such is the case when Swollen Members, Zerbin, the Devonian Gardens, and Destroyer all play different Edmonton clubs on Thursday night.
Destroyer originally began as a solo project by Dan Bejar in the mid-1990's, with his first release being the raw, lo-fi more-folk-than-rock "We'll Build Them a Golden Bridge" in 1996. His 1998 effort included a rhythm section as the project continued to grow in both sound and instrumentation. Many more albums later, 2011's "Kaputt" ended up on the Polaris Prize longlist. The band's most recent effort is the "Five Spanish Songs" EP, five songs in Spanish, like the title says, originally penned by Spanish singer-songwriter Antonio Luque, and performed by his band, Sr. Chinarro.
Despite that abrupt left turn, Destroyer's catalog remains heavy on guitar and chock-full of Bejar's unique poetic lyrics and exceptional songwriting abilities. His influences remain plentiful, obviously, though the music could definitely be considered a Venn diagram encapsulating indie rock, and blues, and just capturing a corner of the so-called "shoe-gaze" genre.
Field Assembly will performing opening act duties on this night. Avenue Theatre, 8 pm, $20.
Thursday May 1
Swollen Members – This Vancouver hip-hop group has won four Junos during its tenure, focusing on the duo Madchild and Prevail. Founded in 1992, their debut full-length came out in 1999; they have another 10 albums since, as well as countless other solo albums by the various members. They've also recorded a number of tracks with other famed members of the genre, including 2012's "Lost In the Music" with the Insane Clown Posse. Also performing are Slaine and Supreme Villain, Brothers Grim, Hurt, and The Helvetica Effect. Ranch Roadhouse, 8 pm, $30.
Zerbin – This local indie rock act took home a pair of Edmonton Music Awards in 2012. Having since moved to Victoria, the group's sophomore album should come out sometime this year, so expect a bevy of new tunes in amongst local favorites. Fellow BC-ers Good For Grapes and Nature Of also perform. Pawn Shop, 8 pm, $13.
Devonian Gardens – This Calgary act continues to explore a new genre getting a lot of press in the music media these days, often referred to as psych-folk, combining psychedlia with roots music. Jom Comyn and Creaks also perform. Wunderbar, 8 pm, $10.
Friday 2
The JollyGood – This Edmonton quartet describes themselves as "indie rock with jazz/funk fusion", though it's definitely more funk than jazz. Think Red Hot Chili Peppers, Incubus, or Faith No More. The evening will also include performances from Kevin Maimann and the Pretty Things, and Over the Budget. Brixx, 9pm, $10.
Caity Fisher – This local indie-rocker is releasing a new cassette at this show. Yes, cassettes are still a thing. Perhaps even a growing thing. Her lavish, rich voice overlays a dynamic indie-rock sound, but with subtle Americana sub-textures. The always entertaining and always eclectic Diamond Mind, as well as Strange Fires, also perform. Wunderbar, 9 pm, $7.
Sunparlour Players – This infectious alt-folk duo from Toronto is touring behind its new album The Living Proof, and continue to blaze a blazing trail of tour itineraries that has seen them open for Mumford and Sons, Blue Rodeo, and Plants and Animals.  Artery, 8 pm, $18.
Saturday 3
Willhorse – While the band is based in Golden BC now, three of their members are originally from Saskatchewan; and the fourth is from Ontario. Their Southern rock angst is matched by a prairie sensibility, which always results in a high-energy show. Superstack and Young Fellas also perform. Brixx, 9:30 pm, $18.
Sunday 4
Wunderbar Fourth Anniversary Showcase – It's hard to believe one of the city's cooler indie venues is already four years old, isn't it? They celebrate in fine style, with an incredible lineup of local talent, including Wares, Power Buddies, Gender Poutine, Red Hot Gospel, Tee Tahs, Daydreaming, Switches (an incredible and powerful pop-punk act), Night Committee, N3K, Alex Vissia (who possesses one of the best voices in the entire city), Fist City, Advertisement, and a "special guest" later in the evening. 3 pm, admission by donation.