Local rock band Rend to blow 50 grand wisely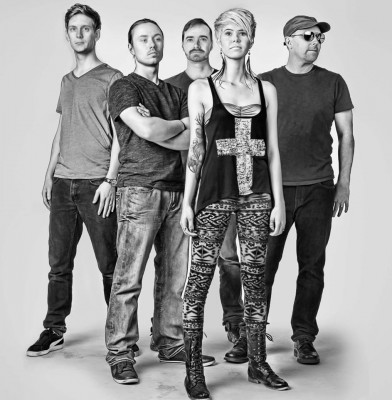 Giving a bunch of musicians 50 grand in cash might sound like a lot, but by the time you've rented the tour bus equipped with satellite TV and hired the guy to pick out the brown M&Ms from your catering, there's barely enough money left for drugs and hookers. It adds up.
Seriously, Edmonton rock band Rend doesn't intend to waste a penny of the $50,000 grant it received for being named the "Breakout Artist of the Year" from Rawlco Radio, which operates the 102.3 NOW! And 99.3 UP! stations. It is Edmonton's biggest music prize.
"They said, 'well now you can go buy a car.' Don't tempt me! My car's falling apart," says singer-songwriter Carol-Lynne Quinn. "But nope. I'm totally passionate about putting it into the music." She adds, "Our rule is that everything we make goes back into the band. We understand that you have to invest years in order to make something functional and sustainable."
With the 26-year-old, MacEwan-trained vocalist at the helm, Rend started from scratch in 2010 with its moody brand of alternative rock. They helpfully did their own band math: A bit each of Metric and Paramore, plus Alanis Morissette and the Yeah Yeah Yeahs and … there aren't actually a lot of notable female-fronted modern rock bands around for comparisons. Proof? Rend plays the Tail Creek Mud and Music Festival near Red Deer June 27-29 – featuring Korn and Five Finger Death Punch – and the only other girl band on the bill is the Pretty Reckless.
They don't give these grants to just any old rock band. Recipients are chosen from past winners of Rawlco's $10,000 10K20 Program – which Rend used to record its 2012 debut album – and asked to submit a detailed business plan. Quinn gave them 42 pages of a four phase plan. To sum up:
1. Record a music video and go to Canadian Music Week. The entire show at the Avenue Theatre on Friday, May 2 will be filmed with six different cameras, with extra filming later on for a video for the title track of Rend's 2013 EP Winter to Summer. From here, it's off to the band's second appearance of CMW in Toronto May 6-10. They paid their own way last time.
2. Tour Western Canada. One can actually still make money touring, believe it or not, or at least be able to eat and break even. Quinn says that the last time Rend toured Alberta, they made a profit of more than $4,000, "so we know we can tour smart." So no fancy catering. No tour bus. None of that other stuff. "Just water. That would be nice."
3. Record a new album – with the right producer. Rend has a music video up on YouTube for its song Is It Just Me?, which isn't bad, but the sound is not quite world class just yet. There's lots more music to come. Says Quinn, "I've already been writing a lot of tunes for the new record and I think we're going to invest a lot of time really hammering out the sound." And find the right studio guy to bring it to the next level. Those guys aren't cheap.
4. Marketing the new record. "If you don't promote it," Quinn says, "There's no point."
And there's your 50 large blown and then some. Quinn says the band will probably invest just as much of their own money into the project over the next year because, she says, "We understand it's a long process, but I couldn't imagine not going for it."