Pixies to bring new music to Edmonton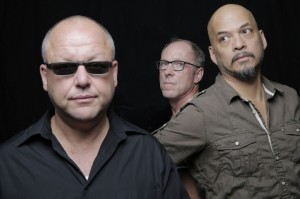 The question of when you would've had to go to art college in order to make the Pixies relevant is growing blurrier. Like Woodstock, a lot of people were there who weren't actually there, dig?
How else to explain the excitement over news that the seminal post-punk Gods are coming back to rock Edmonton, Monday, Oct. 6 at the Shaw Conference Centre, as part of a world tour. Tickets are $70 and go on sale Friday, May 9 at TICKETMASTER.
Featuring David Lovering, Joey Santiago and the inimitable Black Francis, aka Frank Black – bassist Kim Deal is no longer in the line-up – the band is touring behind its first new album in 20 years, Indie Cindy, and the new single therein, Bagboy.
The true answer to the question above is of course 1986 to 1993, when the Pixies were first active before taking its lengthy hiatus. The band is credited with creating the "grunge dynamic," as in LOUD CHORUS followed by quiet verse, or maybe it's the other way around, heard in bands like Nirvana, whose members also revered Frank Black and the others as Gods among men. It still behooves the aging slacker to heed the legacy of this still great band that epitomizes the punk attitude with smart, honest music that still holds up even if your arts degree doesn't – whenever you earned it.