REVIEW: George Thorogood b-b-b-boring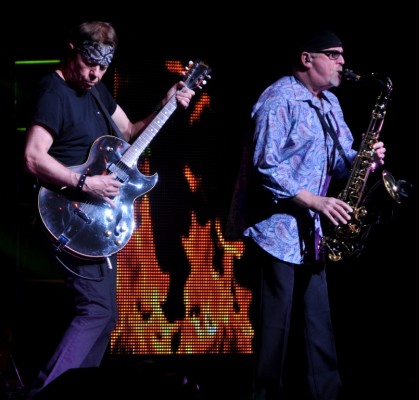 Vigorously played classic rock sends some people into fits of screaming, shouting, foot stomping, rampant high fiving and lots of odd yelping, but for others, like me, it can send them deep into a catatonic state that lasts several hours and ends up in the middle of a field wondering where everyone went and just how long ago the show ended.
To be honest, I think the accidental ingestion of PCP might have had a little more to do with it the last time I saw George Thorogood (I swear I thought it was acid) – but from what I can barely remember, it was more or less the same show as the one he did at the Jubilee Auditorium on Monday night, also the one before that, and the one he will likely continue to give again and again until he can't anymore.
In this case, it was George's dull and predicable schtick that caused my personal catatonia.
"Who Do You Love?" caught the crowd's attention. I've always hated the droning, whammy barred whimsy that carves out the mid section of Thorogood's seven-minute plus version of the Bo Diddley classic, and since Georgie rarely strays from well-worn paths – which is odd considering his badass reputation – this is exactly what fans got.
George continued the bluesy trend of the night with "Help Me" by Sonny Boy Williamson. Few pre-American Idol rock artists can get away with playing so many cover tunes, but given Thorogood's reputation, purists have to give the man some space. He mentioned numerous times during the show about his "40 years in the music business." This guy is going to do what he wants, and there ain't nothing you can do about it!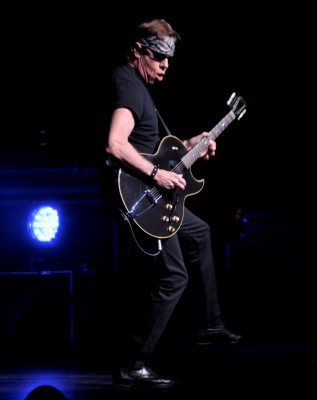 George loves to stretch pretty much any song he plays into an extended jam, usually in a ponderous mid tempo romp featuring repetitive staccato riffing. He's not a terribly versatile player, but he knows how to maximize his ability. Also, he said, "I don't know how to sing, but I know how to do this," proceeding to shake his ass and squeeze a little extra vibrato out of whatever note he was singing at the time.
It wasn't hard to guess what came next: A couple more blues standards, an 11-minute version of the John Lee Hooker via Amos Milburn via Rudy Toombs' drinking classic "One Bourbon, One Scotch, and One Beer," and Hank Williams's "Move It On Over", a 12-bar blues standard about as ancient as it gets for the genre (1947), but electrified in the typical Thorogood way, with some frenzied fret burning in the middle. He broke tradition with a run at his 1993 hit "Get a Haircut", thanking the "nice" country of Canada for making this song his only No. 1 ever. No, he didn't write that one, either.
The fans didn't care; the modestly middle aged and middle class crowd sporting Harley jackets, AC/DC T-shirts and the odd Confederate Flag hat. They were into this. Right before plowing into his greatest hit, George had the temerity to tell the crowd, in mock surprise, "You're still here!" Fans were waiting for "Bad to the Bone," and rewarded with a bland and workmanlike performance, almost as if he was saying in his head, "Shit, this must be the 40,000th time I've sung this." At least he can be proud that he won't get fired for drinking on the job.
Give him this: George is a consummate performer. He works the audience like a pro, kissing different asses in different towns in the exact same ways every night. He shakes and shimmies, shucks and jives, twists and shouts, prostrates and gesticulates with emphatic fervour. I don't think any of the Beatles would have ever hoped to be spinning like a top like this at the age of 64. They probably would have needed hip replacements. For a blue collar blues thug from the bad-ass Philadelphia suburb of Wilmington, Delaware – a city with less than one tenth the population of Edmonton yet five times the murder rate – Thorogood has a level of sophistication that betrays his roots. He knows exactly what he's doing.
So why was it so bloody boring? Because it felt and looked so contrived. You might as well have listened to a greatest hits CD or DVD, and in fact Thorogood showed the music videos for his songs while he played. Forget what he's doing on stage, just watch the video of him and his feathered early '80s haircut sneeringly take on Bo Diddley in a game of pool. You are watching the same things over and over again anyway. He plays the songs the same way every single time, uses the same moves, looks and gestures. There's nothing different about it, ever, show after show, year after year. And no amount of angel dust is going to change that.