MUSIC PREVIEW: Use the force, Luke Bryan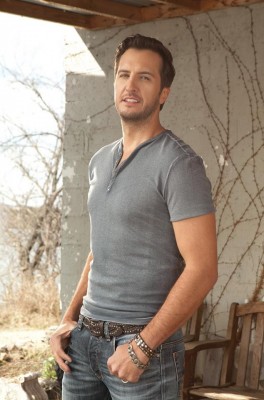 Luke Bryan is one of country's biggest stars right now, so it's no surprise that he's almost sold out two shows this weekend here in Edmonton, with gigs both Saturday night and Monday night.
Originally getting his start writing songs for such country notables as Travis Tritt and Billy Currington, Bryan's first solo album in 2007 launched a stellar career, including an astonishing sweep of the 2012 American Country Awards with nine separate awards.
Co-writing the vast majority of his material gives him a consistent sound that still remains fresh with every outing, with a contemporary feel that combines both country, pop and rock. The result has been a bevy of hits, predominantly on the country charts, but with a number of crossover smashes, including such bro-country anthems as "Crash My Party", "That's My Kind Of Night", and "Drink A Beer".
Opening for Bryan is a pair of breakout artists in their own right over the last year – Lee Brice, whose single "A Woman Like You" soared to the top of the charts in April 2012; and Cole Swindell, whose track "Chillin' It" received significant attention last year. Doors open at 7:30, with limited tickets remaining for both Saturday and Monday shows.
Thursday 8
I Am Machi – This husband and wife indie rock duo are hosting a release party for their new EP "Slew", an exceptional release, with growly guitars, grooving melodies, and a chemistry between the pair that pronounces itself through even the recording. The show on this night happens to be a tour kickoff as well, as the Edmonton band heads over the mountains to play in B.C. Death By Robot, Colin Close, and L'ampersand open. Wunderbar, 8 pm, $10 (includes free kazoo!).
Friday 9
Dawn In the City – Our good friends at The Artery host their first of two CD release gigs this weekend, with this funk-soul-rock act debuting their newest release "Burnt Shades." Mercy Funk opens, and an open jam will follow. Artery, 8pm, $8.
Saturday 10
Red Shag Carpet – This local indie act releases its newest effort, "When I Need You To Be", this weekend – with music more down-tempo than the previous night's gig, with a more folk feel, helped along by a pronounced piano in many places. A great little party band, sort of like if Blue Rodeo and Hollerado got together, added a piano and a liberal dosing of guitar pedals.  Artery, 8pm, $10.
The Spoons – This new-wave-synth-pop act from Burlington, Ontario had a suite of hits back in the 1980s, including "Romantic Traffic", "Nova Heart", "Old Emotions" and "Tell No Lies". Gordon Deppe (vocals and guitar) and Sandy Horne (bass and vocals) are the only remaining members in the band, which has released a pair of new singles in the last few years off their only studio album since 1989: 2011's "Static Transmission." D. Trevlon Band, and Choir and the Marching Band open the show. Starlite Room, 9pm, $18.
Monday 12
Evan Dando – While starting his musical career in high school fronting a trio that eventually became the legendary Lemonheads, this Massachussetts-born musician has also assembled a solid catalog of solo material. Expect to hear a good mix of both. Montreal musician Sarah Johnston, whose career was launched in the band Bran Van 3000, opens. Starlite Room, Monday, 8 pm, $15.
Baths – Los Angeles's Will Wiensefeld released his most recent full-length album, "Obsidian," last year, and has recently released a couple new tracks off an upcoming EP. The electronic artist is known for his down-tempo, hauntingly striking sound, though recent experiments have proven his diversity. Starlite Room, Tuesday, 8 pm, $15.