The Local Good wins top award at Yeggies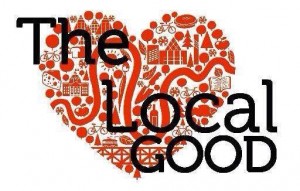 One does not associate social media with actual sociability, much less the concepts of health and fitness, but judging from the winners named at the Yeggies awards Friday night, stereotypes are meant to be broken.
The Local Good – a local website and social media network devoted to green, local and sustainable living – won the top prize at the second annual awards show honouring local online content providers: Best in Edmonton. Writer Breanna Mroczek told the surprisingly boisterous crowd of Twitterers, Facebookers and various Internet people, "What I like the best about social media is the social part," referring to the many actual human interactions made possible by the allegedly anti-social media. Including the Yeggies. Mroczek thanked followers for making it possible for The Local Good "to make a difference in Edmonton." Since launching seven years ago, the network has brought together many like-minded liberal locals with such events as the monthly "Green Drinks" gatherings and "The Good 100," asking: "What happens when a diverse group of 100 Edmonton do-gooders spend the weekend together?" It remains to be seen. The event happens May 30-June 1 at the Rundle Park Rec Centre.
Baconhound – aka Phil Wilson – was named the winner of the coveted "best twitter persona," as a food blogger who loves eating, drinking and travelling, not necessarily in that order. This might not be the site for vegans planning to attend The Good 100. He likes bacon.
One of the last events held at the Avenue Theatre, which will be shut down in June, this year's Yeggies was hosted by Trent Wilke and Sarah Hoyles, with a pro-Twitter stand-up comedy set by Liam Creswick. He said that if the idiots who are on Twitter can understand Twitter now, anyone can. Or words to that effect. You had to be there.
For public service, the winner was I Dig Your Girlfriend, a website "conquering lesbian stereotypes one wet dream at a time" and longtime advocates for LGBTQ rights in the Edmonton area and beyond. Taking the best in not-for-profit award was the team for the Bissell Centre, whose spokesman acknowledged the power of social media in helping the homeless, adding, "These are our neighbours. We should all care for them."
The rest of the Yeggies winners:
Best in Political or Current Affairs: Alberta Diary
Best in Sports: OilersNation
Best in Food: A Canadian Foodie
Best in Arts & Culture: I Don't Get It Podcast
Best in Film or Television: YEGFilm
Best in Music: The Command Sisters
Best in Fashion & Style: Adventures in Fashion
Best in Photography: Nicole Ashley Photography
Best in Humour: The One Word, Go! Show
Best in Family or Parenting: The DIY Mommy
Best in Fitness and Health: Blitz Conditioning
Best in Business: Acme Meat Market
Judge's Choice: GigCity