MUSIC: Looking forward to The Gay Nineties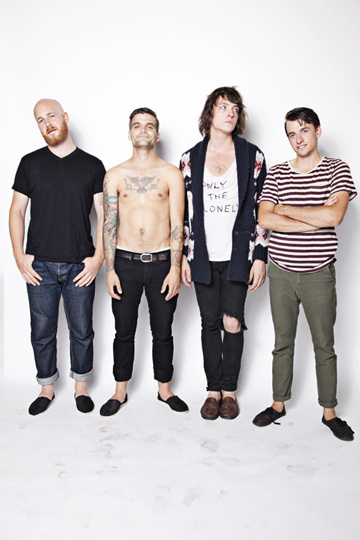 Topping out a big list of awesome live original music in Edmonton this weekend and beyond is a band getting a huge buzz – BUZZ, we say – from Vancouver: The Gay Nineties, playing Monday at the Pawn Shop.
It would be especially awesome of this band could go on David Letterman so it could play its new song "Letterman" – which has nothing to do with David Letterman, but they wouldn't have to tell him that. They're good enough to go international. This is a heavy new rock band, with hook-laden songs, a charismatic frontman, and eclectic styles ranging from breezy throwback pop of the sort that used to waft in on grandma's AM radio, to crunchy Canadian rock goodness of the sort heard by fellow West Coast rock legends like the Odds or Hot Hot Heat – no surprise since the latter band's frontman Steve Bays was instrumental, so to speak, in bringing out this excellent band's sound in the studio. The Gay Nineties was named one of the breakout bands at the recent Canadian Music Week.
Want more testimonial? The Wet Secrets – Edmonton's latest band to get the "next big thing" tag – will be opening the show.
Tickets are $13 in advance. BUY HERE
Thursday 29
Head of the Herd – These guys put out a smashing tune called By This Time Tomorrow with Jasmin Parkin from Mother Mother. It's a melting-level slide guitar driven blast of electric blooze and alternative rock – no wonder the NHL liked it so much they used it for the soundtrack to a playoff highlight reel. The band also opened for Guns N' Roses, but don't let all this jocky rocky stuff put you off. There's enough depth in this Vancouver band that they can still be called "alternative." Axl just probably wanted some of their mojo. Opening the Starlite Room show on this evening is the Balconies. Tickets are $15-$16, 8 pm. BUY
Friday 30
Tupelo Honey – It's all a matter of being in the wrong time at the right place, or is it the other way around. In an alternate universe, this acclaimed Edmonton modern-mainstream-rock band would have captured the crown and Nickelback would be called "the next Tupelo Honey" – instead of the other way around. Starlite Room, 9 pm, with a solid opening bill: The Unfortunates, Death By Robot, and I Am Machi. BUY
DevilDriver and Whitechapel – This weekend's Big Metal show at the Union Hall features a good pair of the heaviest of heavy metal headliners, dark, black, death, extreme, whatever label you want to give it as long as it's the Scary Cookie Monster on lead vocals. The opening acts by names alone prove their credibility: Revocation, Carnifex, Rivers Of Nihil, and Fit For An Autopsy. 6 pm, tickets $30-$36. BUY
JFR – Another more mainstream-ish sort of local modern rock band with shades of the Canadian classic rock sound (i.e. synths in hard rock) releases a new CD with a show at the Pawn Shop. Opening will be One Day Late, Hearsay and the Wayne McLellan Band. The $10 ticket comes with a free copy of the new CD – because you were just going to steal it on the Internet, weren't you? Ha! Got you there. BUY
3 Inches of Blood – It is just lovely to hear a good technical speed metal band whose singer doesn't sound like the Cookie Monster being strangled with his own esophagus, and can actually hold a tune in a bucket. So it is with the aptly-named Cam Pipes, who can wail with the best of them – Priest, Maiden, etc. – in a venerable West Coast combo that always get a warm welcome in this particular metal towne. The latest album is "Here Waits Thy Doom." Really, what else could you call it? With Mortillery, Fuquored and The Lucifer Project, The Studio Music Foundation, $25 at the DOOR.
Good Friday Brawl – Also known as Good Friday Massacre, this fledgling local punk band is named for one of the worst fights in hockey history, actually 14 of them for about 250 penalty minutes on April 20, 1984, between the Quebec Nordiques and the Montreal Canadiens – and so, too, is the music a punch in the nose. This band blurs the line between folk and punk merely by turning up the guitars, and releases its new CD on this night at the mighty Wunderbar, with openers the Weekend Kids, Sunspots and "super secret special guests." Tickets a mere $5 at the door.
Saturday 31
Hot Super Hot – These Edmontonians blend African hi-life style clean guitar, tropical grooves and joyous songs on various positive themes. Recommended if you like Bedouin Soundclash or Paul Simon's Graceland album. Blue Chair Café, 8 pm, $15 cover
Noisy Colours – Everything from bluesy alternative rock to strange spoken word over psychedelic guitars can be heard on this promising female-fronted local band's latest recording, Gin Soaked Monster. Filthy McNasty's, 4 pm, no cover
The Jezabels – Couple U2-like rhythms with sensual vocals and we have a close approximation of this Australian group, touring Canada again, this time in support of its latest album, The Brink. The Starlite Room, tickets $16-$19. BUY
Sunday June 1
Paul Cournoyer and Mario LePage – Voici un bon spectacle !  … and that's all we got. Nous ne faisons pas parler Français. This Edmonton (yes, Edmonton has French people) singer-songwriter has plenty: Catchy and beautifully rendered folk-pop songs with an instantly compelling voice. Even if you don't know what he's singing about, it's wonderful. The ARTery, 7 pm, tickets $12 in advance, $14 at the door. BUY
Band Of Skulls – If you've watched any TV or played any video games in the last little while, chances are you may have heard the music of this English psychedelic groove-rock band at least once. Perhaps it was their cover of Sympathy for the Devil, and there's a lot of strong original material to back it up. The lads are back in Canada touring behind their latest album, Himalayan. Union Hall, with opening act Highkicks, tickets are $25. BUY