The smalls have Nickelback connection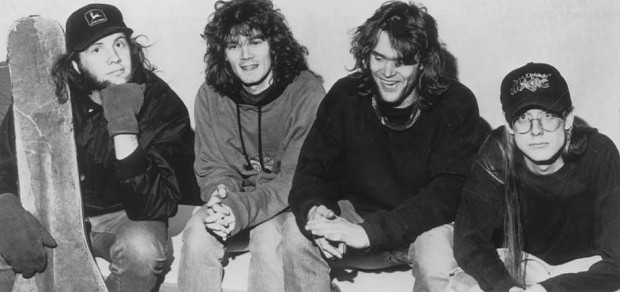 Not a lot of people know this, but the smalls – now reunited after 14 years – came within a hair's breadth of working with Chad Kroeger.
Long before the Nickelback mastermind was cast as the Spawn of Baal, he expressed love for Edmonton's favourite alternative metal band, after the smalls' critically-acclaimed album "My Dear Little Angle" came out in 1998. He was a fan three years before his own band blew up.
Kroeger told the Edmonton Sun at the time, "I really want to be responsible for bringing commercial success to Corby and all the boys. They are one of the largest underground bands in all of Canada and they deserve it. They can pack clubs just about anywhere in Canada, but they can't get played on the radio. It blows my mind. No record company knows how to market them. They said the same thing about Dave Matthews. So we did an edit of My Dear Little Angle and it's going to go out in the next month or so. We'll see."
It didn't work out.
On the heels of the announcement of the smalls comeback – playing the Sonic Boom festival at Northlands Aug. 31 (also at the Calgary XFest the night before) – bassist Corb Lund says he can't recall how he felt about the remix of My Dear Little Angle, the title track of what would turn out to be the band's last album, only that it may have been "radio friendly." Guitarist Doug Bevans has a clearer recollection: "I hated it, it was terrible. He completely removed the outro and plastered a bunch wherever he could. Not sure what happened to it."
So that was that. The smalls had put their foot down in the name of art before, refusing to edit out the word "bitch" in a music video for "Pity the Man with the Fast Right Hand" – and so the song never enjoyed national TV exposure from MuchMusic back in the day when the network was still playing music videos.
There are no hard feelings, Lund says. He was since even invited to a $500 buy-in poker tournament put on by the other members of Nickelback. (They also exchanged friendly hellos backstage when Corb Lund and the Hurtin' Albertans and Nickelback both played the Calgary flood relief concert in McMahon Stadium last summer. Nickelback guitarist Ryan Peake was said to be "excited" over news of the smalls getting back together.)
But it's a moot point because soon thereafter Nickelback became quite popular and remains so to this day. The smalls, meanwhile, broke up in 2001 – the same year "How You Remind Me" came out.
Neither Lund nor Bevans in separate recent interviews reveal concrete plans for the smalls' future beyond the little summer jaunt. "We'll see," they say. The rabid excitement in local music circles over the comeback may be just the incentive they need, despite how famously long it took the smalls to make their recordings. Look what happened with Jr. Gone Wild. Their reunion wasn't even supposed to happen at all, and now they're back with a vengeance, and making another record. Never say never.
So how did one of Alberta's coolest bands become associated with one of our "uncoolest" ones?
Kroeger, on purpose, wrote radio friendly mainstream rock hits that tapped into the audience that enjoys bush parties, drinking beer, smoking weed, hot chicks and shouting at strangers along Whyte Avenue at 3 a.m. Maybe trucks with truck balls, too. That element has always been here. It's the original "bro-country" without the country.
The smalls of course took a different path – as in NOT writing about or sounding like any of the things Kroeger did – but both bands developed in Edmonton. Kroeger even told a crowd of fans in Rexall Place at a recent Nickelback show, "I lost my virginity in Edmonton!" You can say you love the hockey team in every town, but pride in the place of seminal origin only works once. Though the band quickly moved to Vancouver, Nickelback earned its first buzz in Edmonton. The band's biggest early shows were in the Edmonton area. Nickelback has sold more records in Edmonton than in any other city in the world. So have the smalls.
These musicians have rural roots in common. Corb Lund comes from a rodeo-riding family in Taber, Alberta. Corb's dad did rodeos with Ryan Peake's uncle, whose family is from nearby Hanna, Alberta (three hours on Route 36 as the Ford truck speeds), as are the Kroegers.
Lund rode steers as a teenager, after which he and his fellow heavy metal enthusiast pal Mike Caldwell made the pilgrimage to the exotic city of Edmonton to discover the Grant MacEwan music program and punk rock (thanks to SNFU), not necessarily in that order. They formed the smalls in 1989, and soon coalesced into the line-up we know and love today: Lund, Bevans, Caldwell on vocals, and drummer Terry Johnson.
When Corb started making his self-described "weirdo country music" on the side while the smalls were still active, he hooked up with drummer Ryan Vikedal – another MacEwan-trained musician – for one of the first versions of his solo act, The Hurtin' Albertans. The drummer was also working with that then-unknown rock band from Hanna, and for a time Lund had to connect directly with Chad Kroeger to juggle their schedules. Vikedal soon joined Nickelback full time, left in 2005 under acrimonious circumstances, and now plays drums for Dallas Smith, the former Default singer gone bro-country who happens to be signed to Chad Kroeger's label, 604 Records.
Behold the great cycle of life!
Lund, who has lived and understands both sides of the urban-rural/redneck-hipster/city-boy-country-boy divide, defends Nickelback against its critics.
"I understand that what Chad does is commercial," he says. "It is what it is. But he's really good at it. I've actually defended him a lot. It's not exactly the kind of thing I listen to. I've got weird tastes so I listen to all kinds of shit, but he's good at it, and there's a million other people doing it and he's better at it."
The sport of Nickelbashing is pretty easy, but as it concerns Albertans, it's rather like being free to insult one's own brother – but if anyone outside the family does it, we'll kick their ass.
"Yeah," Lund says with a laugh. "Part of it makes me think about how I love KISS. I remember the music aficionados saying KISS was horrible, terrible music and it's all gimmick, but I go back and I like those records still. Generations later, the people that grew up on Nickelback will still be getting into their music."
Let's hope the same is true of the smalls – if there's any justice in the world.