MUSIC PREVIEW: More new records than ever!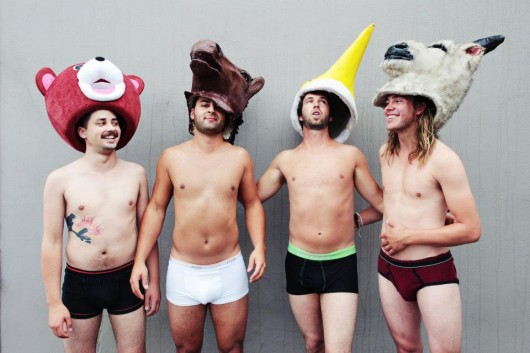 Do people even get excited about CD release events anymore?
No, they do not. Seems like there's at least two a week around these parts. Apparently now anyone can make a CD on those fancy home contraptions. What a world.
You know, back in the day – said the old man yelling at the kids to get off his goddamned lawn – putting out a record was considered a pretty big deal. It could land you on the front page of the entertainment sections of both daily newspapers, the covers of both the alternative weekly papers – yes, there once were two – and hits on all the local TV and radio stations, mainstream and alternative. Local fame! For a time.
Now a CD release barely registers a footnote – and yet bands still churn then out, in most cases for love more than the hope of money.
The bright side is that there's an embarrassment of riches for music fans. A buyer's market. So much great music being made. So little time. So few venues to go around. The result? Once again, some pretty awesome live music in Edmonton this weekend. Rah, rah, rah …
Thursday 12
Timber Timbre – From the deep woods of Bobcaygeon, Ontario – hey, it's a real place and not just a Hip tune! – and the creative cauldron of Arts & Crafts Productions – from whence came the seminal Canadian hip-folkers Feist and Broken Social Scene – emerges this delightfully eccentric trio whose cinematic and spooky music is rooted in folk, polished like the finest vocal jazz and topped by odd harmonic textures for an overall effect that wouldn't be out of place in a David Lynch film. If you're in the mood for intensity on the cosmic downbeat, this band is for you. Starlite Room, 8 pm, $18, BUY
Jerusalem in my Heart – And now for something completely different: What sounds to be an alternative electronic experimental klezmer band that evokes moods to induce chills and/or intense relaxation. The brainchild of Lebanese Montreal producer Radwan Moumneh, the show on this night at the Artery will also incorporate film and performance art. Exactly the sort of trippy thing you might expect during a drowsy afternoon at the folk fest. Ommm … 7:30 pm, $10 advance, BUY
Lora Jol CD release – She's made some headway folkifying interesting cover tunes with distinctive interpretations and a pure, clear voice, but this emerging local singer-songwriter is pushing her own music with the release of her "pop indie record" – her words – called Nowhere Near, with a show at the Yellowhead Brewery. 7:30 pm, $10 advance, BUY (She also performs Saturday June 14 at 7 pm at St. Faith's & St. Stephen the Martyr Anglican Church, 11725 93 Street, BUY)
Friday 13
Engelbert Humperdinck – It's not unusual to be loved by everyone … and whoops, wrong crooner. Just kidding. We know well there is only one of the one and only Engelbert Humperdinck – the stage name inexplicably chosen by one Arnold Dorsey long ago – whose signature tunes include The Last Waltz, After the Lovin' and of course Quando Quando Quando, as in "when, when, when will you be mine?," whose incessant catchiness we blame on the bossa nova. You know who loves Engelbert Humperdinck? Your mom! Tickets start at $54 for the 7:30 pm show at the Jubilee Auditorium. BUY
Kickupafuss – More locals stabbity-stabbing towards rock radio friendliness, not that there's anything wrong with that, these guys (top picture) are more sophisticated than their punkrawk name suggests, mixing moshable Hollywood-style hard rock with groovy grit and a touch of bro-hop rap mojo, as can be heard on the band's new single, "I Don't Need Your Sex" – a bold stand in a bold song – as well as the new album it's on, called Fuss, with an acoustic set to follow. Pawn Shop, 8 pm, with opening bands Thrillhouse and Forester, $10 advance, BUY
Ground Level Falcons – With an expansive alternative-folk-rockish sort of sound in the vein of Arcade Fire, or maybe Mother Mother, complete with plaintive gang vocals, dramatic dynamics and songs dealing with matters of the heart and brain, not necessarily in that order, this Edmonton fivesome releases its second album "The Revealor – Side A" with a show at the Studio Music Foundation. Side B comes next year. "What's a side?" Ask your mother. 8:30 pm. Advance tickets $10. INFO
Saturday 14
Cory Woodward – Deal of the weekend! Free show at the Black Dog on this afternoon from this Edmonton-born-now-Vancouver singer-songwriter who demonstrates a gift for writing "hooks." You know? Those melodic motifs that distinguish a song you remember from one you forget? It's what "hits" are made of. It's OK, even indie scene is allowed to "hear a single." The bearded Woodward is also known as "The Bear" in the folk trio The Lion The Bear The Fox, and it's a sure bet he won't be doing free shows much longer. 4 pm.
Red Skull Ritual – Arr, just what we need for one of the last blasts at the soon-to-be-demolished Avenue Theatre! – a rip-snorting guitar-shredding full double kickass old-skool metal band, and these guys from Fort Saskatchewan fill the need for speed on this night, with the openers Gravesend and Stranger Danger, 8 pm, $10 advance. BUY
Civil Suits – Political journalist, former press secretary to Premier Ed Stelmach, lobbyist, spin doctor – Tom Olsen has an unlikely resume for one so gifted in the art of crafting a tear-jerking heartbreak song. But he's for real, and so are his inspirations. The songs speak from the heart of darkness, of loves lost, like most good heartbreak music. A rare live show of original alt-country goodness from the guys with the second best media band name in Canada (second only to The Shrinking News Holes). Jeffrey's Wine Bar, 9 pm, $10 cover.
Wundi Loves Kirby – Area Baby Boomers turned up in full force for star-studded benefit concerts at the Newcastle Pub this week to raise money to help the beloved Edmonton music impresario Kirby in her fight against recently diagnosed cancer. The younger Whyte Avenue crowd gets a chance to show their Kirby love on Saturday night at Wunderbar, featuring acts like Jesse and the Dandelions, Jake Ian, Borys, Michael Dunn and many more. Admission is suggested $10 donation, or give more if you can – all proceeds to Kirby, whose life advice is tattooed on her frickin' arm: "Be Here Now."