MUSIC PREVIEW: Most awesome bush party ever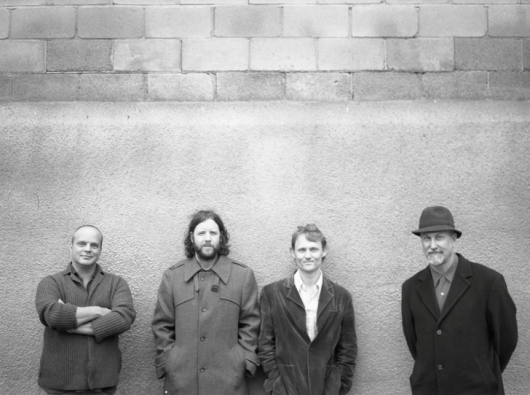 It begins. Legions of undead shall rise and swarm across the land, feeding their insatiable craving for BRAINS … and summer festival fun!
Most of the so-called "hippies," not to mention a whole lot of local indie bands, will be out of town at the North Country Fair starting Friday on the shores of the Lesser Slave Lake. This is the most awesome Alberta bush party ever, rich in certified organic live music on a sprawling woodland site where it doesn't get dark till after midnight with the blush of dawn coming shortly thereafter … it is the eternal Woodstock, man! And don't call us hippies, dig? We're flower people.
With acts that include Russell deCarle, Jr. Gone Wild, Jeff Stuart and the Hearts, Kemo Treats, Five Alarm Funk, Sister Gray, and hell, just about every band from the area, weekend passes are available at the gate only, $160 for adults, $120 for youth, day passes also available, camping included, and "no dogs" just about the only big rule. Just be cool and everything will be cool, dig? DETAILS and DIRECTIONS
If you're into the urban thing tripping on cool jazz, hey, that's groovy, too. Jazz guys are said to have big BRAINS. The Edmonton International Jazz Festival begins Friday yada yada yada – and we don't yada sex. Only jazz. It's free form, dig? Two main events are Medeski, Scofield, Martin & Wood (pictured above) Sunday, June 22, at the Winspear Centre (BUY); and Bobby McFerrin Tuesday June 24 at the Winspear. (BUY), but there is a myriad of other cool gigs through June 29. SCHEDULE
READ INTERVIEW WITH BOBBY McFERRIN
And that's only two of the uncountable summer festivals causing the impending Zombie Festival Apocalypse in Dirt City. Zombie festival? Now there's an idea we can file next to the downtown sandy beach!

Thursday 19
The Works Stage – Folk singer, visual artist and general Man About Town Ben Sures has once again curated an eclectic musical "taste of Edmonton" at Churchill Square for the duration of the otherwise low-key Works Art and Design Festival, through July 1. Notables include Bill Bourne, Ann Vriend, Emily Rault and literally dozens more. Admission is free. SCHEDULE
Friday 20
Library Voices – Yet another buzzy buzz band from Saskatchewan – and not so quiet despite the name – these guys combine relentless pop sensibility with lovely vocal harmonies and plenty of eclectic instrumental whatnot in what almost comes off as the upbeat prairie Arcade Fire. Artery, 8 pm, $15 advance, BUY. Also Saturday, June 21 at Wunderbar, 8 pm, $15 BUY
Apathy – With a rapper – aka Chad Bromley – who looks like he ought to be playing in some indie folk band, and all white musicians of a certain age seem to look like that these days, this act from Connecticut has been making old-school noise in the underground hip hop scene more than 20 years – on the road behind his recent release "Connecticut Casual." With Brothers Grim, Theft Unda 5, The Nasty Boys, and DJ Double A, Studio Music Foundation, 9 pm, $30 at the door.
The Order of Chaos – Melodic metal – as opposed to not melodic metal – can be heard in abundance with this "Deadmonton" outfit that owes a debt to the Hollywood Hard Rock legacy and all the wailing-singer-double-lead-guitar goodness therein, and which is obviously making a comeback. The BRAIN doesn't forget melody, that's why! With Tramp Stamper, Until the Lights Go Out and Kryosphere, Pawn Shop, 8 pm, $10 advance, BUY
Saturday 21
Brent Tyler – Telling signs one is in the presence of a sensitive singer songwriter – the "Triple-S": Strumminess, pleasant tenor vocals, introspective songs. Like, come on, this Dave Matthews-like Calgarian self-described "soul-folk" artist actually has a song called "Pretty Tune." Well, OK, it is, and more like it where that came from. With Ken Stead, Artery, 8 pm, $8 advance, BUY
Lee Aaron – We could count the Canadian hard rock chicks on one hand, and this 51-year-old "Metal Queen" can always be depended on to deliver what we call a "kick ass" show. But did you know she also sings jazz? Fact! Maybe she'll do a little Satin Doll on this night at the Century Casino, with kick ass opening act Kick Axe, 7 pm, $48, BUY
Sunday 22
Michael Buble – We've been watching this debonair Canadian Frank Sinatra acolyte since he was discovered by former Prime Minister Brian Mulroney and megaproducer David Foster, in that order, and subsequently groomed for global success by Bryan Adams' manager Bruce Allen. And while there are concerns Buble's been focusing on schtick over substance – last time through town he didn't seem to be able to get through a single tune without cracking a yuk – maybe he's matured, like fine wine. He should know the folks are expecting a swell show with new material from his latest recording, "To Be Loved." Rexall Place, with Naturally 7 (same a cappella act the last two times he's been here), 8 pm, from $62, BUY
The Sheepdogs – The second and more well-known Saskatchewanoid band in the area this weekend plays at the Beaumont Blues and Roots Festival on this evening. They just need to add the word "Rock" and we're good. Other acts at the festival, running Saturday and Sunday at Four Seasons Park in Beaumont, include Whitehorse, Matt Anderson, the Raygun Cowboys and many more! Passes $50, BUY
Monday 23
Cher with Cyndi Lauper – Speaking of the undead – Pow! Right in the kisser! Ow! Just kidding! – seriously, how many retirement shows is this 68-year-old pop icon going to do, anyway? Fans won't let her quit, it seems. This same fabulous double bill was a big hit some years back, and high expectations are in full force for a encore show that it's too bad didn't happen during Pride Week. Play "Spot the Cher Lookalikes" for extra fun! Rexall Place, 7:30 pm, $35 and up, BUY
Linda McRae – Veteran folksinger and former Spirit of the Wester releases her new titillatingly-titled CD, Fifty Shades of Red, with a show at the Artery. 7:30 pm, $10 advance, BUY
Tuesday 24
Heart – The Wilson Sistas killed last time through town. As Nancy continues to shred a mean guitar, Ann remains a ballsy rock shouter of the highest order, while their band occupies a beloved nexus of nostalgia between the hippie times of both Canada and the United States. We were ONE with Straight On For You. Do you dig it, man?! With Jason Bonham, Son of John, Jubilee Auditorium, 8 pm, from $85, BUY
Queen with Adam Lambert – For all the grumbling about this allegedly inexplicable combo, ask yourself this: Is Queen with a false Freddie better than no Queen at all? Of course it is. The surviving members of this great band of the sort they don't make anymore, including Brian May, who was the chancellor of John Moore University, so you know he's smart, personally picked the American Idol runner-up – for a reason. Adam Lambert can sing. Not as good as Freddie, but then no one can, really. Rexall Place, 7:30 pm, from $69, BUY
Wednesday 25
John Legend – Maybe this guy? With nine Grammy awards – and they don't give these things to just anybody – this Ohio soul singer established himself as a heavyweight in the vein of Smokey Robinson long before Auto-Tune made geniuses of us all. He's touring behind his recent album, "Love in the Future." Winspear Centre, 8 pm, SOLD OUT