JAZZ REVIEW: MSMW titans of whatever we call it now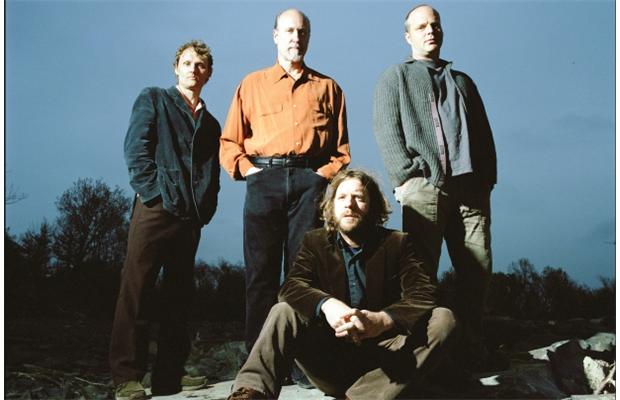 When it came time to pick a name for the new group Medeski, Scofield, Martin and Wood – combining the New York funk-jazz trio with a veteran guitar wizard – it didn't seem there were any grand visions about chocolate watches or strawberry alarm clocks.
Nope, just the names of four guys, about as exciting as your tax return. Put together on stage, however, and these four gifted, playful and highly versatile instrumentalists molded a solid and thoroughly entertaining show at the Winspear Centre Sunday night – one of the keynote events of the Edmonton International Jazz Festival.
In recent interview with the Edmonton Journal, keyboardist John Medeski spoke about the band's lack of defined style, going so far as to posit that the band may not even be "jazz" any more.  As for their performance philosophy, he remarked, "We just want to get to a certain vibe, to take the audience on a journey. In a way it's irrelevant what songs you play, but what can be relevant is how the songs inspire you to get there."
So well put. Like any great adventure, it seemed like they didn't know where they were going, at first. The band started with Scofield seeming uncertain of what to do, looking at other band members as if to say, "You start" … "No, YOU start."  He shrugged, looked for a setlist that wasn't taped to the floor, and stood motionless. Awkward.  All doubts were soon erased once they started to play … whatever it was that popped into their heads. In the concert compositional world, their songs were largely free form improvisations around some basic melodic and rhythmic themes, generally initiated by Medeski on piano, and given further flourish and colour thanks to the unique phrasing and effortless soloing of Scofield.  Drummer Billy Martin's role provided the requisite rhythmic direction of the particular song, whether funk, bebop, avant garde or straight ahead jam rock.
Not a lot of swing here – traditionalists these guys are not. For the first song, they looked and sounded more Kansas City than New York, the music taking on a unique flavour thanks to Scofield's odd melange of jazz and blues stylings after Medeski's short atonal intro dirge. While it was clear that the blues is not Scofield's genre of choice – given his aptitude on the instrument, it's probably too simple for him to pull off – he is skilful enough to know how to mix enough jazz licks in there to make it sound pretty good. He deftly swapped musical genres like this all night with impressive displays of technical dexterity, if lacking some feel during the R&B, funk and bluesy material. It worked better whenever Medeski went over to his Hammond B3, where he wailed like Booker T himself. It was sublime to hear the organ in this setting, and frankly he didn't play it enough.
The band shone brightest in the jam-rock arena. MSMW is actually closer to a jam rock band than they are to any self-identifying jazz act. Pushing categorization envelopes, if not refusing them entirely, especially given the wide genre jumping they performed throughout the night, the band approximated a Phish rock fusion, with a little Grateful Dead, Allman Brothers and Umphrey's McGee thrown into the sonic soup. The last song of the evening was a raging, pulsing, relatively free form jam with Martin sounding like both Jaimoe and Butch Trucks of the Allman Brothers – at the same time – and Scofield a less energetic, slightly more geriatric version of John McLaughlin in the early days of Mahavishnu Orchestra. It had the feel of "Mountain Jam" off the Allmans' "Eat A Peach". Definitely the highlight of the performance.
Even if these songs had titles, and we return to the post-modern question of the day, it doesn't matter what they were. The point of this show was the expression of sheer unrelenting creative energy. It all seemed so effortless. The most unrecognized of the quartet, bassist Chris Wood, got the chance to let his creative light shine during three free-form atonal segues – even at one point approximating a theremin. While Wood did his thing, his bandmates acted as if the stage was their studio and they were foley artists, crafting sound effects for an as yet unfilmed movie. Very, very strange.
The entire show served to showcase some extremely creative, genre defying, and frightfully talented musicians. These four are indeed are titans of modern … well, what are we going to call it now? Maybe presenting something as anti-jazz makes it even more jazz than ever.