REVIEW: Killer Queen defies the cynics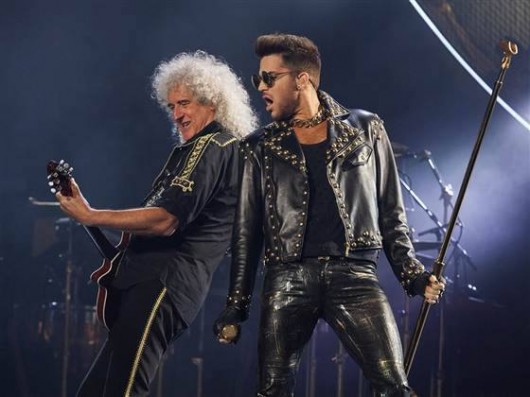 When you get as big as Queen – all 250 million or so records sold – you can do whatever you want. And that includes hiring a new lead singer from one of the most popular television shows in the world – and then defying all cynical expectations that they're just doing this for the money.
Two already extremely wealthy (and eccentric) Englishmen named Brian May and Roger Taylor – Queen's remaining two original members after Freddie Mercury's death in 1991 and John Deacon's retirement from music six years afterwards – had other ideas for this new Queen + Adam Lambert tour. For a packed house at Rexall Place Tuesday night, they played music the fans wanted for half the night, and for the other half, they did whatever the hell they wanted. And it worked.
Lambert, a 2009 American Idol runner-up, is gayest blade Zorro ever wielded. While his voice had none of the edge that Mercury's had, sounding way too clean to be convincing, his performance style fit the material. The singer interpreted the theatrical components of these classic songs exactly the way they were written, regardless of the goofball outfits he was wearing at the moment.
The night started with bevy of old 70's standards, from the Metallica-covered rifftastic Stone Cold Crazy, with Lambert spitting out the rapid fire lyrics like the old Mercury machine gun pumped out on their 1974 album Sheer Heart Attack. Soon came the over-the-top Killer Queen, featuring Lambert camped out in an outlandish costume, splayed out on this exotic couch trying to outvamp Frank-N-Furter minus the makeup. He sang pedestrian and plodding versions of Another One Bites The Dust and I Want It All, where both lacked the feeling of the original, and brought torch-song theatrical flair to Somebody To Love.
Fat Bottomed Girls was shocking for reasons you wouldn't expect: Lambert referred to big boned women in the audience who may or may not have glandular problems as "fat ass bitches." I think most fans thought he was too charming to care.
If there is one thing Queen did not do wrong at any moment this night it was staging, including an extensive, expensive lighting rig and a camera crew to catch all the action. May's guitar even had cameras looking up and down the fretboard. The effects on the state-of-the-art video display were so intricate and coordinated they had to have been directed. The main video screen was circular, flanked by swooping catwalk and all lit with LED to make a giant "Q."
Queen could have kept hits coming, one after another, but following Somebody To Love, Lambert left the stage, and with the exception of a couple songs, wasn't seen much for the next hour.
It was our eccentric Englishmen's turn to shine.
The interlude began with May performing an acoustic version of Love of My Life, complete with an archival Freddie Mercury recording providing the vocal track at the tail end of the song, and going into '39, a strange tale of something called the clock paradox, to which May namechecks Albert Einstein and Stephen Hawking. When was the last time you heard those names in the entertainment world outside of an episode of Big Bang Theory? Remember that May holds a PhD in astrophysics and once served as the chancellor of John Moores University in Liverpool.
The show continued to unfold in a delightfully unpredictable way.  Raspy-throated Roger Taylor took over vocals on Those Were the Days, and carried the sentiment of the song – largely dedicated to Mercury in the video montage  – without becoming maudlin.
With Lambert back – in more outrageous getups – May did his own homage to the 1970s Rock Gods by letting himself solo. For the next 10 minutes. No endless widdly-widdly here, but the emotive style of his playing took the forefront in a clear tip of the hat to best of David Gilmour. A patchwork quilt of tightly knit red laser beams framed May in the middle of the Q, almost as if he was stuck there in a web, before he worked his way out and lit into Tie Your Mother Down, a much more of energetic romp than the evening's previous rockers.
From here Queen veered back onto the right side of the road – for the North Americans amongst us – to hammer away at the remainder of the greatest hits collection: Radio Ga Ga, Don't Stop Me Now, Crazy Little Thing Called Love, and Bohemian Rhapsody, all played with a lively spirit not present in the first half of the show. As for the encores, they need not even be mentioned, being so culturally ubiquitous as to be almost cliche. But highly entertaining they were, with ample footstomping and hand clapping within the arena.
From an unexpectedly lacklustre start, to a rip-roaring middle section full of soloing and rock star excess, to a final suite of the band's uber anthems performed balls out, the way this show unfolded was wonderfully, underhandedly, quintessentially British: Full of wit, piss, vinegar, all wrapped around so many irresistible pop confections. Queen reminded us that once they got going, they were going do as they wished, and that they had the ability to make us like what they were doing, even if we've heard it 20,000 times before – without Adam Lambert.
PHOTOS: From Queen's Facebook Page