Mac DeMarco: 'Might as well try something weird'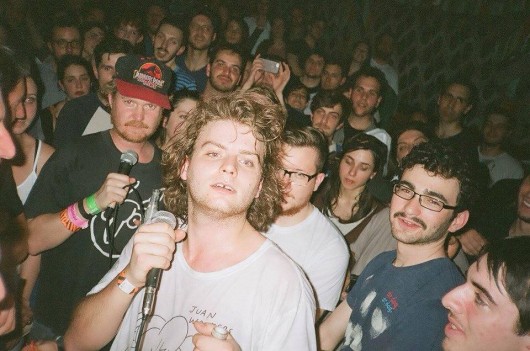 It was the strangest thing: A boiling mosh pit in a crowded, stinking, sweaty bar packed with millennials (what we're calling "the kids today") – not for punk, not for death metal, but for the sort of breezy easy listening music you'd be more likely to hear at that surf festival they used to have down at Hawrelak Park. Mellow. Chill. Smoke 'em if ya got 'em.
This is the enigma wrapped in the riddle wreathed in the cloud of mystique that is Mac DeMarco – one of the most promising indie rock darlings of the moment, if you believe the hype. For concrete proof he may be for real, he solidly rocked the sold-out Starlite Room Friday night with music that wasn't quite rock. Neat trick. Hard to say what it was, exactly. The guy reportedly generates the same inexplicable excitement everywhere he plays.
Turns out DeMarco grew up in Edmonton, though most area fans only heard of him well after he found success in Brooklyn, New York, and of course through the Internet.
"I'd be perfectly happy doing this in a cabin at the lake," he says during a pre-show interview, "As long as I got the Internet connection so I can send it out to people." Besides, he's on tour most of the time. A telling item: Asked if he feels homesick, he answers, "For New York?"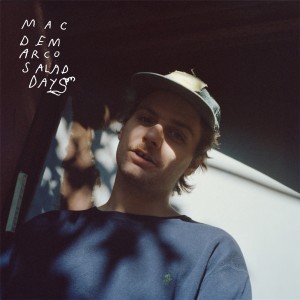 The Starlite – weirdest room in Edmonton, fact – was packed for his "homecoming" show, the guest list filled with family (none of the older relatives spotted in the mosh pit, though his brother did a backwards stage dive), in a scene of wild abandon. The music kind of sneaks up on you: mellow, giddy, haunting, sometimes outworldly, as can be heard on his latest record, Salad Days, recorded in his home studio, like everything he's done up to now.
The band opened with the title track of the Polaris-nominated record with lyrics along the lines of, "As I'm getting older, chip up on my shoulder, rolling through life, to roll over and die." Glum yet giddy. At one point, they ditched guitars for cheesy synths seemingly set on "harpsichord" for a Beatlesque thing, and rocked it up for a song called I'm a Man, no relation to Spencer Davis, and Mac's writing about cigarettes and his own old blue jeans. A little lower and he'd literally be gazing at his shoes.
DeMarco talks about the importance of "owning it" on stage.
"You've got to be a real person," he says. "If what you're doing is real and representative of yourself, that's why people connect with it."
The impact was obvious. Crowd surfing commenced from the second tune, The Stars Keep On Calling Out My Name, a little romantic ditty, and remained steady the entire night. The fans sang lustily along to songs that don't get airplay on mainstream radio. Clearly we have another cult star in the making.
New York City?!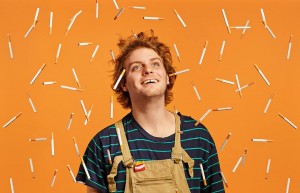 It doesn't matter where you're from anymore – unless you can honestly say you're "from New York," of course. Mac left Edmonton for Vancouver when he was 18, went to Montreal two years later and split for Brooklyn last year. People pay attention to things that happen in New York.
The indie music press is making DeMarco out to be some kind of gone cat, yet he comes off like a perfectly normal guy – by Edmonton standards. (There was only that one incident of lewd conduct on stage, he says, and people have made a big deal about it ever since.) The intro to a recent exhaustive Pitchfork Media article entitled "Mannish Boy" reads: "With his gap-toothed smirk and carefree tunes, Mac DeMarco has quickly become the goofball prince of indie rock. Now he wants to be taken seriously – while still reserving the right to crack a fart joke if necessary." Does that not sound like every musician from Edmonton? The last part, at least.
Meeting DeMarco in person, there's no mystique, no aura of celebrity. He rejects celebrity, saying, "We need a new type of pop star, just the everyman." He was hanging out with fans and friends in front of the Starlite before his show, smoking like a chimney. Later, after the opening bands Meat Bodies (good) and Calvin Love (not so much), DeMarco walked on stage in his street clothes, carrying a cheap synth with a bar stool for a keyboard stand, plugged in his own gear and greeted the crowd with distinctly un-rock-star-like style. "Hi!" He waved. The fans cheered.
Truly the only bizarre thing about Mac DeMarco is his approach to music: chord structure, melody, harmony, arrangements, the guts of the art often obscured by hype. It's as if he'd never listened to any music but his own. He invented it in a vacuum. His guitarist Peter Sagar – another Edmonton guy who was in the weird bands The Subatomics and The Fronts – is the secret weapon here, an unusual player sounding more like African hi-life than anything resembling punk rock. The hooks of the songs are unconventional and compelling. There are lots of happy major chords spiced with atonality of the sort heard in modern jazz. There are hints of the Beatles, and also of the surreal performance art music of John Lurie and the Lounge Lizards. DeMarco says his parents used to play stuff like that at home, and it was through playing Beatles songs that he learned to love the guitar.
"We got up to some very strange stuff when I was growing up here," he says. "You get so bored that you just try to do anything to entertain yourself, I guess. As far as the music goes, it's probably the isolation thing. It's funny, it the States now, you see different pockets of scenes in different cities. But here there's nothing. So you just make your own."
Edmonton seems to breed eccentricity. We're an isolated Klondike-to-nowhere outpost that's long been left behind in the Canadian scene-city derby; even Saskatoon gets more attention. Local artists with fevered imaginations and no expectations put upon them have nothing better to do than to pour their souls into their music, or go insane. Sometimes both.
DeMarco says, "You've got nothing to lose. Might as well try something weird."
TOP PHOTO: April 2014, supplied by Agnes DeMarco