MUSIC PREVIEW: K stands for koncerts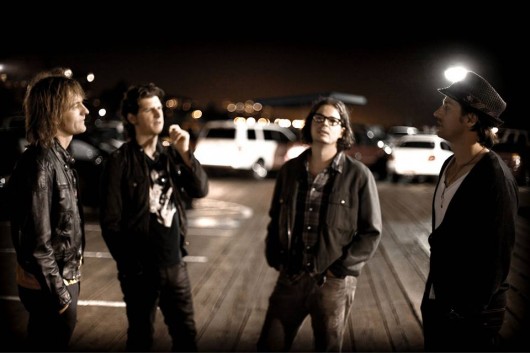 Edmonton's premiere summer exhibition gets underway on Thursday. Whether they call it K-Days, or Klondike Days, or Capital Ex, or whatever, it doesn't really matter when you consider so much great music to be had throughout the city as part of the celebration, in particular on the K-Days grounds, and at Winston Churchill Square for Taste Of Edmonton.
The latter in particular will have a number of noteworthy headliners throughout the 10 days.
Starting Saturday night at Taste Of Edmonton, Vancouver indie-rockers Said the Whale perform in the headlining slot. And if that's not a big enough draw, and it should be, stellar local folk act Scenic Route To Alaska is set to open. Tuesday night sees another west coast act, the blues-rockers The Harpoonist and the Axe Murderer, featuring one of the best harmonica players in all of the country, and a sound that's as impressive as any other blues-rock band out there, but with an edge and a grit that grabs hold of you and won't let go.
Free admission to all shows, of course – click for details.
Meanwhile, over at Northlands for K-Days, headliners include the Edmonton-born-Toronto-based Alyssa Reid, with hits galore over the last while including "The Game" with Snoop Dogg, "Alone Again", and "Satisfaction Guaranteed". She'll perform Friday night along with Virginia To Vegas. Our Lady Peace (ab0ve), a band that's no stranger to local music fans, will perform Saturday night. Sunday night sees Bachman & Turner take center stage, while Vancouver rock act Marianas Trench, with three well-received albums to their credit on both sides of the border, perform Tuesday night.
See the full lineup at the K-Days website; concerts are always included with gate admission.

Thursday 17
Velveteins – This local psych-blues act just released an EP last month; the four tracks are full of awe-inspiring modern grooves blended extraordinarily well with a gorgeous retro feel. Cafe Haven (Sherwood Park), 7 pm, admission by donation.
Juice Newton – This romantic roots-rocker is playing with the Queen Of Hearts at the age of 62 – and knows it isn't really smart. Century Casino, 8 pm, $42.20.
Close Talker – An interesting blend of epic folk and cutting edge indie rock, this Saskatoon band released their debut full-length album this spring. Full of inspirations and aspirations, it's definitely worth checking out; and that goes for their live act, too. Artery, 7:30 pm, $8.
Friday 18
Anciients – This Vancouver metal band with the extra vowel are regular visitors to our great city. With a crushing heaviness and dedicated riffing, if you haven't seen them yet, you definitely should now. Black Mastiff and Black Wizard open. Pawn Shop, 8 pm, $13.
Jon and Roy – This Victoria-based "chorus driven anti-folk" act" is touring the Western provinces on the strength of their fifth full-length "By My Side". The original duo, now a quartet, recorded the album at drummer Roy Vizer's house, capturing the essence of their sound with just a drum, a banjo, and a 1950's Gibson acoustic guitar. Mayday and the Beat Creeps also perform. Wunderbar, 8 pm, $12.
Saturday 19
Nazareth – This Scottish hard rock band was founded before the majority of you were even born, back in 1968. They finally broke out globally based on the 1975 album "Hair Of the Dog", which included their best-ranked single of all time, "Love Hurts". The band continues to record new material to this day, including this year's "Rock 'N' Roll Telephone", with new lead singer Linton Osborne filling in with blessing of original vocalist Dan McCafferty, who had to retire last year due to ill health. Bassist Pete Agnew is the only remaining original member of the band. River Cree Casino, 6 pm, SOLD OUT.
Sorels – Still living high off their very impressive 2013 debut full-length, this local indie rock act is sure to get you moving, and gives you an excellent reason to head down to Whyte Avenue. As if you needed one for a Saturday evening in Edmonton July. The Nighthawks open. Wunderbar, 9 pm.
Tuesday 22
Tim McGraw – This Louisiana-born country star is equally at ease in front of the camera as he is in a recording studio and on stage. Acting credits include supporting roles in "The Blind Side", "Friday Night Lights", and lead roles in "Flicka" and "Country Strong". On the music side, he got his first break after his father (ex-Phillies reliever Tug McGraw) happened to be playing Tim's demo with a record executive in the car. Twenty-four years later, the junior McGraw has 13 full-length albums to his credit, including this year's "Sundown Heaven Town". Never mind a bevy of "best of" compilations. He's had a flurry of No. 1 tracks on Canada's country charts too, of course, from 1994's "Don't Take the Girl", through 2013's "Southern Girl". The first two singles off the current album haven't gotten much attention in North America, but it's still pretty early in the album's journey.  Rexall Place, Tuesday 7:30, $44.50 and up.